University of Miami Athletics
Christian Cook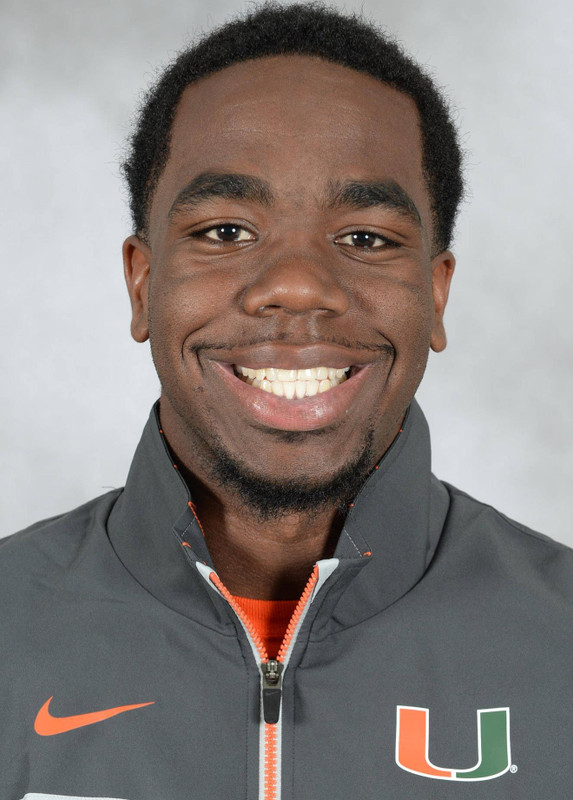 2015 ACC Indoor Champion (60m hurdles)
2015 First Team All-ACC Indoor (60m hurdles)
2015 Outdoor All-America Honorable Mention (110m hurdles)
2015 Second Team All-ACC Outdoor (110m hurdles)
2015 Outdoor: Ran a personal-best 13.78 in the 110m hurdles at the NCAA Championships … Finished with season-best of 52.08 in the 400m at LSU Invitational … Placed fourth in the 110m hurdles at the ACC Outdoor Championships with a time of 14.05 seconds … Helped Miami's 4x100m relay finish third with a time of 40.31 seconds at the ACC Outdoor Championships
2015 Indoor: Debuted at  the Tyson Invitational, running a time of 7.89 seconds in the 60m hurdles … Won the ACC Indoor title in the men's 60m hurdles with a personal-best time of 7.79 seconds that ranks third in UM history.
2014 Indoor: Placed fifth in 60m hurdles at the Doc Hale VT Elite Meet with a time of 8.05 seconds .. His 60m hurdles preliminary time of 7.82 seconds at the Doc Hale VT Elite Meet is third-fastest in UM history … Place seventh in the 60m hurdles with a time of 7.95 at the ACC Indoor Championships.
2013 Outdoor: Standout performer in both 110m hurdles and 400m hurdles … Set personal best in 110m hurdles with time of 13.97 seconds at Georgia Tech Invitational … Ran personal-best 52.51 in 400m hurdles at ACC Outdoor Championships … Qualified for NCAA East Preliminary in both 110m hurdles and 400m hurdles … Ran 14.15 in 110m hurdles and 54.87 in 400m hurdles at NCAA East Preliminary … Won 400m hurdles at Miami Invitational with time of 55.96 seconds.
2013 Indoor: Ran personal-best 7.13 in men's 60m dash at Auburn Invitational … Posted personal-best of 8.01 in men's 60m hurdles dash at ACC Championships … Ran personal-best in t men's 400m at Auburn Invitational with time of 49.73 seconds … Member of men's 4x400m relay at Kentucky Invitational (3:19.75), Auburn Invitational (3:21.11) and ACC Championships (3:17.02).
2012 Outdoor: Participated in seven different competitions competing in five different events … Set personal season-best in 100m with time of 10.83 at Hurricane Invitational … Ran personal season-best 14.26 in 110m Hurdles at Wolfpack Last Chance … Ran season-best 53.55 in 400m Hurdles at ACC Championships … Part of 4x100m team which ran season-best at Florida Relays … Finished first at Hurricane Invitational as part of 4x400m team which finished in 3:15.34.
2012 Indoor: Ran personal-best 8.04 in 60-meter hurdles during prelims of ACC Championships, qualifying for final…Ran on 4×400-meter relay team that placed fifth at  ACC Championships in 3:15.84.
High School: Competed in hurdles at Cy-Fair High School… Led team to district and bi-district championships… Named to All-Greater Houston team.
Personal: Criminology major… Plans on being well-known athlete… Son of Charles and Bridget Cook… Has two siblings, Tiffany and Brandon … Father played in NFL for New York Giants.