University of Miami Athletics
Cheyenne Cousineau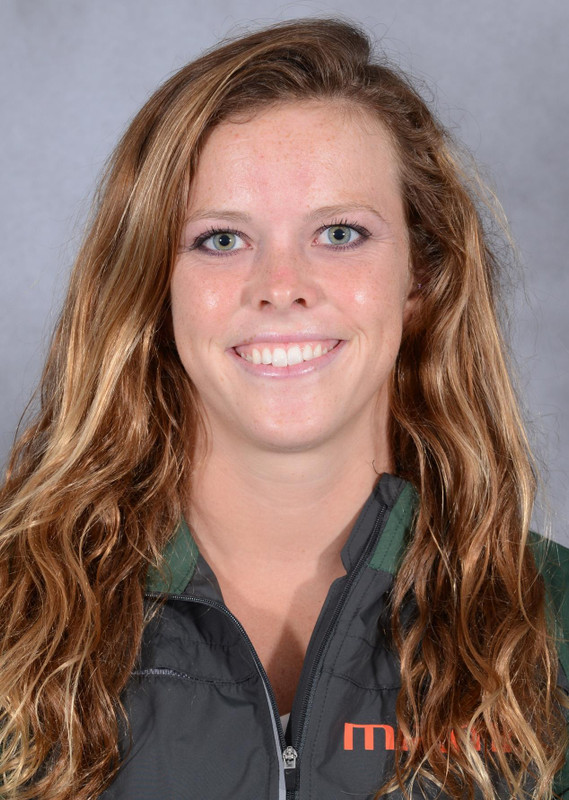 2015 ALL-AMERICA (platform)
2015 ALL-AMERICA HONORABLE MENTION (3-meter)
2015 ACC CHAMPIONSHIPS BRONZE MEDALIST (3-meter)
2015 SCHOLAR ALL-AMERICAN (CSCAA)
2013 ALL-AMERICA (platform)
2013 HONORABLE MENTION ALL-AMERICA (1-meter)
2013 BIG TEN BRONZE MEDALIST (3-meter)
2012 BIG TEN CHAMPIONSHIP (platform)
Senior (2014-15)…
Enjoyed dominant season in final year with Hurricanes, earning second career All-America recognition at 2015 NCAA Swimming & Diving Championships in Greensboro, N.C.…Placed third in platform event at NCAA's, finishing with 318.05 points…Took home Honorable Mention All-America recognition in 3-meter event at NCAA Championships, finishing with score of 357.60…Earned bronze medal in 3-meter at 2015 ACC Swimming & Diving Championships in Atlanta, finishing with score of 349.60…Finished fifth in 1-meter at ACC Championships (313.05)…One of two divers named to Academic All-ACC team…Finished third in 1-meter (293.35) in quad-meet with UNC-Wilmington, Georgia Tech and host Virginia Tech and fourth in 3-meter at same event (314.35)…Took top finish in platform (281.90) and 3-meter (329.95) at Ohio State Invitational (Nov. 21)….Finished first in 3-meter (351.45) and second in 1-meter 327.00) in dual meet victory over Illinois State (Nov. 8).
Redshirt Sophomore (2012-13, Ohio State)…
Spent first three seasons of eligibility at Ohio State … Earned All-America status in signature event (10-meter platform), qualifying for the "A" Final with preliminary score of 300.96 … Finished finals in fourth place (298.70)… Named Honorable Mention All-America in 1-meter with final-round score of 297.95.
Redshirt Freshman (2011-12, Ohio State)… 
Captured a Big Ten championship on the 10-meter platform dive … completed the Buckeye sweep of the Big Ten diving competition with a score of 326.10 … competed at the USA Diving Winter Nationals held in Knoxville, Tenn., placing fourth in the synchronized platform event with alongside former Buckeye Katie Bell … totaled three wins over the course of the season, including two in the 1-meter event.
Freshman (2010-11, Ohio State)…
Redshirted first season with Buckeyes.
High School/Prep…
Attended Bedford High School and was a four-time National Interscholastic Swim Coaches Association All-American diver … Three-time Michigan high school state champion and  four-time conference champion … Voted captain for her club diving team.
Personal…
Parents are Roland and Diane … Has three brothers, Lance, Luke and Dakota, and one sister, Sierra … Intends to major in biochemistry.