University of Miami Athletics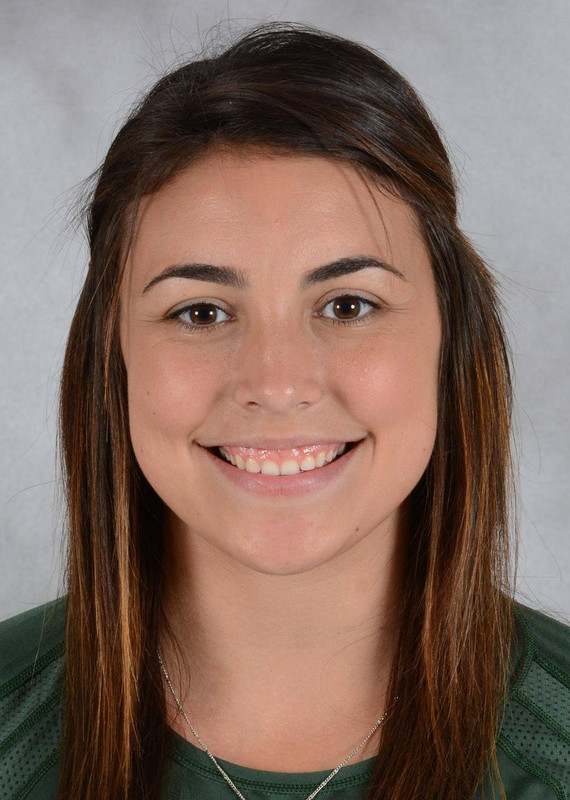 2014 (Senior): Appeared in 25 sets over 13 matches … Distributed four assists in victory over Florida A&M … Connected on seven assists and five digs in win over Arkansas Little Rock … Totaled two digs vs Missouri … Recorded a dig and a service ace in victory over Virginia … Slammed in three kills, one dig, one block, one assist, and one service ace in the win against Syracuse
2013 (Junior): Saw action is 87 sets over 26 matches, making 22 starts … Finished season ranked fourth in the ACC with 9.93 assists/set … Led the Canes with 864 assists, 12th-most in a season in Miami history … Ranks fifth on Miami's career assists list (930) … Finished third on team with 26 service aces … Ranked third on team with eight double-doubles … Distributed a career-high 53 assists in win at Boston College (Sept. 28) … Had a service ace in 19 matches, including nine consecutive matches from Sept. 28 to Oct. 25 … Tallied a career-high three service aces in win over Wake Forest (Nov. 24) … Had at least 10 digs in eight matches, including a career-high 15 against No.22  Florida State on Nov. 13 … Recorded a career-best five blocks in win over Oklahoma (Sept. 20)
2012 (Sophomore): Saw action in 103 sets, 30 matches … had 18 service aces … registered five assists against Virginia (Sept. 21 and Oct. 28) … recorded six assists against UNLV (Sept. 14) … set a career-high nine assists against Virginia Tech (Sept. 23) … set a career high with three aces against North Carolina (Oct. 7).
2011 (Freshman): Appeared in six matches … made collegiate debut against Louisiana-Lafayette at the Tiger Classic, where she earned an assist in the victory … entered the match versus North Carolina State (Oct. 7) and recorded her first career kill … hit one kill at home in the victory over Virginia (Oct. 28) … also had one ace and one assist against Wake Forest (Sep. 30).
High School: Played four seasons for the Maroons program, including the 2010 campaign for head coach Ron Knott … she helped her team to the 2010 finals of the NJSIAA Group 4 North finals, falling to top-ranked Livingston in a battle of No. 1 versus No. 2 … during her career, Fuentez set the RHS kills record with 903 … ended the 2009 and 2010 seasons as a First Team All-Bergan County selection after leading the Maroons in kills both seasons from her outside hitter position (also seeing some time as a setter) … helped Ridgewood HS to a spot in the quarterfinals of the Bergan County Tournament, en route to her earning a spot in the New Jersey Senior State Volleyball All-Star Game … over the summer of 2009, she participated on the USA High Performance Continental Team, in addition to joining Ramapo High's Nicole Kincade to win the AVP Beach Volleyball Tournament in the AA Division … Fuentez would go on to be tabbed Ridgewood High's volleyball MVP, as well as being the high school's fall sports MVP for both the boys and girls varsity athletics … she was named the MVP Fall Student-Athlete for the Maroons … departed high school listed as a senior aces top 150 player nationally … as a sophomore, Fuentez grabbed Second Team All-Bergan County Team honors, while also being a First Team Group 4 member … played club volleyball for DIGS (Do It Garden State) through four years … in 2008, Fuentez helped DIGS to qualify for the Junior Olympics.
Personal: Full name is Barbara Blair Fuentez … Daughter of Ben and Barbara Fuentez … Has five siblings, Benjamin, Brittany, Bridget, Brooke and Braden … Her older sister, Bridget, played four seasons of volleyball at the University of Alabama from 2004-07 … While playing for the Crimson Tide, Bridget Fuentez was a three-time All-Southeastern Conference selection, and led the team in kills (457), kills per game (3.72) and attempts (1,185) as a sophomore … Fuentez is a native of Houston, Texas, growing up in the Lone Star State, before eventually moving to Ridgewood, N.J. … Major is business.