University of Miami Athletics
Angela Algee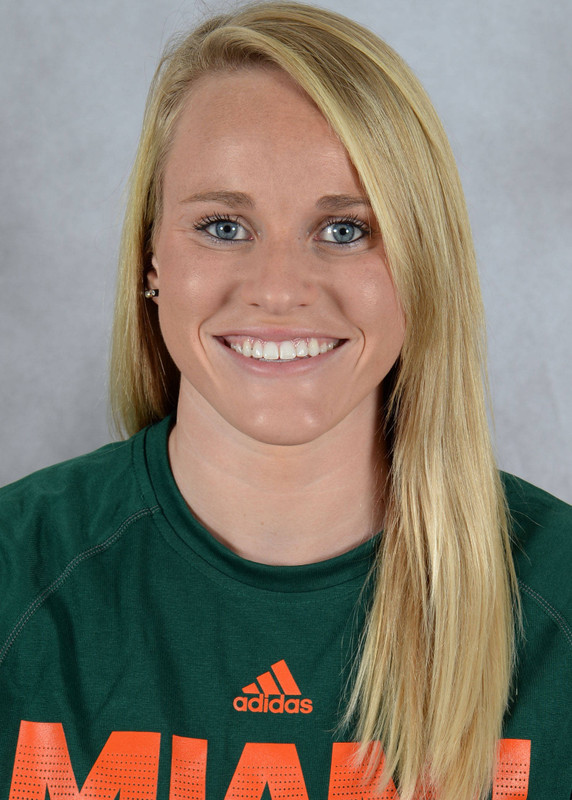 Junior (2015-16)…
Enjoyed another strong season as one of Miami's top point-getters…Qualified for NCAA Swimming Championships with NCAA "B" cut time of 52.51 seconds in 100-yard butterfly at 2016 ACC Championships…Time of 52.51 in 100 fly was 28th-fastest entry nationwide entering NCAA Championships and second-fastest in school history…Competed in 50 freestyle at NCAA Championships and swam event in career-best time of 22.81 seconds…Lowered qualifying time for U.S. Olympic Trials at Texas Senior Circuit No. 2 hosted by Texas A&M…Finished sixth in 100 fly  at ACC Championships in Greensboro, N.C….Scored points with time of 2:01.10 in "B" final of 200 fly at ACCs…Member of 800 free relay team that shattered school record with time of 7:11.76 at ACC Championships…Took top finish in 100 fly (54.58) and 200 fly (2:00.18) in dual meet with FIU (Jan. 30)…Touched wall in time of 2:02.45 for second place in 200 fly in dual meet with FGCU (Jan. 16)…Earned two wins in tri-meet with Kansas and Rutgers (Jan. 9), capturing top finishes in 100 fly (54.92) and 200 fly (2:03.83)…Posted NCAA "B" cut time of 1:58.68 in "B" final of 200 fly of Ohio State Invitational (Nov. 22)…Earned wins against Princeton (Nov. 6) in 100 fly (55.67) and 200 fly (2:00.93)…Took first in 100 fly (54.85) and 200 fly (2:02.16) in tri-meet with Texas A&M and Incarnate Word (Oct. 30).
Sophomore (2014-15)…
Delivered one of Miami's top individual seasons in sophomore campaign, serving among team's top point-getters for second consecutive year …Recorded 10th-best individual time in 100 butterfly in program history at 2015 ACC Swimming & Diving Championships in Atlanta, touching wall in time of 53.65…Member of school record-holding 200 free relay team, which finished event in 1:31.66 at ACC's…Time of 2:00.52 in 200 butterfly in Atlanta ranked sixth-best in UM history…Also member of 400 free relay team with second-best time in UM history (3:19.79) and 800 free relay team with third-best time (7:17.69), both at 2015 ACC Championships…Earned first-place finish  in 200 fly with time of 2:04.59 in quad-meet with UNC-Wilmington, Georgia Tech and host Virginia Tech (January 24)…Recorded NCAA "B" cut time of 54.26 in 100 fly at Georgia Tech Invitational (Nov. 20-22)…Helped lead "A" entry of 200 medley relay to top finish of 1:44.05 in dual meet victory over Illinois State (Nov. 8)…Touched wall in 1:53.38 in 200 freestyle at SMU Classic (Nov. 17)…Finished fifth in "A" final of 200 fly (2:02.90) at All-Florida Invite (Oct. 6)…Captured fourth-place finish in 100 fly final at All-Florida.
Freshman (2013-14)…
One of team's top freestyle and butterfly swimmers…Opened career by qualifying for "B" final of 50 freestyle at All-Florida Invitational (Sept. 27-29) in preliminary time of 23.50 seconds…Earned points in 100 butterfly (56.83, fifth place) and 200 butterfly (2:05.57, sixth) at All-Florida…Member of 800 free relay entry (7:53.30) and 400 free relay entry (3:34.76) that both placed sixth at All-Florida…Touched wall in 2:05.88 for first-place finish in 200 fly in dual meet against FGCU (Oct. 12)… One of eight team representatives selected for SMU Classic (Oct. 18-19), finishing fifth in 200 fly (2:01.82)…Continued strong run with fourth-place finishing in 200 fly (2:06.15) in tri-meet with Duke and NC State (Nov. 8)…Carried Miami on opening day of Georgia Tech Invitational (Nov. 22), taking eighth in 50 freestyle finals (23.80) and competing on 200 free relay entry that took fourth (1:35.12)…Took sixth in finals of 100 fly (56.30) at Georgia Tech Invite (Nov. 23)…Finished second in 200 fly (2:03.61) in dual meet with Florida State (Jan. 31)…Captured third in "C" final of 200 fly (2:01.50) at 2014 ACC Championship (Feb. 23).
High School/Prep…
Swam four seasons at Dr. Phillips…Helped guide team to second-place finish at 2012 Florida state championships…Earned titles at district, region and state levels in final two years…Served as team captain…School record holder in 100-yard Butterfly (54.45) and 200-yard IM (2:02.57)…Earned state championship in 200 IM sophomore season.
Personal…
Full name is Angela Jane Algee…Parents are Ben and Jane…Has a brother, Joshua (11)…Majoring in School of Arts & Sciences.