University of Miami Athletics
Andrew Parsons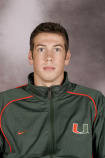 AS A JUNIOR (2007): Placed 11th at the ACC Championships in the decathlon.
AS A SOPHOMORE (2006): Placed 11th in the heptathlon at the ACC Indoor Champion-ships…placed ninth in the decathlon at the ACC Outdoor Championships…recorded a season-best long jump of 6.59 meters (21-07.50) at the Hurricane Invitational.
AS A FRESHMAN (2005): Recorded season-best outdoor marks of 9.93 meters (32-07.00) in placing 12th in the the shot put at the South Florida Invitational…posted a season best javelin throw of 39.46 meters (129-05.00) finishing 15th at the South Florida Invitational.