University of Miami Athletics
Andrew Madden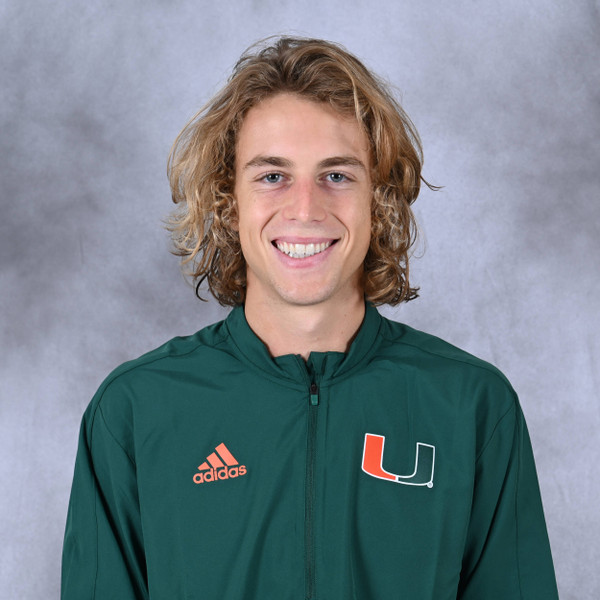 2021 Cross Country: Made his season debut at the FAU Invitational with a 5K time of 16:15.00… posted an 8K finish of 26:17.3 at the XC23 Invitational… crossed the finish line in 26:41.8 in the 8K at the ACC Championships… finished the season with a 10K time of 33:46.27 at NCAA South Regionals.
2021 Outdoor: Did not compete during the outdoor season.
2021 Indoor: Began his indoor season with a time of 4:25.27 in men's mile at the Red Raider Invitational… Ran the mile in 4:19.66 at the Bob Pollock Invitational and finished third in the men's 3000m with a time of 8:44.10.
2020 Cross Country: Was the first Cane to finish at the Mountain Dew Invitational with his time of 25:51.86 for a top-20 finish, ranking as the third-fastest time recorded by a Hurricane since 2014… Recorded a a personal-best time in the 8K at 25:37.8 at the FSU Invitational…Madden led the day as the first Cane to cross the finish line with his personal-best time of 25:15.1 in the men's 8K, ranking as the ninth-fastest time in program history and is the first time a Cane has broken into the top 10 since 2017.
2020 Outdoor: Did not compete due to COVID-19, which canceled the season.
2020 Indoor: Debuted with the Canes in his indoor season running a personal-best time in the mile with a time of 4:25.88, finishing 10th at the Wolverine Invitational… Recorded a personal best time in the mile at 4:22.90 at the Vanderbilt Invitational… Competed at the ACC Indoor Championships running a personal-best time of 4:21.59 in the men's mile and competed in the 3000m.
2019 Cross Country: Finished fifth in the Men's 5k run at the FAU Invitational with a time of 15:45.70…Completed the Men's 8k in 26:35.7 at the Virginia Tech Alumni Invitational
Personal: Son of Roger and Tracy Madden… Sister Carol Beth attended Kentucky University… Lettered and was on the Academic Honor Roll all four years while in high school… Holds his high school's record in the 800m at 1:58.1… Helped his team win the cross country championship in 2015 and 2016… Was part of the track championships in 2016.