University of Miami Athletics
Alicia Blagg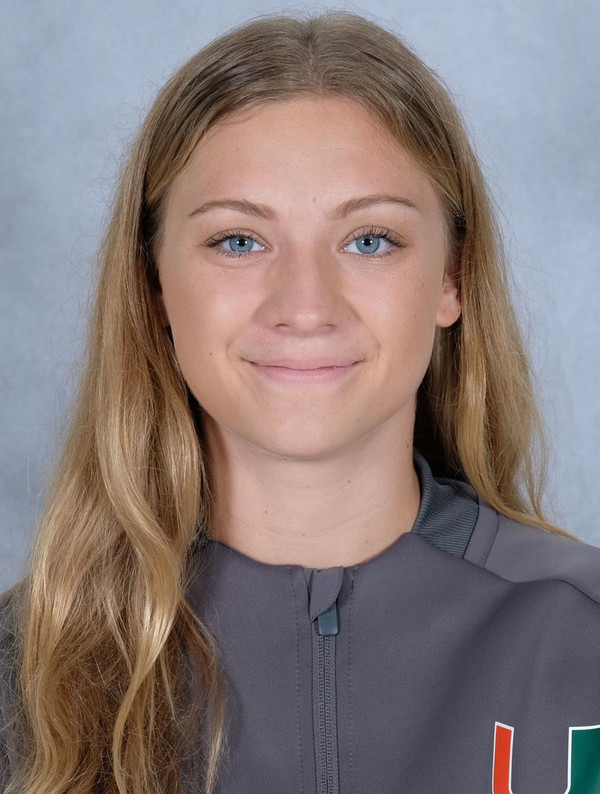 2019 ACC GOLD MEDALIST (1-meter, 3-meter)
2018 ACC GOLD MEDALIST (3-meter)
2017-18 ALL-ACC ACADEMIC TEAM
2018-19 (Redshirt Sophomore): Delivered another dominant regular season for Hurricanes, culminating in pair of gold medals at 2019 ACC Swimming & Diving Championships in Greensboro, N.C…Swept springboard events in back-to-back dual meets, winning 1-meter (346.13) and 3-meter (379.80) vs. Florida (Sept. 28) in Miami's home opener…Managed springboard sweep following day in win over FIU (Sept. 29), taking top finishes 1-meter (340.28) and 3-meter (329.93) …Won 1-meter springboard (301.55) and took second in 3-meter (313.35) at SMU Classic (Oct. 12-13)…Top finisher in 3-meter at first-ever ACC / B1G Challenge (Nov. 10-11) on Purdue campus, finishing with score of 335.30…Won 3-meter at Texas Diving Invitational (Nov. 14) with score of 361.45…Defended ACC gold medal in 3-meter with score of 366.50…Scored 330.95 in preliminary round as top performer…Took home first ACC gold medal in 1-meter with score of 329.15…Posted score of 327.70 in 1-meter preliminaries.
2017-18 (Redshirt Freshman): Delivered impressive season both a Miami and internationally in first year of competition with Hurricanes…Captured gold medal in first trip to ACC Swimming & Diving Championships, taking top honors in 3-meter springboard…Posted impressive score of 402.90 to earn first conference title of career…Finished 14th in 1-meter springboard (247.30) at ACC Championships…Picked up All-ACC Academic honors after strong year in classroom and in pool…Won gold in women's 3-meter springboard at 2018 British Diving Championships with score of 317.70…Took silver medal in 3-meter springboard at Commonwealth Games in Gold Coast, Australia.
2016-17 (True Freshman) Did not see any collegiate action, redshirted to retain eligibility.
Personal: One of England's most accomplished youth divers, earning 1-meter springboard and 3-meter synchro titles at 2010 British championships to burst onto scene…Represented Great Britain at 2012 London Olympics in 3-meter synchro and again in 2016 Rio Olympics…Earned fifth-place finish in 3-meter synchro in Rio…Competed at 2015 World Championships in Kazan, Russia…Won titles in 2014 British Championships and National Cup and took gold in 3-meter synchronized event at Commonwealth Games in same year…Won first Grand Prix medal in 2011.