University of Miami Athletics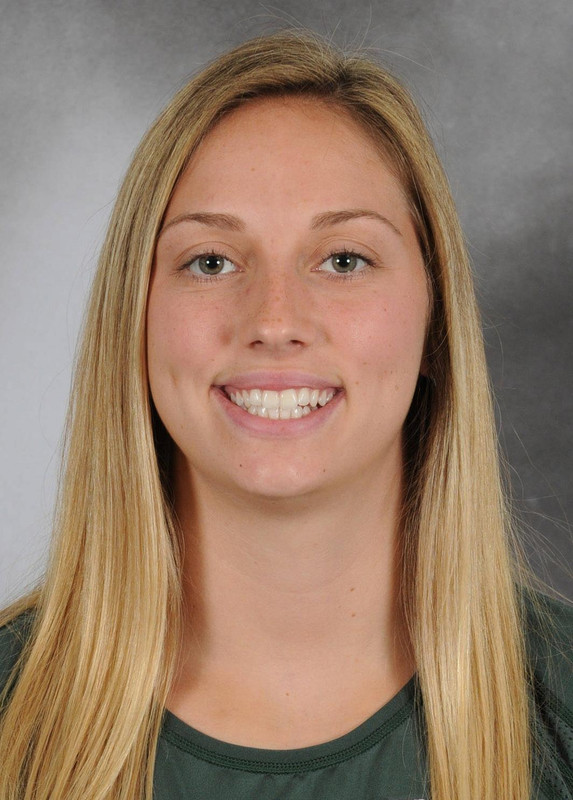 2013 Preseason All-ACC
2012 AVCA All-Region (East)
2012 All-ACC
2012 AVCA All-America Honorable Mention
2012 Preseason All-ACC
2013 (Senior): Has started every match of her career, ranking third in program history with 125 matches played … Finished the season fifth in program history with 1,066 kills … 317 assists rank ninth in UM history … 125 service aces rank fourth in program history … 1,204 digs rank sixth in school history … 281 block assists rank fourth in Miami history … 296 total blocks rank seventh in program history … 1346.5 points rank fifth in school history … 463 sets played rank third in program history … Ranked second on team with nine double-doubles … Finished second on the team in kills (289, 2.49 k/s), service aces (33, 0.28 sa/s), digs (301, 2.59 d/s) and points (365, 3.15 points/s) … Recorded at least 10 kills 14 times, including season-high 19 vs. LSU (Sept. 13) … Had a season-high four service aces in win over No. 12 North Carolina (Nov. 3) … Tallied at least 10 digs in 16 matches, including season-high 18 in win over Austin Peay (Aug. 30) … Had a career-best eight block assists in win over Long Beach State (Sept. 7) 
2012 (Junior): Has started every match of her career …. Finished the season ninth in program history with 895 digs … Recorded nine double-doubles … Led the team in aces (0.38/set) – second in the ACC, 38th in the nation … Second on team with 86 assists (0.75 a/s) … Third on team with a .263 hitting percentage … 48 kills in Hurricane Invitational (Aug. 24-25) to win MVP … Registered 16 kills and 16 digs against Florida State (Sept. 7) … Match-high and tied career high with six blocks against NC State (Oct. 5) … Totaled 25 kills and 24 digs in two weekend matches at MD (Oct. 12) and BC (Oct. 14) … Picked up 20 digs at Clemson (Oct. 19) … Had five service aces at Duke (Nov. 10), including one that tied the fifth set at 14 … Registered 11 kills, 10 blocks and eight digs against College of Charleston in the NCAA tournament (Nov. 30) .. Named ACC Player of the Week (Sept. 10) … Named Collegiate Volleyball Update Top Performer (Sept. 11)
2011 (Sophomore): Started in all 31 matches for the Hurricanes … Ended the season ranked second on the team in sets with 108 played, serves with 24 (0.21 service aces per set) and service receptions with 473 … Finished third on the team in attacks and kills with 290 (2.59 per set) as well as blocks with 73, digs with 340 and points with 353 … Hit double-digits in kills ten times and digs 22 of 31 matches … Perfect 1.000 serve reception percentage in 18 matches … acquired double-doubles seven times … Recorded a season-high 21 kills against Pepperdine at the Peperdine Asics Classic (Sept. 3) while tallying 14 digs … Had an impressive 17 kills and 13 digs in the 3-0 sweep against Louisiana-Lafayette in the Tiger Classic (Aug. 27) … Recorded 14 kills, 17 digs and two service aces to beat LSU in five at same tournament (Aug. 27) … Named Tiger Classic MVP (Aug. 27) … Season-high 19 digs in home victory against Auburn at the Hurricane Invitational (Sept. 9) … Shined in five-set match against NC State (Oct. 7), registering 11 digs, three service aces and six blocks … picked up 10 kills and 12 digs in Clemson sweep (Oct. 14) … Registered 13 digs and 11 kills over Maryland (Oct. 23) … Beat Wake Forest (Nov. 12) with 11 digs, 10 kills and two service aces … Had 13 digs, 11 kills and two service aces in Northern Illinois victory at the NCAA tournament (Dec. 2).
2010 (Freshman): Earned a spot on the All-Atlantic Coast Conference Academic Volleyball team … Named ACC Freshman of the Week twice (Sept. 6 & Sept. 27) … Second freshman in program history to play and start every match of the season … Recorded 205 kills (1.71 per set) … Hit at a .226 clip … Finished third on the team in blocks with 53 total (52 assisted) … Made collegiate debut in five-set win over UT-Arlington (Aug. 27), recording six kills, five assists and four block assists … Season-high tying three services aces in win against Wichita State (Aug. 28) … Season-best .625 hitting percentage in home-opener versus Florida Atlantic (Aug. 31), picking up 10 kills on 16 attacks with zero errors in the win … Racked up a season-high 14 kills in win over Georgia Southern (Sept. 4) to go with 11 digs and five assists to earn a season-best 16.5 points – earning her first double-double of the year … Picked up 39 digs in three matches to help the Canes win the Hurricane Invitational (Sept. 10-11) … Recorded 10 kills in the loss to 15th-ranked Florida State (Sept. 18) … Recorded a season-best 23 digs to go with 10 kills in the home win against Virginia (Sept. 26) – her second double-double of the campaign … Notched 18 digs, 11 kills and three aces in win over Duke (Oct. 22) … Hit at a .421 clip in win over Wake Forest (Oct. 24) with eight kills and zero errors on 19 swings … Finished with a season-best six assists and 33 attacks in road win over Clemson (Nov. 5) … Recorded 19 digs in win at Florida State (Nov. 26) … Two kills, four block assists and 18 digs in NCAA Tournament at Indiana (Dec. 3).
High School: Played her high school volleyball at Leon High School (2006-10) in her hometown of Tallahassee, Fla. … Played club volleyball for North Florida … Finished the 2009 season as an Under Armour All-America Second Team selection … Named FHSAA Class 5-A First Team All-State in 2008 … Selected as Leon High School's MVP in consecutive years for 2008 and '09 … Three-time selection for the Tallahassee Democrat All-Area Team (2007-09) … Earned North Florida Volleyball Academy 17 Elite MVP honors in 2008 during her club season … Selected as MVP of the North Florida Volleyball Academy 18 Elite in 2009 … North Florida Club MVP in 2009.
Personal: Daughter of Jeanie and Ray Johnson … Prefers to be called Alex … Has three siblings, Holly, Katie and Taylor … Major is accounting.