University of Miami Athletics
Alaina Skellett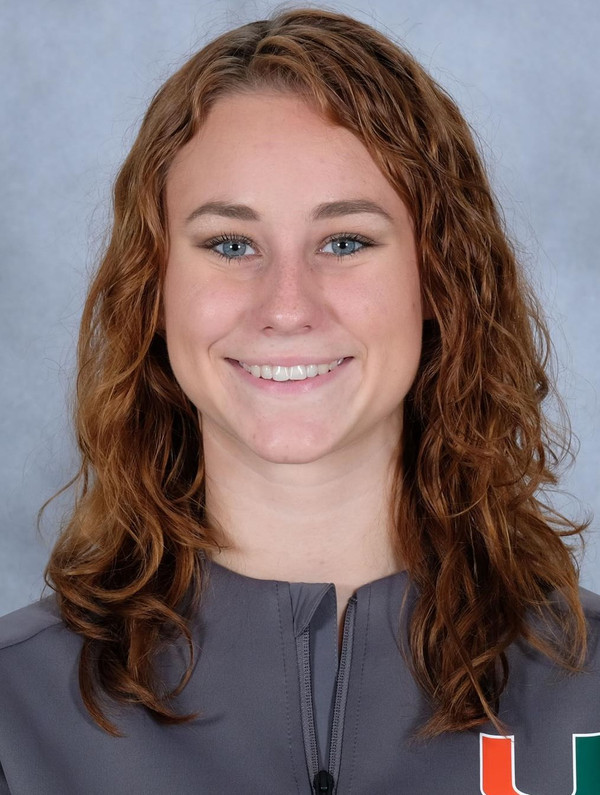 Junior (2019-20): Delivered another standout year for Hurricanes, finishing among team's top point-getters…Ranked fourth in points scored over course of season…Scored third-most points for Hurricanes at SMU Classic (Nov. 11-12)…Participated in 2019 U.S. Open Swimming Championships in Atlanta in early December…Member of 200-yard freestyle relay team that earned win in time of 1:36.88 in dual victory win over FGCU (Jan. 18)…Broke own school record in 200-yard backstroke with time of 1:56.21 at 2020 ACC Swimming & Diving Championships (Feb. 22) in Greensboro, N.C…. Earned trip to 2020 U.S. Olympic Trials with time of 1:02.35 at time trial meet in Cary, N.C., following ACC Championships.
Sophomore (2018-19): Finished third in 100-yard backstroke (58.08) in dual meet with Florida (Sept. 28)…Took second in 100-yard backstroke (57.43) and 200-yard backstroke (2:05.64) in dual meet win over FIU (Sept. 29)…Posted time of 2:04.78 in 200-yard backstroke in tri-meet with Alabama and Florida State (Jan. 12)…Had time of 55.59 in 100-yard butterfly at 2019 ACC Swimming & Diving Championships (Feb. 20-23)…Touched wall in 55.15 in 100-yard backstroke in Greensboro, N.C.
True Freshman (2017-18): Delivered impressive first season, setting school record in 200-yard backstroke (1:56.39) and cracking Miami's top-10 all-time performers list in two other events: third in 100-yard backstroke (53.74) and seventh (54.62) in 100-yard butterfly…Broke own school record in 200 back with dominant performance on final day of Big Al Open (Dec. 3)…Posted other top-10 times at First Chance Invite (Feb. 18).
High School/Prep: Four-year letter winner at Mercy High School…Helped lead team to four county championships and  four Catholic League championships…Team won 2013 Division I state championship…Mercy finished runner-up in state championship in 2014 and 2016 and finished third in 2015…Member of team that set state's 200 medley relay record in 2014 and 2015…Was on 200 free relay team that set state record in 2014…Broke pool and varsity record in 100 butterfly in final season…Finished second at state championships in 100 backstroke and third 100 fly…First set pool record and broke varsity record in 100 fly as junior…Earned All-America recognition all four seasons…Member of Flint Falcons club swimming program.
Personal: Parents are James and Mary…Has two brothers, Thomas and James, and one sister, Sophia…Intends to major in biology.