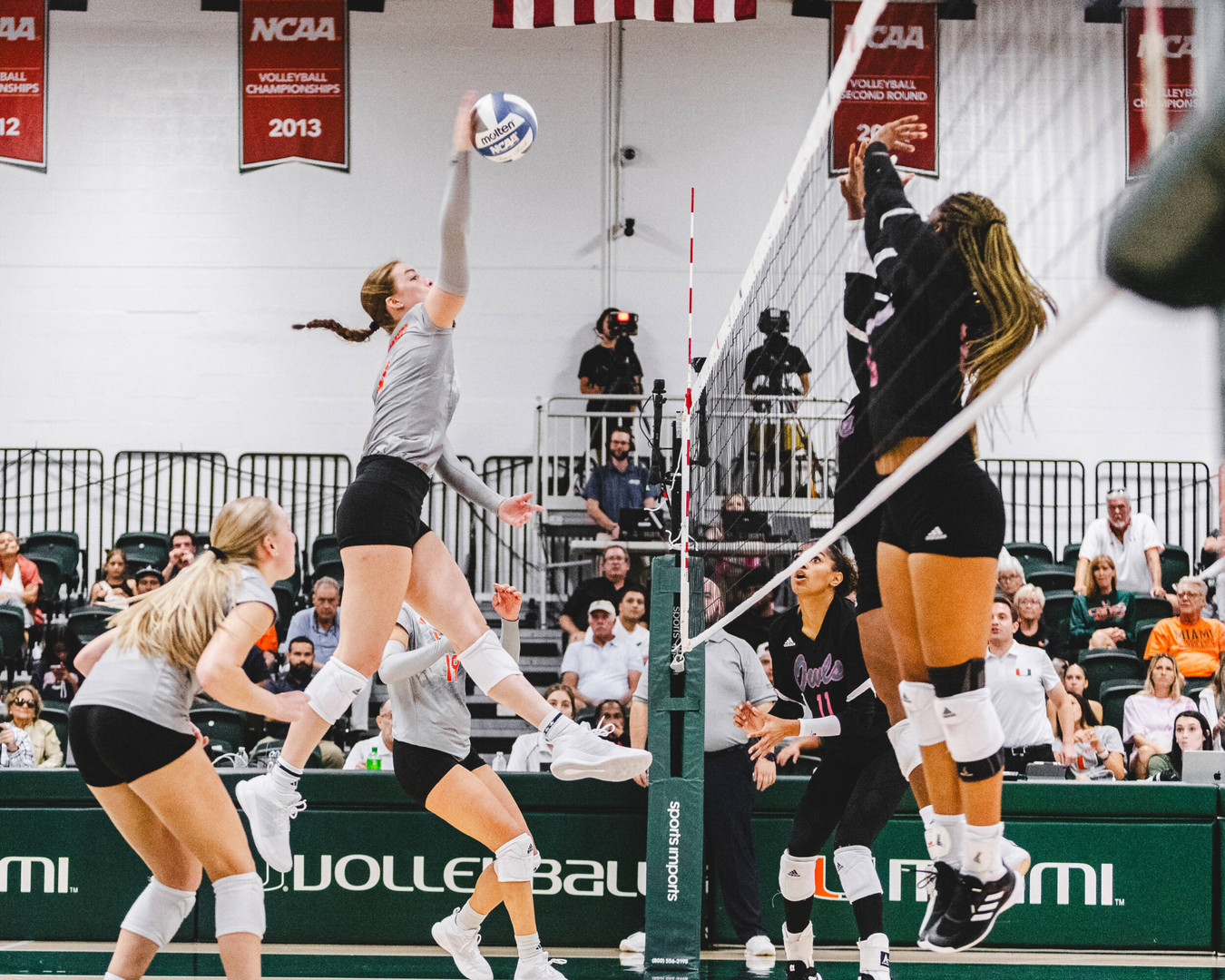 CORAL GABLES, Fla. – The University of Miami volleyball team closed its first homestand of the season with a 3-1 win against FAU at the James L. Knight Sports Complex on Monday night.
Miami (3-0) saw triumphs and challenges throughout the match, yet tallied 20 more kills than FAU and averaged a .272 attack percentage to the Owls' .159 clip.
The Canes got set one rolling with five kills split between graduate student Janice Leao, redshirt senior Angela Grieve, junior Peyman Yardimci and sophomore Flormarie Heredia Colon for an early 10-5 lead. The team's five blocks and 18 kills pushed Miami to earn set one, 25-22.
The teams traded points for the first half of set two until freshman Grace Lopez made her Miami debut and helped the Canes pull away with a solo block to make it 13-10. Junior Ashley Carr sealed set two for Miami, 25-18, with a kill in her first match of the season.
FAU held the lead the majority of set three, despite sophomore Cianna Tejada making her season debut and tying it at 11-all with a kill. Miami battled back from a 19-14 deficit to make it 24-23, but the Owls claimed set three, 25-23, to avoid the sweep.
Set four started similar to the rest in a point-for-point fashion. The Canes started to inch away with the help from Lopez, whose consecutive kills to upped the advantage to 14-9. Heredia Colon and Tejada contributed a combined 10 kills in the set to help the team pull away from the Owls. Miami clinched the match with a 25-19 win.
Heredia Colon led the match in kills (13) and points (14), while Casiano did so in hitting percentage (.643) and Vach did so in assists (55).
Miami will travel to Columbia, S.C., to face South Carolina and Troy on Sept. 1 and 2, respectively.