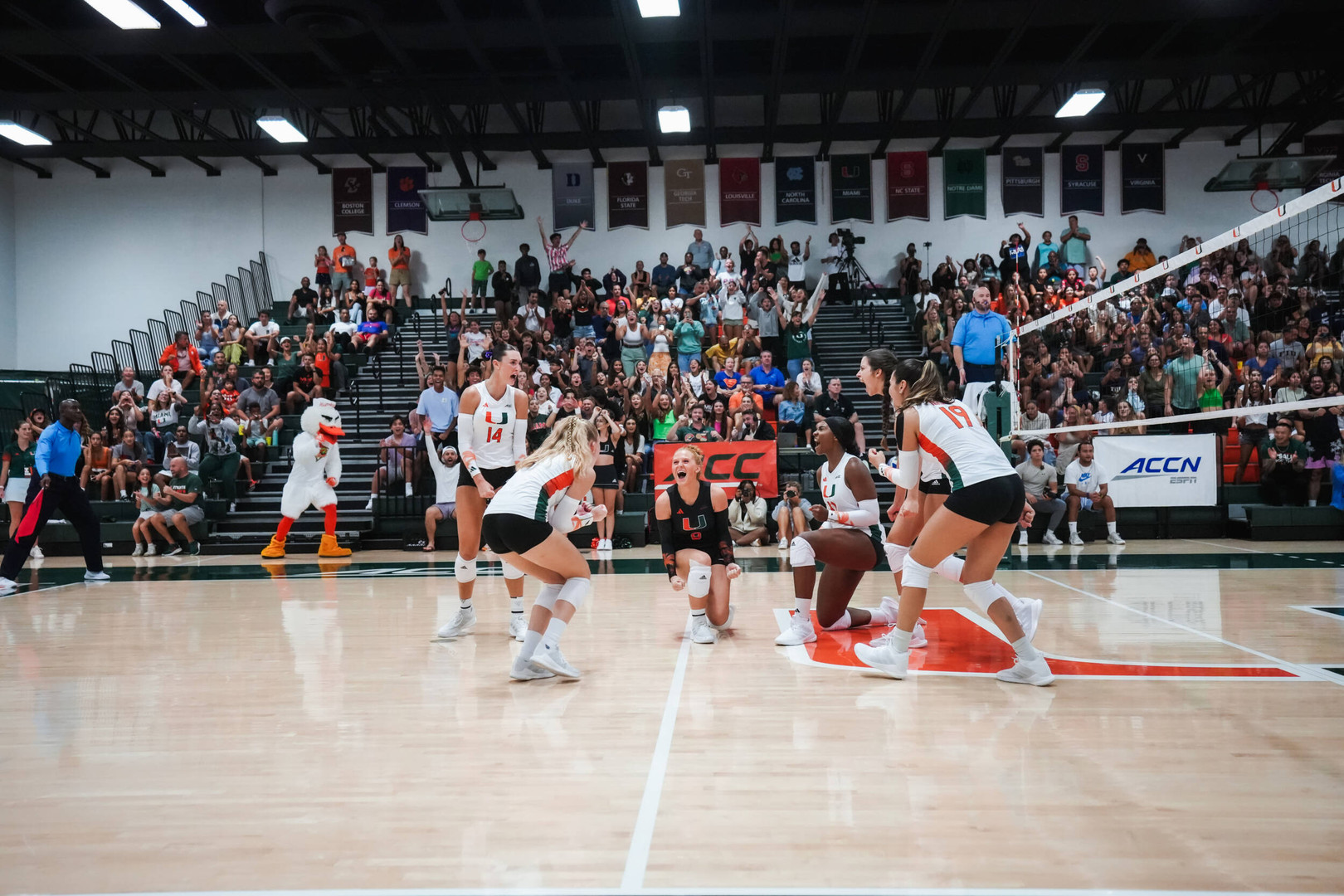 CORAL GABLES, Fla. – The University of Miami volleyball team earned its first shutout of the season, claiming a 3-0 win over FIU at the James L. Knight Sports Complex in the last match of the Canes Classic.
Miami (2-0) followed up the nail biting first-set win with consecutive powerful victories to grab another triumph on the young season.
The Hurricanes nearly doubled FIU in kills, edging the Panthers, 41-23, and posting a .259 to .108 margin in attack percentage. Although the two teams both tallied six blocks, Miami took a decisive edge in aces with 14 to FIU's four.
The Panthers continuously held the lead throughout the first set until sophomore Flormarie Heredia Colon delivered a smackdown to tie it at 24. Redshirt senior Angela Grieve earned the Hurricanes a 1-0 lead after floating it over for her fourth kill of the set, giving the team 26-24 decision behind a 6-0 closing run.
Set two was nothing like the first. Miami maintained the advantage throughout, ultimately recording 14 kills for a .538 attack percentage. The team also collected eight aces, contributing to the 14 overall to tie for third-most in a match in program history.
The Hurricanes went on a 10-3 run in the third to set the tone of the final session of the match. With help from junior Peyman Yardimci, Grieve and graduate student Abby Casiano, the Hurricanes tallied 41 kills on a .552 attack percentage. Miami dominated set three for a 25-14 victory to earn its first sweep of the season.
The green and orange led every category in the match, but fifth year Savannah Vach stood out among them all with 31 assists, the next one being FIU's Gianna Tagoa'i with 14.
Miami will return to the court on Monday, August 28 at the Knight Sports Complex to face FAU.