Hall Moves on to Nationals, Four Hurricanes Make Quarterfinals on Day Two of NCAA East Prelims
JACKSONVILLE, Fla. – The University of Miami track and field team completed day two of the NCAA East Preliminaries in Jacksonville, Fla., Thursday evening.
Fifth-year student and ACC outdoor champion Hannah Hall continued her historic outdoor season in the women's shot put, placing sixth with a final mark of 17.17m, which advances her to the national championships in Austin, Texas.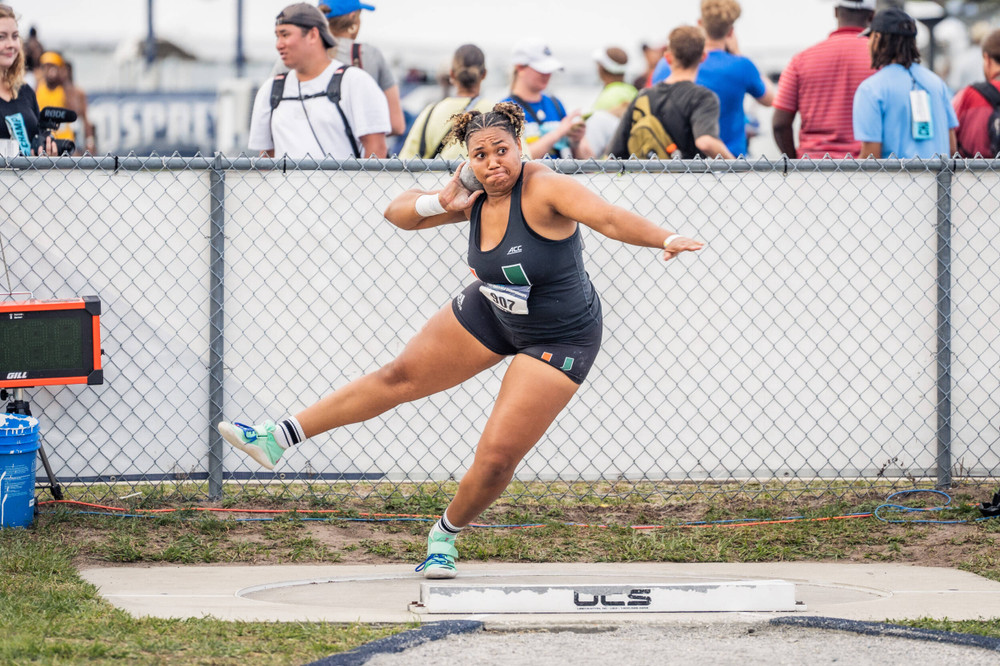 Moriah Oliveira and Kennedy Brace move on to the quarterfinals for the women's 400m after both sprinters placed in the top three of their respective flights.
Oliveira placed 18th overall with a time of 53.31, while Brace earned 21st with a time of 53.44. The duo will take on the quarterfinals this Saturday at 6:50 p.m.
Sanaa Hebron and Skyla Wilson advanced to the quarterfinals in the women's 400m hurdle event. Wilson, a bronze medalist at the ACC Championships, placed seventh with a time of 57.45. Hebron, the defending ACC 400m hurdles champion, placed 11th overall with a time of 57.77.
The quarterfinals featuring the two hurdlers is scheduled for Saturday at 7:25 p.m.
To stay up to date with the Miami Hurricanes track and field team, make sure to follow @canestrack on Instagram, Twitter, and Facebook.