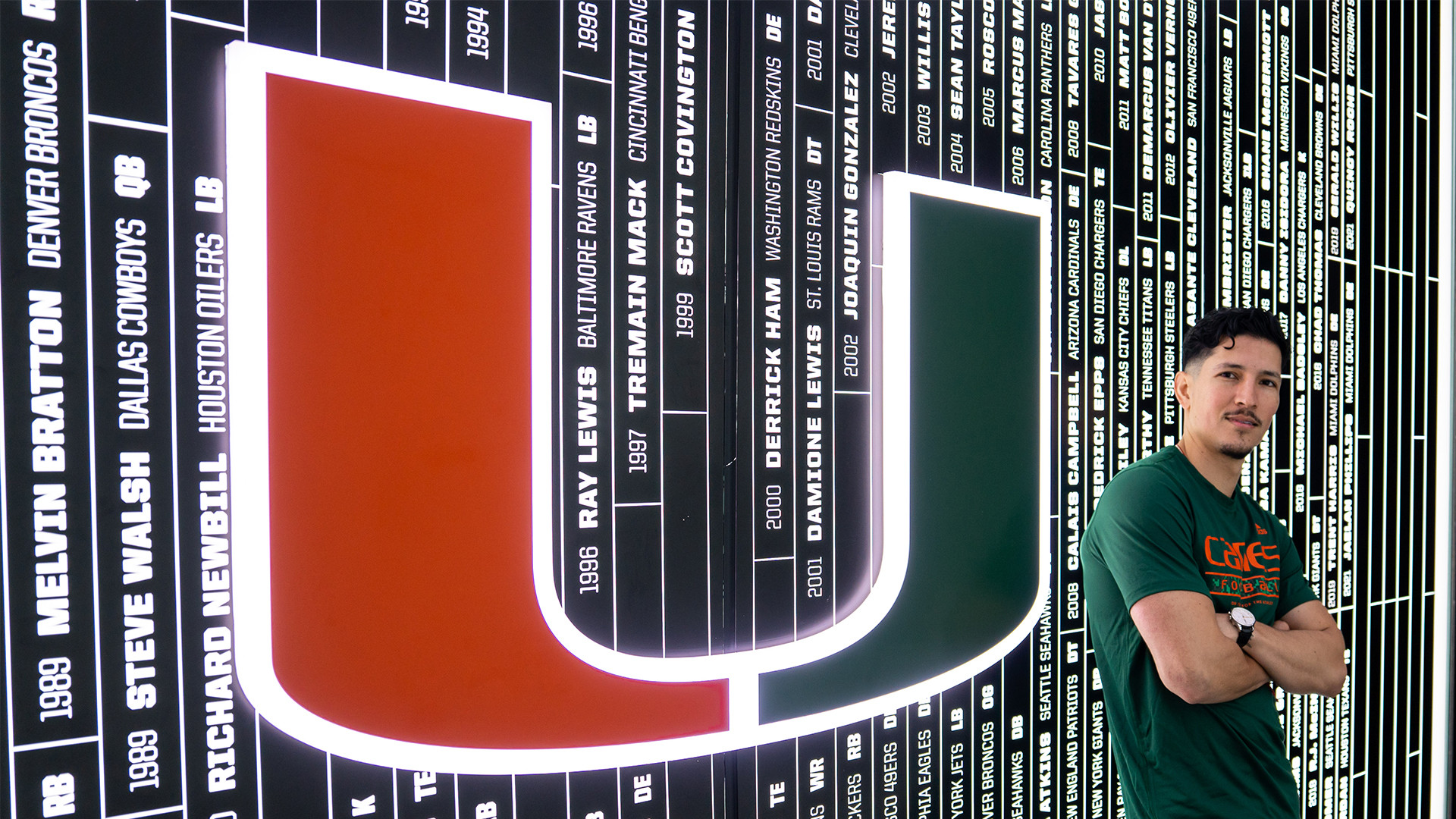 CORAL GABLES, Fla. – It was a moment, a game, an experience he still hasn't forgotten.
Danny Ramirez was an excited second grader the day he and his fellow Boy Scouts went to the Orange Bowl to watch the Hurricanes take on Boston College as part of a troop outing.
Even at his young age, Ramirez could feel the excitement in the air, an excitement that only grew as former Hurricanes receiver Santana Moss etched his name in the Miami record book.
There was the 23-yard touchdown pass Moss caught from Ken Dorsey. Then a 13-yard scoring pass. And as if that weren't already enough, Moss scored on an 85-yard punt return that helped him break Miami's then-record for all-purpose yards and left Ramirez enraptured – and in a bit of trouble.
"Without telling the chaperone, I had painted on my bare chest a big 'U,' but I had my shirt over it. We parked and it was the old Orange Bowl, so we had a good little 30-minute walk. We go behind the field goal where our seats are…and Santana Moss just pops off," Ramirez recalled. "We win, 52-6, but Santana Moss just had an unreal day. I remember being in awe of everything he was doing. He was moving at a speed faster than everybody else on the field.
"And I remember I took off my shirt, as a second grader, with this massive U painted on me and a camera panned [over] as well and I was going crazy. The chaperone was like 'What are you doing? Put your shirt back on. You're just a little kid.' But from that moment on, I just became a hardcore fan."
These days, Ramirez has a pretty full schedule, as one might expect for one of the highly sought-after stars of 2022's highest-grossing movie, Top Gun: Maverick.
He still makes it a point, though, to not only keep tabs on how his beloved Hurricanes are doing but to be a part of as many games as possible.
Last year, that meant traveling to College Station to watch Miami's football team take on Texas A&M as part of his birthday celebration. And this month, with Ramirez in South Florida training for his next film, that meant taking in the Hurricanes men's basketball win over Duke.
In the process, he spent some time on campus meeting some of the coaches and student-athletes he cheers for on a near daily basis.
"There's nothing like meeting your heroes in person, so to me, that was like a standout moment," said Ramirez of his chats with head football coach Mario Cristobal, head men's basketball coach Jim Larrañaga, football analyst DeMarcus Van Dyke and director of on-campus recruiting Mike Rumph, among others. "Mario's such a presence in the room, the way he holds himself, I was like 'This is someone that you go to war for.' I'd run through a wall for him."
Ramirez – who was born in Chicago, but embraced the Hurricanes during a childhood spent in Miami – also met with Miami Vice President/Director of Athletics Dan Radakovich, chatted with Hurricanes strength and conditioning coordinator Aaron Feld and went through a workout with the team's strength and conditioning staff inside the Carol Soffer Indoor Practice Facility.
For the actor who played Lt. Mickey "Fanboy" Garcia, the workout was a challenge – but one he felt prepared to handle after not only undergoing the physical training that Top Gun: Maverick required, but because of his background as an athlete.
Before attending NYU's Tisch School of the Arts and pursuing acting full time, Ramirez grew up running track, playing soccer, basketball and yes, football.
Inspired by Moss and the Hurricanes, he dreamt of not only playing collegiately, but one day, potentially starring in the NFL.
"I was going to be Wes Welker before Wes Welker existed," Ramirez quipped.
And it was his love of the Hurricanes – a love that took root during that fateful day at the Orange Bowl and was nurtured later when he met more than a few Miami players at his elementary school thanks to one of his teachers – that helped him believe all of it was possible.
"[The Hurricanes] allowed me permission to dream big…The way the community talked about that team, there was magic that was just right down the street in Coral Gables," Ramirez said. "There's magic happening and it's close to you. It's not in Hollywood, which to me, felt so distant until I was there. And it's also not in New York. It's not overseas. It's right down the block…
"To me, it just boils down to permission. As a little kid, your dreams are going to run rampant. And sometimes, there's going to be a lot of adults that come in and try to really bring logic into the equation and be like 'Well, that's only one out of every million people that do this.' But the Canes, to me, kind of erased all that. Whatever any doubter says, take that out of the equation. It's up to you and when it's up to you, anything can happen."
That mentality, Ramirez said, fueled him in everything he did as a young athlete, on and off the field. Eventually, he earned multiple offers to play Division III football and collegiate soccer.
He opted to play soccer at Oglethorpe University in Atlanta, not knowing that coincidentally enough, that decision would eventually lead him to acting.
During his freshman year, Ramirez sprained an ankle and was watching his teammates practice when a production assistant wandered over to the school's soccer field in search of extras for the 2012 film The Reluctant Fundamentalist starring Riz Ahmed, Kiefer Sutherland, Kate Hudson and Liev Schreiber.
Since he was on crutches and unable to practice, Ramirez figured he'd try to earn some extra money on the set. When the production assistant told him it didn't matter that he was hurt, he jumped at the opportunity.
The filming took a lot longer than the few hours Ramirez initially expected. But watching the film's actors at work, taking in all that went into creating the perfect scene and seeing Ahmed – a person of color – in a lead role captured his imagination.
He bought his first books on acting not long after. One of those books, The Great Acting Teachers and Their Methods, included a list of the nation's top arts schools and Ramirez couldn't help but wonder if he could find a place at one of their programs.
He did – thanks to a soccer coach in New York.
Ramirez transferred to NYU intent on continuing his athletic career up north. But once he was accepted into the university's prestigious Tisch School of the Arts in 2013, he turned his focus to acting full time.
He made appearances in several television series including The Affair, Blindspot, Orange is the New Black and The Gifted before appearing in director Sam Levinson's Assassination Nation in 2018.
It was a role he told IMDb "was a pivotal moment" in his career and helped pave the way for multiple projects that followed.
And as he worked to find his footing in acting, Ramirez said he relied on his training as an athlete to help him perfect his craft.
"I attribute everything to sports. Sports and art translate more than people lead on," he said. "It feels like such a different thing. Art feels like a more abstract expression of what's happening inside and the way that I always saw sports was that exact same thing. There's just a connection with craft.
"Like, if a wide receiver has to get off a jam, right, there's a beautiful choreography to that. And the best players are speaking a different language in regards to their body and how they move with it and it feels more artistic. So when I transferred over to the acting element of it, it felt like I had been preparing for it my whole life."
But establishing his career and continuing to grow as an actor aren't Ramirez's only goals.
The son of Mexican and Colombian parents, Ramirez knows his presence in movies like Top Gun: Maverick and in Marvel's Falcon and the Winter Soldier television miniseries have the potential to inspire countless Latino children across the world.
And he knows the lack of representation in Hollywood as a whole can be problematic. To that end, he has created his own production studio with friends from NYU and is putting together projects that he hopes will showcase more Latino actors and their stories.
He also hopes that in the same way Moss once gave him the permission to dream, he can do the same now for a new generation of youngsters, albeit in a different way.
"That's everything to me. I have little nieces and nephews and cousins that are still shocked at what I'm doing. And it is more shocking to others than it is to myself…Long ago, Santana Moss gave me that permission, so I've already known [what's possible], right? I know what I'm going to do and I know that I'm going to pursue whatever craft I am to the fullest extent," Ramirez said. "So, it's not been that much of a surprise [to me]. The surprising part has actually been the absolutely necessity of that representation…
"Every day that passes, kids are getting older and might just be missing that window in which they see themselves represented. So the urgency for me is to get that representation now because I know how important it was for me to see it when I saw it. When it comes to any project, no matter what it's about, I know by my sheer being in it, there's representation…Like Fanboy, for instance. In Top Gun, I played a role in the film. But then within that, I'm associated with something great and there's a lot of Latino kids out there that will watch it and be like 'Oh, wow. There's someone actually doing this in a meaningful way.' To me, it's just about making sure that that kid gets that permission sooner than later."
While it's the Hurricanes of the past who provided him with plenty of inspiration, Ramirez said that like most Miami fans, he's eager to see how the current Hurricanes look this fall.
And he plans to continue making sure his schedule is clear every time Miami takes the field.
It's the least he can do, he says, for the program that inspired him.
"I didn't go to The U, but I think I got taught so many lessons by The U that I feel indebted to [it for] the way that I work and what I strive for," Ramirez said. "It's clear as day, one-to-one. What's the first thing that gave you permission? It's this…When I look at my success and all that, I think of Ms. Pecoraro in third grade and everyone [from Miami] she brought over. It was the closest proximity to excellence that I've had in my whole life. It was a very important pillar to becoming who I became and who I will be."