"It's Really, Really Rewarding"
CORAL GABLES, Fla. – All-Conference and All-American recognition. A pair of degrees. Countless memories.
When Lou Hedley made the decision to pursue the somewhat unorthodox dream of playing college football in the United States, the Australian punter could never have imagined the journey he'd find himself taking, first in San Francisco then later, in South Florida.
But as he prepares to leave the University of Miami as a double-graduate this week, Hedley can't be more grateful for all he's experienced – and excited about what may come next.
"Back in Australia, I didn't even graduate high school. I had to go to junior college to just be able to get my degree in order to come to the University of Miami," Hedley said. "That was a step in itself. Looking back, I remember doing all my math placements and English placements to get into a junior college. I would never have thought I'd be here, about to walk to get my master's degree from the University of Miami, which will be my second degree from such a prestigious school. It's really, really rewarding when you look back on all the hard work in the classroom.
"When you think about football and college, everyone talks about the football side of things: the playing, the training, the practicing. But a lot of hard hours go into the classroom…It's definitely just as rewarding looking back on my college playing days as it is looking back at these academic accolades and my master's degree, which is really good to have."
A former Australian Rules Football player back home, Hedley arrived at Miami after spending time at the City College of San Francisco. There, he was rated a two-star prospect who averaged 38.6 yards a punt.
At Miami, he developed into one of the nation's top specialists – and became a viral sensation and fan favorite in the process.
His booming kicks flipped field position regularly and by 2020 – his second season in orange and green – Hedley was averaging 47.3 yards per punt, a number that helped making him a finalist for the Ray Guy Award, a second-team Associated Press All-American and a second-team All-ACC selection.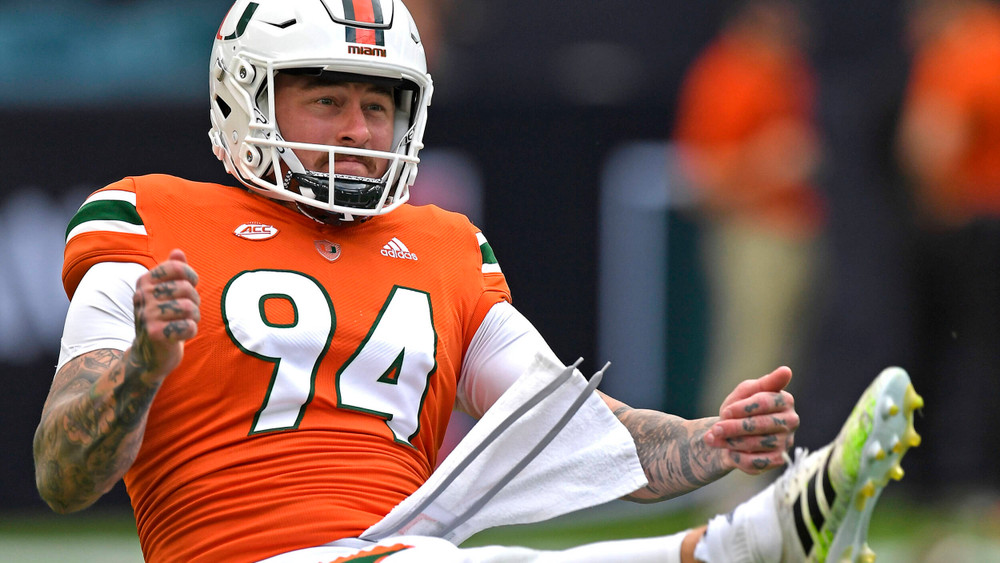 That year, he'd also earn a degree in sports administration, participating in a less-than-traditional graduation ceremony held at Hard Rock Stadium because of the Covid-19 pandemic.
This week, he was one of 25 Hurricanes to participate in graduation ceremonies on campus, at the Watsco Center.
That he had the opportunity to earn his master's in part because of the pandemic and the extra year of eligibility granted to him and thousands of student-athletes across the nation wasn't exactly something that was lost on Hedley.
"The fact the NCAA gave everybody an extra year with Covid, I think that was really good of them. For me especially, I was planning on coming out after 2021 and I had a lingering injury, so it really saved me," said Hedley, who battled back from said injury to average 45.3 yards per punt this season with 23 of his 46 punts landing inside the 20-yard line. "I got that sorted out and now I'm back to 100 percent coming out and trying to get into the NFL with a fully healthy body as opposed to having to rush…It put me in a really good position and I was able to experience [working with] this new staff…I met a lot more people here that I probably wouldn't have built such a good relationship with if I would've had to leave. Alonzo Highsmith, [head coach Mario] Cristobal, all the other staff members that have come this year. It's been really good working with them and [building] good relationships."
As for his future, Hedley will now turn his focus to preparing for a professional career. But he says once his playing days are officially behind him, he'd like to return to Miami and work with the football program in some capacity, whether that be as an analyst, a recruiting staffer or something else.
He also said he hopes his journey serves to one day inspire his 4-year-old son, Loki.
"I can be a role model to him and now forever, whilst he's growing up, I can always push him in the right direction and show him the path I took," Hedley said. "Going to university, whether he's playing sports or not, I think now for him growing up, he'll see that is a normal thing to do and I hope he kind of respects the path I took in order to do what I did…It's definitely good for him being able to see me graduate with my master's, and hopefully, he grows up with that same ambition."
While Hedley's journey has come to an end, several of his fellow graduates will be returning to Miami next semester and beyond, including football teammate Jahfari Harvey.
Harvey, a defensive lineman for the Hurricanes, earned a degree in liberal arts this week and will now begin pursuing a graduate degree.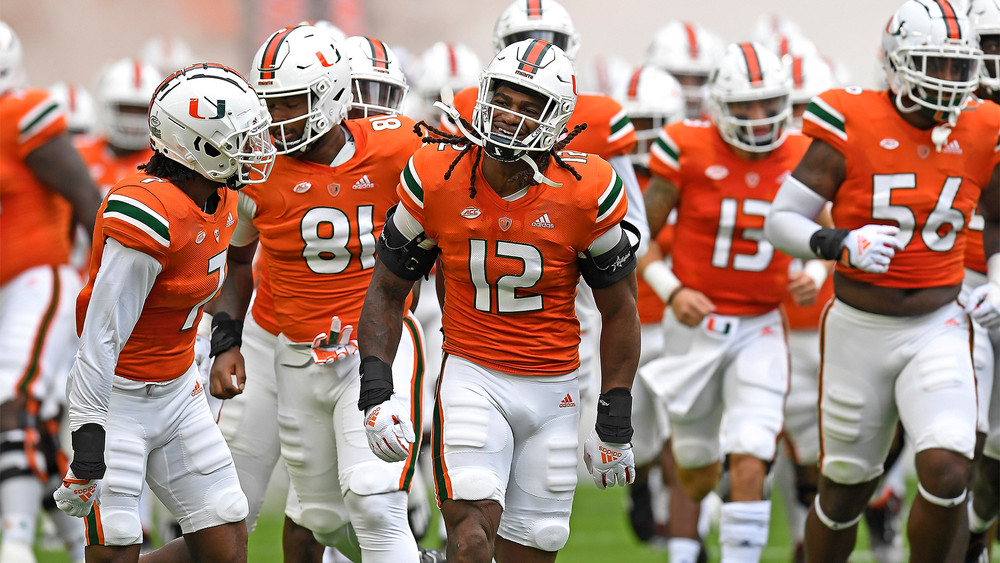 For him, the opportunity to continue both learning and competing at Miami is one he doesn't take for granted.
"Football is a very special sport that allows you to accomplish many different things within reaching your goals," Harvey said. "So, it's just a blessing. I can't say enough about it. Football has pushed me already. To be able to play football and graduate from college, I'm very proud of myself for being able to do that."
2022 Fall Semester Student-Athlete Graduates
Baseball

Alejandro Torres, Danny Reyes
Football
Jahfari Harvey, Lou Hedley*, Zalon'Tae Hillery*, Jarius Howard, Will Huggins*, Bryan Levine, Zion Nelson, Mark Pope, Ousman Traore
Golf

Anna Backman, Morgan Pankow
Soccer

Melissa Dagenais, Jaclyn Marra, Taylor Shell
Women's Tennis
Nada Dimovska
Men's Track & Field
Decio Andrade*, Khamal Stewart-Baynes, Ayman Zahafi
Women's Track & Field
Selina Dantzler, Hannah-Sophia Hall, Lauryn Harris
Volleyball
Janice Leao, Tyanna Omazic*
*Denotes Master's degree