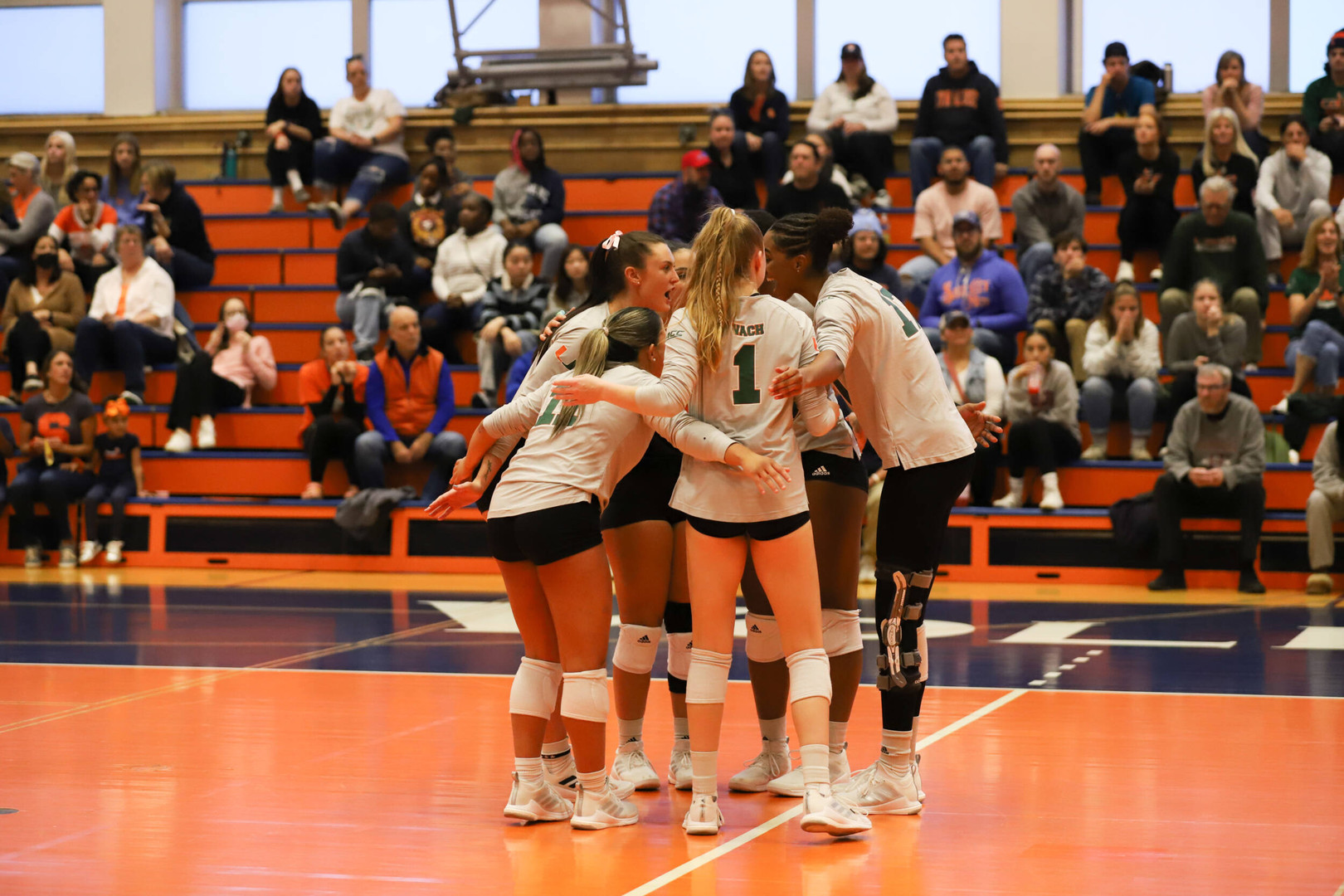 SYRACUSE, N.Y. – The University of Miami volleyball team cruised to its seventh conference win of the season, sweeping Syracuse, 3-0, Sunday afternoon at the Women's Building.
Redshirt junior outside hitter Angela Grieve led the Hurricanes with a match-high 19 kills, good for eighth-most in a three-set match in program history.
"I was just moving the ball around to find which shot worked the best," Grieve said. "Once we figured out what worked, we were able to execute well throughout the match."
Miami (14-9, 7-5 ACC) took an early 9-4 lead in the opening set. When Syracuse managed to cut the deficit to one, 20-19, the Hurricanes rattled off four straight points and eventually closed out the opening frame 25-22.
In the second set, the two sides battled back-and-forth. Deadlocked at 14, a three-point run gave Miami the breathing room it needed to finish off the Orange, 25-19, and take a 2-0 lead.
Set three was more of the same as the Hurricanes won the frame's first six points and hit .353 to take the set, 25-17, and the match, 3-0.
"It was really important to end the weekend with a victory," Grieve said.
Junior right side hitter Naomi Franco and senior outside hitter Viktoriia Lokhmanchuk each recorded 10 kills for the hosts. Graduate student libero Alyssa Bert led Syracuse with 14 digs while sophomore setter Riley Hoffman paced the Orange with 18 assists.
Sophomore outside hitter Peyman Yardimci and senior middle blocker Abby Casiano added four and five kills, respectively, and both hit at least .500.
Sophomore libero Yaidaliz Rosado led the Hurricanes with 12 digs and senior setter Savannah Vach recorded a match-high 36 assists.
Miami returns home Friday, Nov. 4 to host No. 10 Georgia Tech at the Knight Sports Complex. First serve is set for 7 p.m. and will be broadcast live on ACC Network Extra. Admission is free.
To keep up with the University of Miami volleyball team on social media, follow @CanesVB on Twitter and Facebook, as well as @Canes_VB on Instagram.