ACC Announces 2022 UNITE Award Recipients
GREENSBORO, N.C. (theACC.com) – The Atlantic Coast Conference has announced the recipients of the second annual 2022 ACC UNITE Award, which was created to honor individuals affiliated with the league who have made an impact in the areas of racial and social justice. The UNITE Award is an initiative of the ACC's Committee for Racial and Social Justice (CORE – Champions of Racial Equity) and was developed and approved by its 15 member institutions.
The UNITE Award is presented annually to individuals who:
Best exemplify ACC CORE's mission to promote and encourage racial equity and social justice through education, partnerships, engagement and advocacy
Have helped create meaningful, lasting change by improving systems, organizational structures, policies, practices and attitudes
Have been a pioneer and/or helped pave the way for minorities either at the institution or in the community
Each school selects its two recipients based on the above criteria and can choose to celebrate their selections at campus events throughout the academic year.
"We are proud to honor the ACC UNITE Award winners who have made significant contributions in the areas of racial and social justice," said ACC Commissioner Jim Phillips, Ph.D. "These 30 individuals are true pioneers who inspire us with their contributions to a more diverse and equal society. As a conference we will remain steadfast in our pursuit of racial and social justice, while assisting our student-athletes and institutions with programs that can affect change."
ACC SiriusXM will devote a portion of their morning show to the 2022 UNITE Award recipients with hosts Chris Spatola and Dalen Cuff Thursday morning at 10 a.m.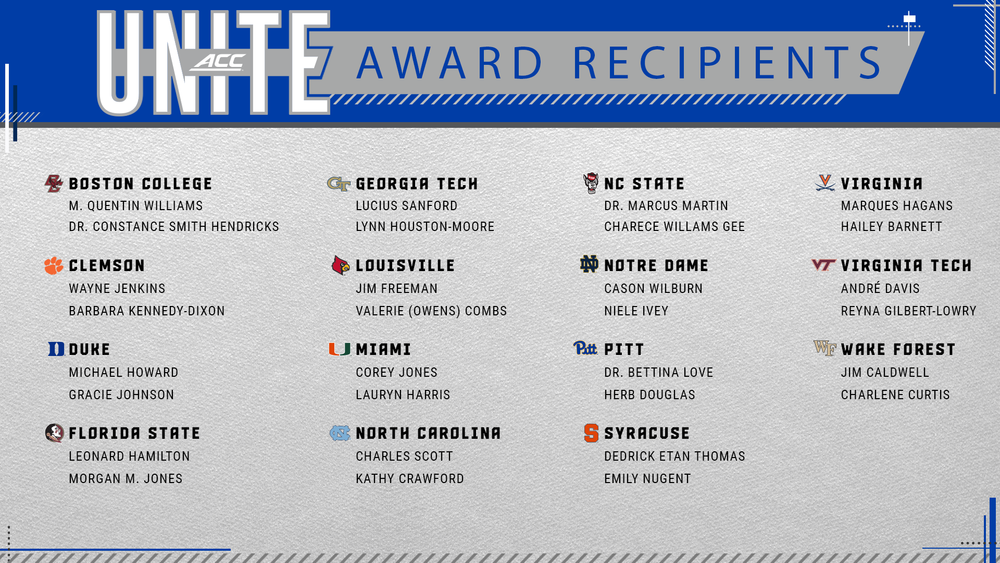 2022 UNITE Award Recipients
Boston College: M. Quentin Williams & Dr. Constance Smith Hendricks
Clemson: Wayne Jenkins & Barbara Kennedy-Dixon (posthumously)
Duke: Michael Howard & Gracie Johnson
Florida State: Leonard Hamilton & Morgan M. Jones
Georgia Tech: Lucius Sanford & Lynn Houston-Moore
Louisville: Jim Freeman & Valerie (Owens) Combs
Miami: Corey Jones & Lauryn Harris
North Carolina: Charles Scott & Kathy Crawford
NC State: Dr. Marcus Martin & Charece Willams Gee
Notre Dame: Cason Wilburn & Niele Ivey
Pitt: Dr. Bettina Love & Herb Douglas
Syracuse: Dedrick Etan Thomas & Emily Nugent
Virginia: Marques Hagans & Hailey Barnett
Virginia Tech: André Davis & Reyna Gilbert-Lowry
Wake Forest: Jim Caldwell & Charlene Curtis (posthumously)
Miami
Corey Jones, a current student-athlete and Cheerleader at Miami, has demonstrated the qualities of the UNITE Award through his work with the Athlete Ally group both locally and nationally. Jones helped found and implemented the University of Miami student-athlete affinity group, Athlete Ally. Athlete Ally is a national organization whose mission is "to end the rampant homophobia and transphobia in sport and to activate the athletic community to exercise their leadership to champion LGBTQI+ equality." The UM chapter is the first Athlete Ally group in the state of Florida. Jones served as the president for two years and led many of the initiatives of the group. In partnership with the UM athletic department, Jones served on the Panel for Pride and participated in organizing the Pride Week at UM. Through his efforts the group has grown with each session and been actively involved on campus and in the community. Jones also spoke at a national Athlete Ally event held in Miami, Florida this past March. The organization of the Athlete Ally group also contributed to UM receiving a perfect score of 100 on the Athlete Ally Athletic Equality Index.
Not only has Jones been involved in Athlete Ally, but he also committed his time to serving the UM campus as a whole. Jones was active in Athletes in Action, President's 100 Student Ambassadors, College of Arts & Sciences Dean's Ambassadors and a member of Undergraduate Student Senate. Jones was an active member of our Cheerleading Squad and is a champion for diversifying the sport of cheerleading and for mental health resources across athletics.
Jones has served as the on the field and court leader of positivity, inclusivity, and support for student-athletes participating in athletics events and fans watching from the stands. As a double major in biochemistry and molecular biology, Jones represented himself and the department well in the classroom as a Hammond Scholar who consistently earned Dean's List honors. This past fall Jones was voted University of Miami's Homecoming King. With all this engagement, Jones recently was tapped into the highest honor at the University of Miami, Iron Arrow.
Lauryn Harris is a junior on the women's track and field team at Miami and contributed to the team's 2022 ACC Outdoor Championship. Harris is also the co-president for the Black Student-Athlete Alliance (BSAA) at UM. Under Harris' leadership, the group has revamped its structure and focus on CORE components.
Those components include Community Engagement, Professional Development, Black History, and Health & Wellness. The goal of the alliance is "To build a safe space that is inclusive of gender, class, race, and sport in order to unify and educate. We have a vision of providing a safe space that brings the Black community together to strengthen our ability to represent and serve the Miami Community".  In its current structure BSAA has a strong foundation to build upon future generations of student-athletes. 
Harris is a SAAC rep and represented UM at the annual ACC SAAC meetings this past summer. Harris has been a phenomenal liaison in sharing the information with Miami SAAC reps and executive board. Harris also was a participant in the 2021-22 Hurricane Leadership Academy, which helped enhance her leadership qualities that are now being demonstrated through her involvement with SAAC and BSAA.
In the community, Harris was an intern with Voices in Sport and was part of their Advocacy Leadership Team. During her internship Harris researched and analyzed data which advocated for state and federal sport legislation and drafted legislation for Title IX amendments. Harris is an active mentor and intern for Orange Arrow, which helps college student-athletes to coach grade school student-athletes' off-field performance.
Harris is extremely involved in advocacy, social justice and inclusion initiatives and her engagement reflects her commitment to these areas. As a political science major, Lauryn hold a 4.0 GPA and has consistently been on the Dean's List.
Boston College
M. Quentin Williams is an attorney, author, educator, prolific international speaker, former FBI Agent, and former federal prosecutor. A 1987 graduate of Boston College with a Bachelor of Arts in Economics, Williams has held executive positions in the NFL and the NBA. He is the founder and CEO of the nonprofit Dedication to Community (D2C), which delivers diversity and inclusion, skills-building workshops, and ongoing forums to improve community understanding and relationships. Through D2C, Williams facilitates ongoing training with police departments and community leaders throughout the nation and globe to encourage racial equity and social justice through education, partnership, engagement, and advocacy.
Incorporating the Jesuit values of service to others and care for individuals and communities, his work with D2C is grounded in healing, reconciliation, and unity. Through D2C, Williams seeks to foster community uplift, and improve police interaction with marginalized communities, thereby reducing trauma, avoidable incarceration, and lawsuits while also saving lives. In addition to working directly with law enforcement, Williams works to nurture the next generation of leaders through work with schools and universities by facilitating courageous conversations on topics ranging from appreciating cultural and racial differences to rebuilding communities, law enforcement interaction, and getting home safely.
As a former Boston College student-athlete in football and track & field, Williams understands the power of sports as a unifier and vehicle for change. As a result, Williams' work also extends to facilitating training with sports leagues, teams, and athletics departments to assist with personal advocacy, leadership development, and relationship building. Most recently, D2C partnered with the Miami HEAT and the City of Miami Police Department to develop a community-building program to help bridge the gap between Black and Brown city residents and local law enforcement. This partnership earned the Miami HEAT the NBA's "Values of the Game Award". Williams also remains connected to his alma mater, Boston College, engaging in diversity and community uplift training with student-athletes, coaches, and athletics administrators.
Dr. Constance Smith Hendricks, RN, FAAN, was the first African American to earn a Ph.D. in Clinical Nursing Research from Boston College in 1992. A native of Selma, Alabama, Dr. Hendricks is a member of the First Baptist Church of Selma, where her family and church community played a pivotal role in the civil rights demonstrations that became a catalyst for the Voting Rights Act of 1965.
Dr. Hendricks is internationally known as an exemplary nurse, scholar, leader, and educator with work that spans the southeast United States and globally in Liberia, Ghana, Ethiopia, and Malawi. Dr. Hendricks has been a pioneer, trailblazer, and educator throughout her career. She was the first African American tenured with the rank of Full Professor at Auburn University. As a visiting Presidential Scholar, Dr. Hendricks developed the first Doctorate of Nursing Practice program at Kentucky State University. She implemented the first Ph.D. program in Louisiana at Southern University in Baton Rouge. Also, she developed the Health Science Division at Concordia College of Alabama, serving as the Founding Dean of Nursing and Allied Health.
As a 2019 Alabama Nursing Hall of Fame inductee, Dr. Hendricks was known for her ability to secure millions of dollars through grant funding to increase and foster health-promoting behaviors in diverse populations, particularly those in rural and underrepresented communities. As an academic administrator and Dean, Dr. Hendricks fostered diversity among faculty and students resulting in meaningful and lasting change during her tenures at each institution. Dr. Hendricks' commitment to enhancing diversity, equity, and inclusion resulted in her being awarded the Southern Regional Education Board (SREB) Workforce Diversity in Nursing Award.
Dr. Hendricks continues to positively impact her community through her innovative programming that fosters health promotion and her uncanny ability to collaborate and develop partnerships that unite individuals from diverse backgrounds to focus on a common goal. As a leader in her community and throughout the southeast region, Dr. Hendricks remains active within her various organizations, including Zeta Phi Beta Sorority, Inc, Order of Eastern Stars, National Council of Negro Women, National Black Nurses Association, Sigma Theta Tau International, Chi Eta Phi Sorority, Inc, amongst others.
Clemson
Wayne Jenkins enrolled at Clemson in the Fall of 1969 as a member of the Track & Field team, making him one of the first two African American student-athletes at Clemson, joining Craig Mobley (Basketball) that semester. Jenkins was the 1972 ACC Champion in the 600 yards, the program's first individual ACC Championship by a person of color. He also claimed ACC titles in 1972 and 1973 as part of the mile relay.
Barbara Kennedy-Dixon was one of the best basketball players in ACC history and served her alma mater for more than 30 years as a coach, administrator and advocate. She was the first woman to be inducted into the Clemson Ring of Honor in 2000. Nearly 40 years after she played her final game as a Lady Tiger, Kennedy is still the all-time leading scorer in ACC history with 3,113 points.  As a senior in 1981-82 she led the nation in scoring with a 29.3 average. She is one of only two players in Clemson history to be selected to an All-ACC team all four years of her career. Kennedy-Dixon served Clemson with distinction as a coach and administrator after her playing days for 31 years. Sadly, Kennedy-Dixon died after a long fight against cancer in July 2018 at the age of 58.
Duke
Michael Howard is the Managing Director of Recreation Facilities at Duke University and also serves as co-chair with Senior Associate Director of Athletics/Senior Woman Administrator Heather Ryan on the Duke Athletics Diversity, Equity, Inclusion, and Belonging Advisory committee. In this capacity, Howard emulates a level of passion and commitment to creating a community for student-athletes and staff of color in the athletics department which is felt and witnessed by many. His leadership on this committee, as well as in the department, has been instrumental in Duke's efforts to create a safe and inclusive culture. For the last year and half, Howard worked tirelessly in co-leading and facilitating the development of the Duke Athletics DEIB Strategic Plan. He has been, and continues to be, intentionally interacting with numerous members of administration, staff and students in gathering input and having genuine conversations to capture feelings and insights.
This past semester, Howard served as a mentor to the student-athlete led United Black Athletes (UBA) organization. He also was one of the first staff members to participate in and help pilot the current partnership with "A Long Talk" anti-racism education program which engages both staff and students. Howard was also part of the ACC Selma Unity Trip last summer with two student-athletes ­– creating more relationships and shared experiences from which to build and expand educational and engagement initiatives related to social justice and racial equity. Howard is also Duke's representative on the ACC CORE committee.
Gracie Johnson is a current Duke volleyball student-athlete and team captain. Johnson has played an integral role in initiating and leading team conversations about race, anti-racism and allyship. According to one of her coaches, she is constantly seeking and considering ways to help continue and carry conversations surrounding social justice and racism. Johnson is willing to step outside her comfort zone, and engage in hard conversations with peers, as well as with people in power.  Most recently, Johnson used skills she had learned from the teams' "A Long Talk" educational program around anti-racism. She felt compelled and was able to express her thoughts and feelings to administrators at BYU and Duke.
Johnson also chose to represent Duke Athletics at a Unity Dinner as a voice and advocating for programs like a "A Long Talk" and the empowering impact it has had on helping create safe spaces and ways to challenge racism even in what may seem like small ways. This summer, Johnson participated in the ACC Unity Trip to Selma and came back wanting to create and share more similar opportunities. She and her teammates have now also experienced and engaged in discussions together surrounding the EJI museum and plan to visit the Greensboro Civil Rights Museum in an upcoming team travel weekend.
Florida State
Leonard Hamilton has been a pioneer of social justice, advocacy, and engagement within the local and national community for decades. His achievements span a lifetime, and his ability to empower and develop young men and presence as a public leader who fights for equity in every facet of his work is unmatched. His dedication to integration in sport is remarkable. Hamilton broke the color barrier in college basketball at both Gaston Community College and Austin Peay before becoming the first black assistant coach in Kentucky basketball history early in his coaching career. Hamilton has also had his team participate in the "No Room for Racism" Classic, which is played inaugurally to bring awareness to the detriment of racism. "There's need to be a clear understanding of the history of these types of issues," Hamilton stated in his interview with WIS 10 News. Hamilton is the winningest coach in Florida State history and has earned national coach of the year honors from at least one organization on five different occasions. He was named ACC Coach of the Year in 2009, 2012 and 2020.
Morgan M. Jones has dedicated her life to empowering others, and specifically, athletes in marginalized, rural, and urban communities. As an orator and national leader, she helps athletes discover their path, voice and purpose in life through products, programs and impact mentorship. As a former high school All-American, Division I and professional athlete, Jones transitioned out of sports into sales. She was exceptionally good at it, but didn't find purpose in this work. This challenged her in many ways to discover the deeper purpose in her playing career and how to transfer the skills into an authentic passion and purpose. To date Morgan has impacted more than 5,000 student-athletes to design and define who they are becoming. Jones has been featured in in Essence Magazine, ABC & CBS for her sold out events & consulted with major brands who look to develop initiatives around building their female athlete programming off the court.
Georgia Tech
Lucius Sanford is the Executive Director of Georgia Tech's Letterwinner Association. He joined the Georgia Tech Athletic Association staff in 1998 as Director of Student Life after a nine-year career in the financial services industry. Stanford is the first person many alumni seek out upon return to The Flats. His infectious smile and laughter exude contrary to the menacing fear on the field. This tough love approach and humility from Stanford has impacted countless student-athletes. Stanford is recognized for his outreach to all alums and the bridges he has cultivated to connect generations of Georgia Tech student-athletes, staff and coaches. Stanford epitomizes the ACC CORE's mission to promote and encourage racial equity and social justice through education, partnerships, engagement and advocacy. He advocates for those who can't or struggle to advocate for themselves. Stanford has been a pioneer and has helped pave the way for future generations of Yellow Jackets to have athletic and academic success while we develop the young people who will change the world.
A four-year starter from 1975-78, Stanford was an All-American linebacker at Georgia Tech and is considered one of the top defenders in Ramblin' Wreck history. He earned first-team all-America honors in 1977 by the AFCA and The Sporting News. He finished his career as Georgia Tech's all-time leader in tackles (433). As a true freshman, he started the 1974 season opener against No. 2 Notre Dame and made 14 tackles. He posted 124 tackles as a freshman, which still stands as the Tech freshman record. Selected in the fourth round of the 1978 NFL Draft by the Buffalo Bills, he enjoyed a 10-year playing career, including nine seasons with the Bills (1978-86) and one season with the Cleveland Browns (1987).
Sanford was inducted into the Georgia Tech Hall of Fame in 1985 and the State of Georgia Sports Hall of Fame in 2001. He graduated from Georgia Tech in 1978 with a bachelor's degree in industrial management. He later pursued an MBA at American University while playing in the NFL.
Lynn Houston-Moore is the CEO of HJI Supply Chain Solutions, where she has worked since 2007 in roles including Logistics Engineer, Financial and Logistics Manager and Vice President of Finance and Administration. As CEO, she oversees the company's strategic growth initiatives as well as pricing and budget governance. Houston-Moore represents the enterprise with customer, community, and philanthropic directives and initiatives as well as be an active voice in HJI's industry-related forums and activities.
Houston-Moore exemplifies the ACC CORE's mission to promote and encourage racial equity and social justice through education, partnerships, engagement and advocacy by focusing her business model on those who don't have equitable opportunities. Houston-Moore has created meaningful, lasting change with her focus as CEO to create opportunities for employees that might not have otherwise had opportunities to get into the workforce. Additionally, Houston-Moore focuses on change in the community. HJI Supply Chain Solutions wants to be a change agent where they support other minority- and women-owned businesses to have a stake in closing the racial wealth gap that exists in this country.
Houston-Moore was inducted into the Georgia Tech Hall of Fame in 2016. She was a four-time ACC Champion in high jump while earning a bachelor's degree in industrial & systems engineering and graduated with highest honors. She continued her education at Georgia Tech earning a master's degree in industrial engineering while training to compete in the 2000 US Olympic Trials. Additionally, she earned ACC Honor Roll recognition all four years, received the GTAA Total Person Award, as well as the ACC's James Weaver Corrigan post graduate scholarship.
Louisville
Valerie (Owens) Combs, a trailblazer for the Louisville Women's Basketball program in its beginning years, was the first woman to sign a letter of intent to attend UofL on a full ride athletic scholarship for basketball in 1976. She played four seasons for the Cardinals and became the program's first 1,000-point scorer. She was also a part of the 1980 team that won the Metro Conference Tournament Championship, the program's first ever conference championship. Owens currently ranks 26th in program history with 1,085 career points and is tied for third for most rebounds in a single game with 22. She was inducted to the Louisville Athletics Hall of Fame in 1998.
Jim Freeman was named the University of Louisville's head track and field coach in 1972, becoming the university's first Black head coach. The Neptune, New Jersey, native was a standout sprinter, world record-holder and All-American who competed for Murray State from 1965-67 and was inducted into the Racer Athletics Hall of Fame in 1977.
North Carolina
Charles (Charlie) Scott was the first Black scholarship-athlete at North Carolina and had a huge impact as the ACC's first well-known, charismatic, and all-around great African American player. Scott had an exceptional career at UNC, leading his team to the ACC Championship and two consecutive final four appearances.  He played on the 1968 Olympic Team, and after graduation had a decade-long professional career – first with the now defunct ABA, then with several NBA teams including the Celtics and the Lakers. Scott was and is a true pioneer, having paved the way for so many other athletes of color, male and female.
Kathy Crawford was one of three players to be the first Black scholarship female athletes at North Carolina. It wasn't until Coach Jennifer Alley's third season as head coach of the UNC women's basketball team (1979) that the university had its first Black scholarship players in Crawford, Henrietta Walls, and Deanna Thomas. That was also UNC's first 20-win season. Crawford was in the ninth annual class of the ACC's Women's Basketball Legends, named as North Carolina's selection. She was a national Women's Invitational Tournament All-America selection in 1980. Crawford is one of eight UNC women's basketball players to have her jersey retired, having scored 1,806 career points, with a scoring average of 14.6 ppg and a field goal percentage of 54.2.
NC State
Dr. Marcus Martin was the first African American varsity football player at NC State and a 1970 graduate of pulp and paper science and technology and a 1971 graduate of chemical engineering. He was a leader in the medical field and continues to give back to the College of Natural Resources as an advisor on diversity, equity and inclusion programming.
Over the course of his career, Dr. Martin achieved a number of milestones by becoming the first African American in the following roles: President of the Society of Academic Emergency Medicine; President of the Council of Emergency Medicine Residency Directors; Chair of a clinical department at the UVA School of Medicine.
Finally, Dr. Martin served as the co-chair of the UVA Health System Diversity Council, the Vice President and Chief Diversity Officer for diversity and equity at UVA and an inaugural member of the UVA Women's Leadership Council.
Charece Willams Gee was a team captain and MVP volleyball student-athlete at NC State. Upon graduating from NC State with a degree in business management, Gee went on to earn a MBA and Master's Degree in Sports Business Management from UCF. Since graduation, Gee has been a trailblazer for women, by harnessing the unique perspectives of other women to advocate and lead the way towards growth for women in the sports industry.
Gee has had opportunities at ESPN's Wide World of Sports Complex, Wasserman Media Group and Pepsi Cola.  She currently serves as a senior director and head of sports marketing with Under Armour. At every stop, she has made an impact. She brings her love of sports and marketing to create an environment where she can foster change in the boardroom, communities and beyond.
Not only has she brought innovative marketing and experiences through her work, but she has also partnered to help young athletes with their career transition after sports. Her relationships have led to opportunities such as the first sport business conference for Haiti and launching the first ever Under Armour Next Women's Basketball Camp in the Virgin Islands.
Throughout her career, Gee has been committed to drive change and make the world more equitable for women, people of color, and others. She is most proud of her work in shattering the glass ceiling and paving the way for women in sports positions of leadership.
Notre Dame
Cason Wilburn, a member of Notre Dame's men's swimming & diving team, embodies the ACC Unite Award in all forms. Led by Wilburn, members of the swimming and diving teams provided free swimming lessons to an ethnically diverse group of middle schoolers in South Bend as part of Pass It On initiative. Wilburn's work is paving the way for other ethnic minorities to feel safe, learn, and be their best selves in the water and beyond.
Niele Ivey, the Karen & Kevin Keyes Family Head Coach, personifies the ACC Unite Award. Ivey has hosted multiple golf outings across South Bend to raise awareness and funds for programs that assist underserved women and youth throughout the community. Ivey promotes active participation throughout her program and the Department of Athletics in youth programs working to advance the experiences of ethnically underrepresented individuals in higher education. An advocate for racial justice, Ivey encourages her team to leverage their platform as agents of change. Ivey's women's basketball team led "Race for Change," an on-campus walk in October 2020 meant to raise awareness and conversations about social injustice. Together, the women's basketball program wore shoes hand-painted by a local artist to encourage young girls, especially young girls of color, to hope, dream, and believe in themselves. In 2020, Ivey became the first female African American coach in Notre Dame history. "Being the face of Notre Dame and representing African American females, there's so many pressures you can try to take on, but I never wanted to take it on as a pressure," Ivey says. "I felt like it was a blessing."
Pitt
Dr. Bettina Love, a former women's basketball student-athlete from 2000-03, is the award-winning author of We Want to Do More Than Survive: Abolitionist Teaching and the Pursuit of Educational Freedom and Hip Hop's Li'l Sistas Speak: Negotiating Hip Hop Identities and Politics in the New South.
Her writing, research, teaching, and educational advocacy work meet at the intersection of disrupting education reform and strengthening public education through abolitionist teaching, Black joy, and anti-racism.
Love is a founding member of the Old 4th Ward Economic Security Task Force with the Atlanta City Council. The goal of the task force is to bring guaranteed income and income stability to Black women residents living in Atlanta. In 2022, the Task Force launched the program In Her Hands, distributing more than $15 million to Black women living in Georgia. In Her Hands is one of the largest guaranteed income pilot programs in the U.S.
As part of its 50th anniversary in 2022, the Kennedy Center named Dr. Love one of the Next 50 Leaders who are making the world a more inspired, inclusive, and compassionate place.
In 2014, she was invited to the White House Research Conference on Girls. For her work in the field of Hip Hop education, in 2016, Dr. Love was named the Nasir Jones Hiphop Fellow at the Hutchins Center for African and African American Research at Harvard University. In April of 2017, Dr. Love participated in a one-on-one public lecture with American author and social activist, bell hooks, focused on the liberatory education practices of Black and Brown children. In 2018, Georgia's House of Representatives presented Dr. Love with a resolution for her impact on the field of education.
Herb Douglas enrolled at the University of Pittsburgh in 1945 and would go on to have milestone achievements as both a track and field athlete and football player. He won four intercollegiate championships in the long jump and one in the 100-yard dash. He additionally captured three National Amateur Athletic Union (AAU) championships in the long jump. In the 1948 London Summer Olympics, he was the bronze medalist in the long jump with a 24-foot, 9-inch leap. As a Pitt football letterman in 1945, Douglas became just the second African American to score a touchdown against Notre Dame. He also became the first of only two football athletes to score a touchdown against Notre Dame and win an Olympic medal. Douglas later would be the founder of the Jesse Owens International Trophy Award, honoring the most outstanding amateur or Olympic athlete in the world. Douglas was inducted into the Pennsylvania Sports Hall of Fame in 1980 and the New York Athletic Club Hall of Fame in 1990. In July of 2022, Philadelphia co-named a street in his honor.
Syracuse
Dedrick Etan Thomas is a Syracuse University alumnus and former collegiate basketball player who played for the Washington Wizards, Oklahoma City Thunder, and Atlanta Hawks in the NBA. He is a published author, poet, freelance writer, activist, and motivational speaker, as well as a co-host for the 'Centers of Attention,' a sports talk show on ESPN Radio Syracuse in Syracuse, New York. He also blogs for The Huffington Post and runs a podcast for Basketball news.
On August 16, 2008, Thomas appeared with Democratic National Committee chair Howard Dean at stops in northern Virginia as part of the Democratic National Committee's "Register for Change" bus tour to encourage local voter registration drives. Thomas gave speeches at two stops in Fairfax County and the City of Alexandria. In January 2010, Thomas donated $30,000 to the Haiti relief efforts after the 2010 Haiti earthquake.
In his efforts, Thomas has advocated for student-athletes, fatherhood, and against police brutality. In his book, We Matter: Athletes and Activism, Thomas interviews a number of NBA and professional athlete staples ,including Kareem Abdul-Jabbar, Laila Ali, Carmelo Anthony, and Dwyane Wade, sharing encouragement and positive messages. Thomas continues the advocacy conversation efforts by holding Town Hall panels throughout the country at prisons, churches, Universities, schools, and various conventions where he inspires, motivates, and supports generations of people.
Emily Nugent is a junior cross country student-athlete at Syracuse. As a member SAAC and DISAB, Diversity and Inclusive Student-Athlete Board, Nugent has advocated for urban kids over the last few years by working to encourage support for 'Blessing in Backpack', an organization that supports young students in the city of Syracuse, New York, ensuring that they go home on Fridays with a backpack full of satisfying and nutritional food.
Virginia
Marques Hagans, a UVA football student-athlete from 2002-05, currently serves as the Cavaliers' associated head coach and wide receivers coach. Hagans best exemplifies the ACC CORE's mission to promote and encourage racial equity and social justice through his work with the Groundskeepers and Prolyfyck Run Crew. As one of the founders of Groundskeepers, he works to bring change to the Charlottesville community by encouraging his student-athletes to learn and educate themselves about racial inequities. For example, the group organized the "Groundskeepers Walk" that student-athletes, coaches, staff and community members can take to learn and reflect. The three-mile walk starts at Heather Heyer Way – the street named in honor of the woman who lost her life after a white nationalist purposefully drove into a crowd of people peacefully counter-protesting the Unite the Right rally on August 12, 2017 — in Downtown Charlottesville, stops at the Memorial for Enslaved Laborers and concludes at the Rotunda. Through the Groundskeepers and similar initiatives, Hagans continues to create lasting change for the football team, athletics department and the surrounding community.
Additionally, Hagans has helped pave the way for BIPOC in the community through his engagement with the Prolyfyck Run Crew. During the summer of social unrest, a group of men in the Charlottesville community decided to create a space for people of color to feel safe running. They chose a route that specifically went through predominantly black communities to claim a space for a Black-led running group. Hagans explained it best in an interview with CBS19 News: "I think it bridges gaps. There's a lot of people from all different walks of life, different ethnicities, different backgrounds, different religions and the common goal is that everybody is for a change, for a better world."
Hailey Barnett has created meaningful change and promoted social justice through multiple initiatives as a Virginia rowing student-athlete. Most impressive, she was selected as a Contemplative Sciences Center Athletics Fellow where she worked on a three-prong fellowship project to provide anti-racist education resources to student-athletes, spearhead a collaborative development of steppingstone memorials to UVA's enslaved laborers and facilitate more local volunteer opportunities for her fellow student-athletes. This project will create lasting change for the University as a whole and make an impact on the Charlottesville community for years to come.
Her dedication to serving the community makes her stand out from her peers. She organized multiple food drives for the local area food bank and involved her team and the entire department to help close the gap in food insecurity in Charlottesville. She and her twin sister, Myla (women's lacrosse), created an Instagram account to allow athletes to voice their thoughts and opinions about racial injustices. Barnett has also spoken about being a black student-athlete in a predominately white sport, giving advice to future rowers on how she got to where she is. Through all her intentional work, Barnett has impacted those around her and truly exemplifies the ACC CORE's mission.
Virginia Tech
André Davis, a former Virginia Tech football student-athlete, co-founded 2LiveBeyond Foundation in 2014, which focuses on the care of disadvantage children, whether due to illness or poverty, in both the United States and other countries with the mission to teach the leveraging spheres of influence with the message: "2 Live Beyond ourselves so others may dream beyond their circumstances."
Davis has also worked with Africa New Life Ministries whose mission is to bring accessible, high quality, medical and dental care to children in Kigali, Rwanda by creating Christian healthy outreach. Davis embodies Virginia Tech's core values of integrity, honor, excellence, and service through his life, actions, and work with his Foundation.
In 2016, Virginia Tech Department of Athletics announced an undisclosed philanthropic gift from Davis to help support the Hokies' Leadership Institute and the football program. The institute is comprised of two main components, including Leadership Culture, a speaker-series designed to expose the student-athletes to high-level concepts on leadership. The second factor is the Global Sports Program, which offers student-athletes a for-credit study abroad opportunity geared toward those who wish to better understand the positive and humanitarian role sport can play in international development and society.
Davis currently serves as the Director of Student-Athlete Support and Community Engagement within the Virginia Tech Department of Athletics where he promotes and the mission and goals of the athletics department and works in conjunction with Tech's Office of Student-Athlete Development, which helps the Hokies' student-athletes prepare for life after graduation.
A standout wide receiver during his tenure in Blacksburg, Davis caught 103 passes for 1,986 yards and 18 touchdowns in four seasons (1998-2001) with the Hokies football team. In 1999, Davis set the school season record for receiving yards with 962, helping Tech to the national championship game. On the track, Davis set four Tech career marks in the sprints. He won the 100- and 200-meter dashes at the Atlantic-10 Outdoor Championships in 1998 and defended both titles in 1999 and 2000. In addition, Davis won four indoor championships during those years. A second-round pick of the Cleveland Browns in the 2002 NFL Draft, he became one of the NFL's top kickoff return men. In 2012, Davis was inducted into the Virginia Tech Sports Hall of Fame and was chosen as the Virginia Tech Representative in 2013 to be an ACC Legend.
Davis received the prestigious NCAA Top Eight Award and the National Football Foundation and College Hall of Fame Student Athlete (NFF National Scholar Athlete) Award. At both award ceremonies, he was chosen on behalf of his peers, to speak as their representative. He also received the third annual Sporting News Radio Socrates Award, given to a male athlete who best embodies the Socrates Creed "Mens sana in corpore sano" or "A sound mind in a sound body."
Reyna Gilbert-Lowry is Virginia Tech's Senior Associate Athletics Director, Inclusive Excellence and Alumni Engagement/Senior Woman Administrator. Over the past several years she has led the call to inclusive action, more so than anyone else in the entire department. Furthermore, she has shown specific care for Virginia Tech student athletes in their journey to curate their feelings into expressing their voice, and turning their voice into action.
Reyna has championed so many efforts in her role as Chair of the Diversity and Inclusion Council for Virginia Tech Athletics. These efforts aim to create a culture of inclusivity for both department employees as well as student athletes. She embraces the tremendous load with such grace and patience, taking on so much more than she needs to because she knows she's impacting an entire culture. She also goes out of her way on a daily basis to create a safe environment that encourages productive dialogue, including solutions.
Some of the programs that she's been a part of include the #LOVE Project; ACC CORE; ACC Selma Trip; #LOVE: Our Black Community; Hokies All. In.; Unity Walk; "Unity through Awareness" Panel Discussion; NCAA Diversity and Inclusion Social Media Campaign; This is Home: Virtual Diversity Series – Andre Davis; This is Home: Virtual Diversity Series – Activating Your Allyship; Just. Us.; Diversity Summit; Athletics Diversity and Inclusion Newsletter; InclusiveVT.
Gilbert-Lowry is intentional about the programming that is selected for the department and prioritizes quality over quantity. Her goal isn't to fulfill industry requirements, she is developing and cultivating real change within the athletic department. Even with all the work she has accomplished for the mission of diversity inclusion, it is her character and genuine motivation that qualifies her to be a recipient of this award.
Wake Forest
Dating back to her childhood, Charlene Curtis became the first so that many could follow in her footsteps. Growing up in the Civil Rights era in Roanoke, Virginia, Curtis didn't attend a school that was truly desegregated until her junior year of high school and spent much of her youth limited as to where she was allowed to go. Quickly, however, as the world around her changed ever so slowly, she earned opportunities.
In total, Curtis spent nearly a quarter-century as a part of ACC Women's Basketball. She started as an assistant coach at the University of Virginia from 1981-83 before becoming head coach at Radford (84-90) and Temple (90-95). In 1997, she returned to the ACC as the first black women's basketball head coach in league history when she was hired at Wake Forest. She served in that role through the 2004 season.
Curtis retired as the league's supervisor of women's basketball officials in April of 2019, following 11 years of service to the league and more than 24 years of affiliation with the conference as either a coach or administrator.
During her time in the conference office, Curtis oversaw the expansion of the women's basketball officiating staff, the management of all evaluations and ratings, and numerous training and educational opportunities to promote the recruitment and development of ACC Women's Basketball Officials. She created and developed local officiating clinics with a common curriculum, something that did not exist previously, and the clinics are now commonplace across the ACC footprint. During her tenure, the ACC added instant replay, developed a league-specific officiating website, and expanded the officiating observer program in partnership with the Colonial Athletic Association.
Immediately prior to her role as the league's supervisor of women's basketball officials, she was a television analyst covering games in both the ACC and SEC, from courtside as well as in studio.
In 1995, she was inducted into the Radford University Hall of Fame and in 2005, was inducted into the Big South Hall of Fame. As a Radford student-athlete, she was the first 1,000-point scorer in women's basketball history. During her tenure as the Radford head coach her teams were 121-53, winning two Big South Titles and was named the Big South Coach of the Year in 1988 and 1990. Curtis remains second all-time in women's basketball winning percentage among Big South coaches.
Curtis died in August, 2022 at the age of 67 after a courageous battle with cancer.
Jim Caldwell was the first African American football coach in ACC and Wake Forest history when athletic director Ron Wellman hired him in 1993. During his time as head coach of the Demon Deacons, Caldwell helped lead Wake Forest to a 7-5 campaign in 1999 that was capped off with an Aloha Bowl title over Arizona State.
After his career as a Demon Deacons, Caldwell went on to become a head coach in the National Football League, hired first by Tony Dungy with the Tampa Bay Buccaneers before following Dungy to Indianapolis. As an assistant coach there he helped lead the Colts to a Super Bowl XLI Championship, a Super Bowl that featured two African American head coaches.
Caldwell went on to become the head coach of the Indianapolis Colts from 2009-11, leading them to a Super Bowl in his first season. He was also the head coach for the Detroit Lions from 2014-17, the first African American to hold that position with the franchise.