Canes Defeat Virginia, 3-1
CHARLOTTESVILLE, Va. – The University of Miami volleyball team notched a 3-1 victory over Virginia Sunday afternoon in Memorial Gymnasium and extended its winning streak against the Cavaliers to 11 matches.
After dropping the opening set, Miami (11-8, 4-4 ACC) outlasted the Cavaliers in bonus points in set two, before cruising to a convincing 3-1 victory.
"I'm very happy with the way the girls battled today," Miami head coach Jose "Keno" Gandara said. "They kept their composure throughout the match and were able to take control. Virginia was ready and they challenged us in the first set but I'm happy with the way we responded as a team. ACC road wins are hard to come by and today was no different."
Virginia (9-10, 1-7 ACC) jumped out to a 14-9 lead in the opening set and maintained their five-point edge to take a 20-15 lead on a kill from sophomore middle blocker Abby Tadder.
But the Hurricanes would not go away. Back-to-back aces from redshirt junior outside hitter Angela Grieve helped spark a 7-2 Miami run that tied the frame, 22-22. Virginia, however, rallied to win the next three points and take set one, 25-22.
In set two, neither side could manage more than a one-point lead until Virginia went up 10-8. Miami then tied the match, 10-10, and the two sides went back to trading points. The next two-point advantage went to Miami, who took a 16-14 lead on a block assist from Janice Leao and fellow senior middle blocker Abby Casiano. Later in the frame, down 24-21, the Cavaliers survived three straight set points to even the score, 24-24. Virginia staved off four more set points before a kill from sophomore outside hitter Peyman Yardimci gave Miami a 31-29 victory to even the match at a set apiece.
After a lengthy, back-and-forth second set that featured 19 ties and five lead changes, Miami started to take control.
The Hurricanes opened set three with a commanding 7-0 run. After Virginia cut its deficit to three, 10-7, Miami rattled off separate 5-0 and 4-0 runs en route to a 25-12 third-set victory.
"We struggled early on," sophomore outside hitter Nyah Anderson said. "We had a great game plan; we just weren't executing it correctly. Later in the match, we made some adjustments and really showed how well we play as a team. Everyone had each other's backs."
Anderson, who logged all of her career-high-tying 14 kills in the final three sets, hit .440 and was a key factor in the Hurricanes' turnaround.
"They have good, tall blockers and are really quick," the San Antonio native said. "Offensively, I just thought about hitting high and hard."
In the fourth set, Miami embarked on a dominant 11-0 run that opened up a 12-2 advantage. The Hurricanes finished off Virginia with an 8-1 run to win set four, 25-7, and the match 3-1.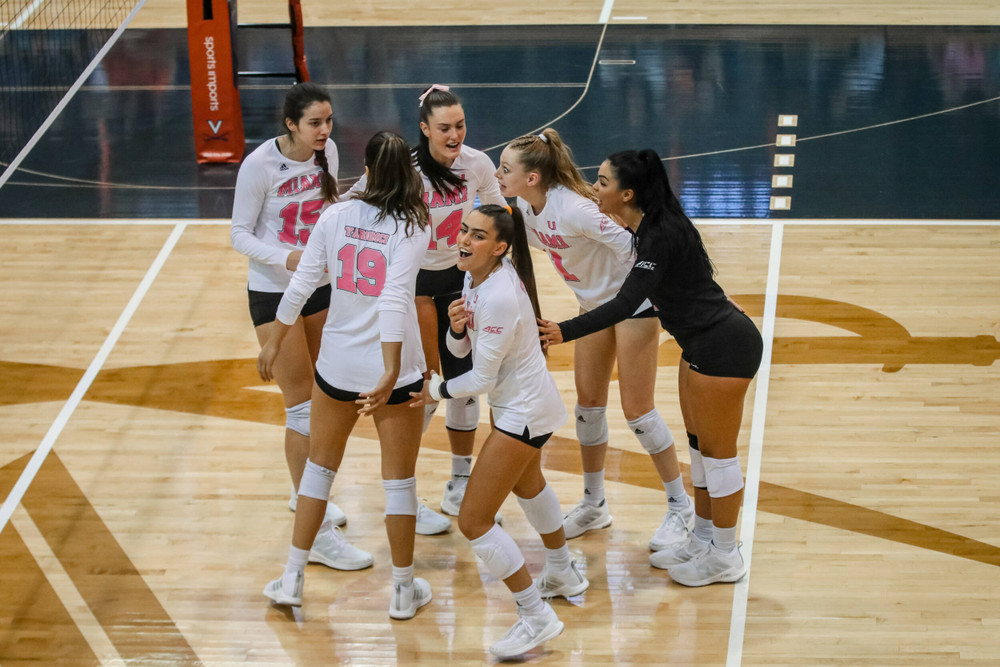 "Our defense started with our serves," said Leao, who anchored Miami's defense with a career-high 10 block assists. "We were aggressive from the line which made them get out of system. Once they were out of system, our block was set up great and that made it easier for our diggers."
Graduate student outside hitter Grace Turner led Virginia with 16 kills while graduate student setter Gabby Easton paced the Cavaliers with 36 assists.
Grieve finished with a match-high 20 kills and hit .381 while Yardimci added 12 kills, seven digs, and a career-high five aces. Senior setter Savannah Vach recorded a match-high 47 assists.
The Hurricanes totaled 13 team blocks and tallied 13 aces, good for seventh-most in program history.
Miami returns to action Friday, Oct. 21 when it hosts Wake Forest at the Knight Sports Complex. First serve is set for 7 p.m. and will be broadcast live on ACC Network Extra.
To keep up with the University of Miami volleyball team on social media, follow @CanesVB on Twitter and Facebook, as well as @Canes_VB on Instagram.