Miami Falls to South Carolina in Five-Set Home Opener
CORAL GABLES, Fla. – The University of Miami volleyball team dropped its home opener to the South Carolina Gamecocks (6-3), 3-2, Friday night at the Knight Sports Complex in the first match of the Hurricane Invitational.
Sophomore outside hitter Peyman Yardimci led Miami with 15 kills, while senior middle blocker Abby Casiano registered a season-high 13 kills on 19 attacks for her first double-digit kill outing of the season, and a season-high .632 hitting percentage.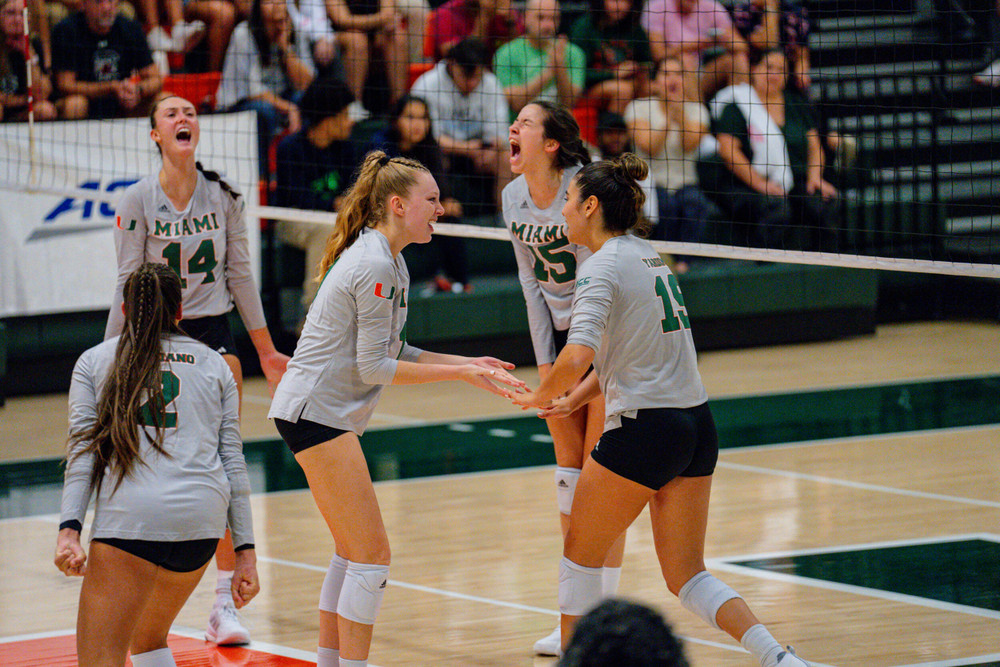 The Hurricanes (7-3) jumped out to a 9-2 lead in the first set and a 10-5 advantage in the second set but failed to stay in control as each set progressed, falling 25-23 and 25-22, in the first and second sets, respectively.
In the third set, however, the momentum started to shift Miami's way.
Freshman outside hitter Flormarie Heredia Colon took over in set three, logging five kills and one assist to lead the Hurricanes to a 25-20 set win.
Miami's strong play continued into the fourth set as they dominated the Gamecocks, 25-13, to set up a deciding fifth session.
Senior setter Savannah Vach opened the fifth set with one of her three aces on the night to give the hosts a 1-0 lead.
An assisted block from Yardimci and graduate student middle blocker Tyanna Omazic brought the Hurricanes even at 4-4, before the Gamecocks scored four straight points to take an 8-4 lead. Miami cut the deficit to two, 12-10, on a Casiano kill, but would not get any closer, as the Gamecocks rallied to take the fifth set, 15-11.
The Hurricanes return to action Sunday, Sept. 18 when they take on the Oregon Ducks in the final match of the Hurricane Invitational. First serve is set for 12 p.m., and the match will air on ACC Network.
To keep up with the University of Miami volleyball team on social media, follow @CanesVB on Twitter and Facebook, as well as @Canes_VB on Instagram.