Rizzo Retires as Miami Head Golf Coach
CORAL GABLES, Fla. – Patti Rizzo announced her retirement Friday as Miami's head golf coach after 12 seasons.
Rizzo, an All-America golfer during her playing days at UM, led the Hurricanes to 11 NCAA Regionals over her 12 seasons as head coach, including two trips to the NCAA Championships in 2016 and 2017. Miami's 2016 NCAA Championship appearance was its first in 24 years. The Hurricanes finished fifth in this season's NCAA Tallahassee Regional, which concluded earlier this week.
"I will be forever grateful for the privilege of coaching at the University of Miami," Rizzo said. "It was a dream come true. I have enjoyed every minute of it but most of all I enjoyed all my players and what amazing women they are. I will miss them the most.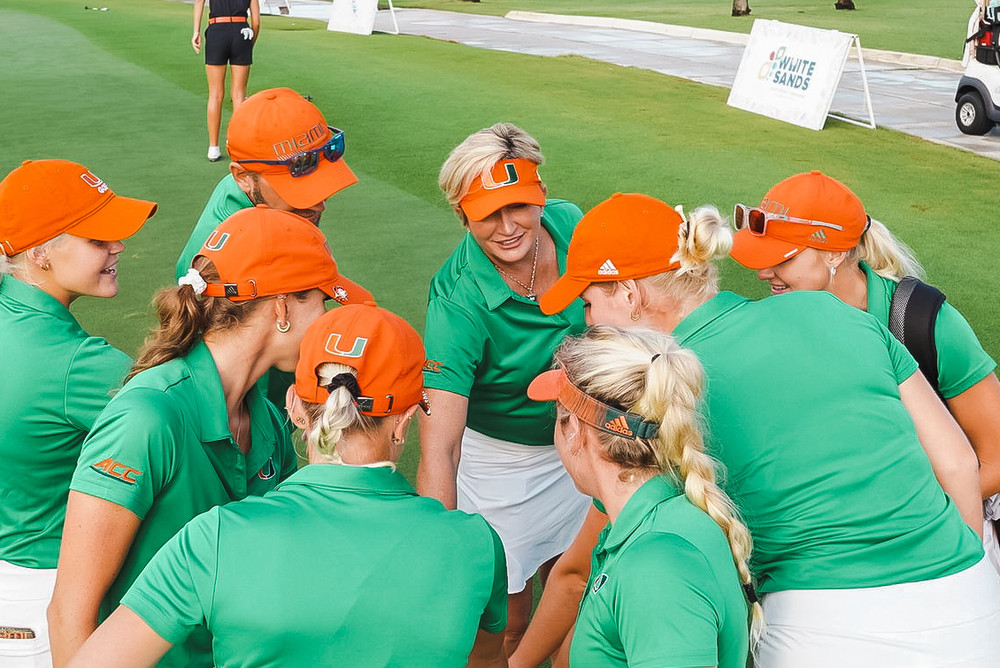 "I have spent almost every day of my life on a golf course since I was 15. It is time in my life to not have the daily pressures of proving myself. When I was young I wanted fame. As I got older it was about making money. Once I got into coaching it was about giving back to the game and teaching not just golf, but life.
"I live in Miami so I will never be far away. I will always be proud and grateful to be a Hurricane!"
Rizzo guided Miami to 56 top-five tournament finishes and five tournament victories over 12 seasons. UM set eight school records during her tenure and six Hurricanes earned All-America honors. The golf team earned a perfect 100 percent NCAA Graduation Success Rate (GSR) in each of her seasons as head coach.
"I want to thank Patti for her dedication to the Miami golf program," Vice President/Director of Athletics Dan Radakovich said. "Her student-athletes consistently excelled on the course and in the classroom. We wish her and her family all the best."
Rizzo earned All-America honors at Miami in 1981 and 1982. She claimed medalist honors at the 1981 U.S. Women's Amateur, as well as at the 1980 and 1981 AIAW National Championships. She was Golf Digest's top-ranked amateur in the country in 1980 and Golf Magazine's top-ranked collegiate player in 1981.
Rizzo is a 20-year veteran of the Ladies Professional Golf Association (LPGA) Tour, earning LPGA Rookie of the Year honors in 1982 and winning four tournaments over her career. She was ranked as high as ninth in the world in 1989.