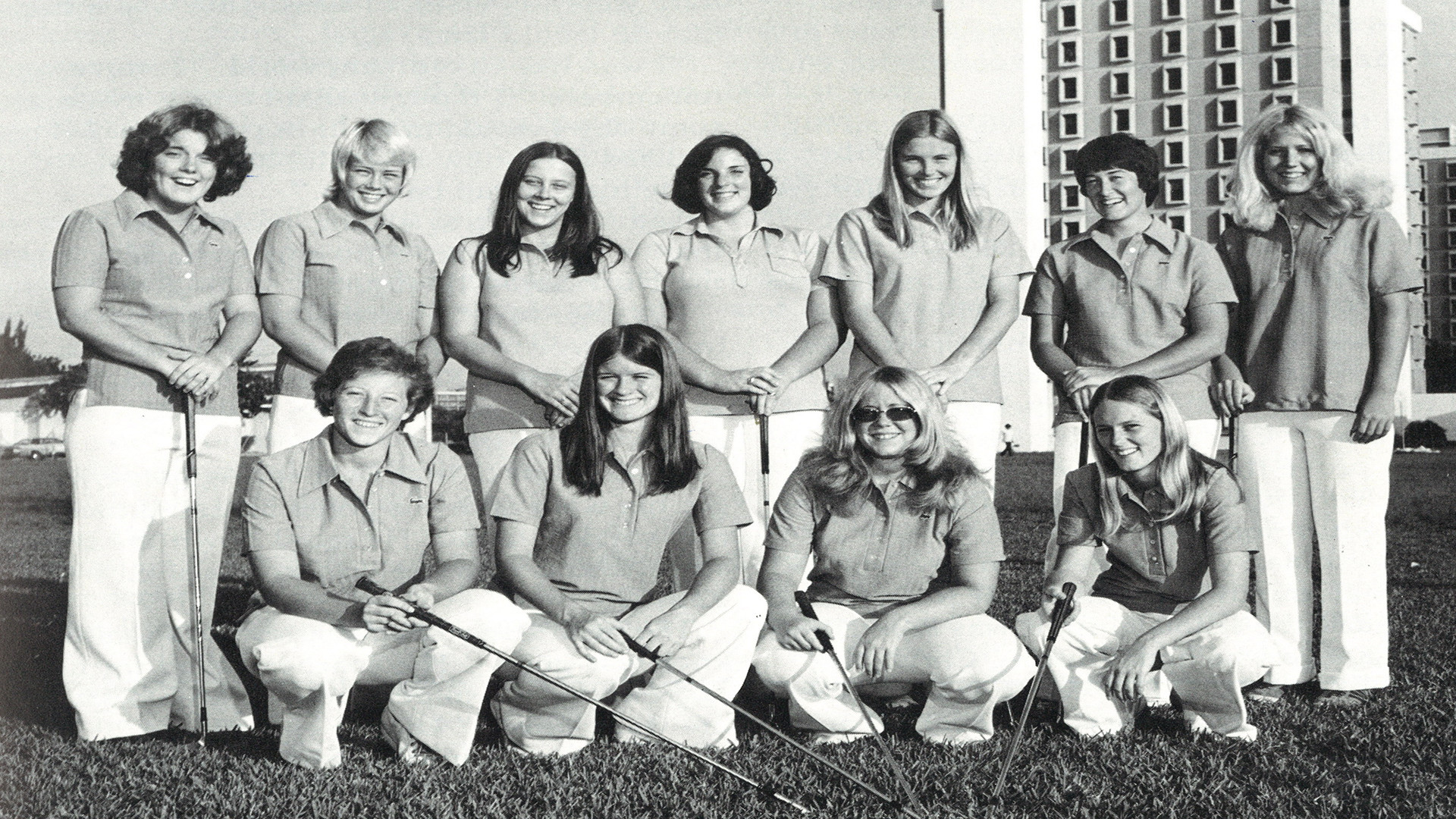 EDITOR'S NOTE: This story is part of our Together 4 Her series. Launched in conjunction with the 50th anniversary of Title IX legislation, Together 4 Her is a year-round initiative by UM Athletics that showcases accomplishments of women from around the university while supporting gender equality on and off the field of play. For more information click here.
CORAL GABLES, Fla. — Terry Williams Munz never intended to make history, never thought there was anything especially remarkable about the scholarship she signed on May 7, 1973.
She only knew playing golf had paved the way for her to attend the University of Miami and at 17 years old, that was more than enough for her.
"I was going to get to play golf for the University of Miami and that was what really mattered," Munz, 66, said with a chuckle.
It wasn't until years later when she learned that she'd been the answer to a question on the game show Jeopardy that Munz realized just how groundbreaking her accomplishment was.
The answer?
"Golfer Terry Williams was the USA's first woman to receive one of these from the University of Miami in 1973?"
The question?
"What is a sports scholarship?"
Decades later, thanks to Title IX – the federal law prohibiting sex and gender-based discrimination in educational institutions that receive federal funding – thousands of women at Miami and hundreds of thousands more nationwide have followed in Munz's footsteps.
Their skills on the field, on the court, on the course, on the track, in the pool and beyond have helped them earn athletic scholarships that have allowed them to compete at the highest level while earning college degrees in the process.
Being a part of that is something Munz doesn't take for granted.
"I would not have been able to go to college were it not for a scholarship because my parents could not have afforded that," said Munz, who earned an accounting degree from Miami and was part of the Hurricanes' 1977 national championship golf team. "I don't know what I would have done if I hadn't gotten a scholarship. Would I have gone on to college? No. I'm extremely grateful that I got to be there and I'm just really thankful to have had that opportunity."
It's an opportunity that came about in large part because, according to the New York Times, in January 1973 – seven months after the passage of Title IX – Miami's Board of Trustees made the decision to award 15 scholarships to women in an effort to grow its burgeoning women's intercollegiate sports program.
Munz, a Homestead native, was the first to get one of those scholarships. Swimmers Lynn Gienieczko, Jennifer Bartz, Nancy Kirkpatrick, and Nina McInnis followed shortly thereafter.
To this day, Munz concedes she isn't quite sure how she became Miami's first scholarship recipient, but she believes her experience and her coach at South Dade High School – where she was played on the boys' golf team because there was no girls' team – made a world of difference.
"I think I hit the ball a long way without really realizing it because, of course, the boys could hit it a lot further," Munz said. "I had to play from men's tees. For a really long time, I kind of felt like the men's tees were really where I belonged. I got a lot of razzing. I really did. You can imagine, what if I beat an opposing boy? But it did [pay off]."
Since Munz earned that first scholarship, women's athletics at Miami have grown to include nine sports that compete at the NCAA level.
The Hurricanes' golf team has won five national championships. Women's swimming and diving has won two national titles.
From golf to tennis to track and field and swimming and diving, Miami has produced 40 individual national champions in women's sports during the Title IX era and countless women have earned degrees and created memories to last a lifetime.
That, Munz says, is a legacy worth celebrating.
"I never would have had the opportunity to go to college had it not been for that scholarship," Munz said. "From that perspective, it's just amazing. I have no doubt that there's many, many athletes out there today that could say the same thing. They wouldn't get to go to college were it not for the opportunity to have an athletic scholarship. That really is a very important perspective. I am one that my parents did not have the money. I wouldn't have gotten to go to college and I don't know what would have been different for me."