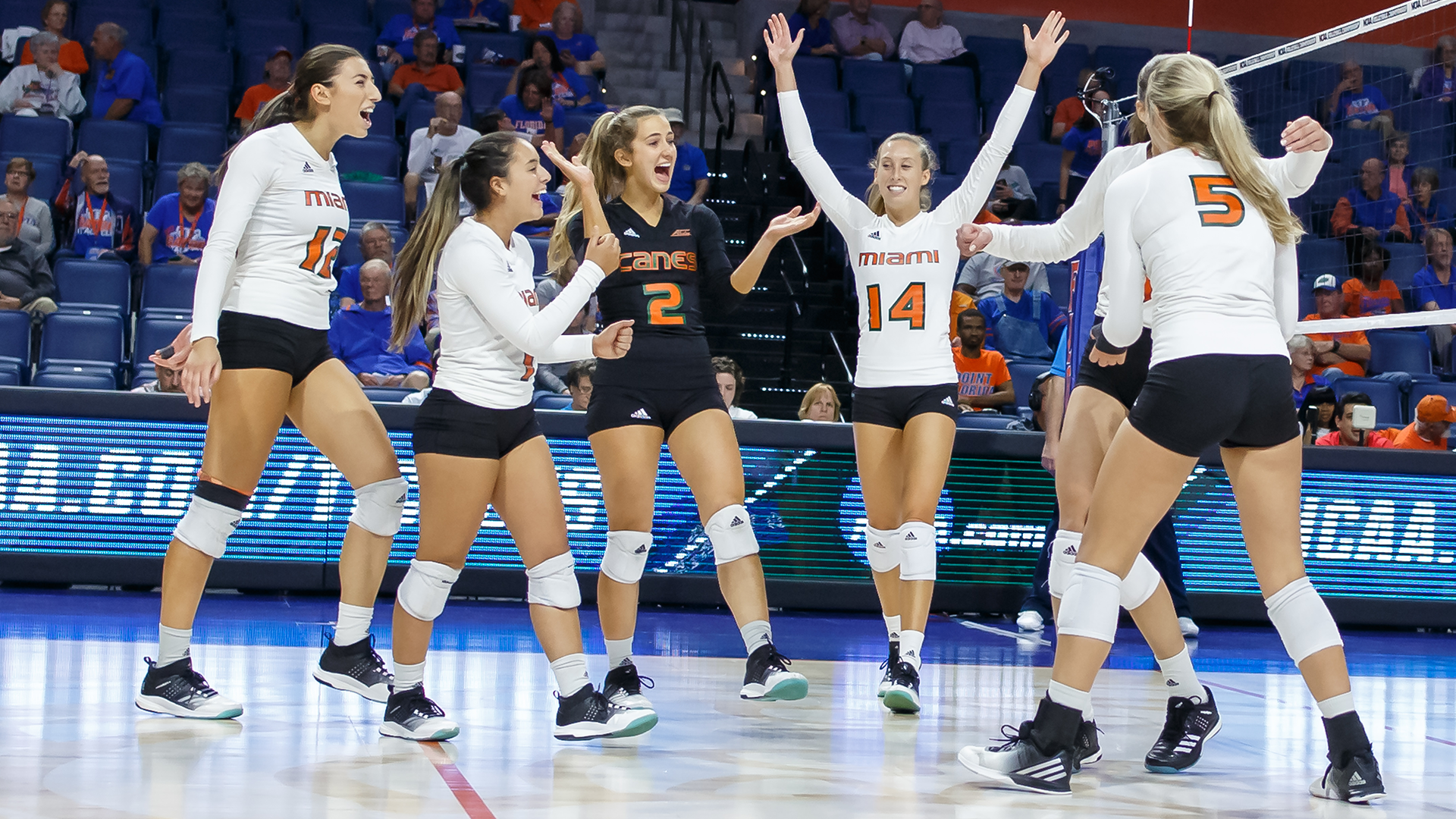 CORAL GABLES, Fla. – A 22-6 overall record and berth in the NCAA Division I Women's Volleyball Championship capped off the careers of the 2017 University of Miami volleyball team seniors.
Now, four years later, five of those members return to campus for Alumni Weekend in the Knight Sports Complex.
When the Hurricanes take the court on Friday night at 7 p.m. against Syracuse they will do so with Sakile Simmons, Kolby Bird, Sylvia Hernandez, Haley Templeton and Brooke McDermott in attendance, who were all on the 2017 team that made the last program tournament appearance.
After a COVID season last year, the Cane alumnus are excited to be back in the gym, this time from the stands.
"It warms my heart to be back on campus," said Simmons. "Seeing everything is so nostalgic, I loved Miami so much. Every time I come back here; I absolutely love it."
Added Bird, "I could not be more excited to be back in Coral Gables this weekend. I have not actually been back to watch a game since I left the program so this will be the first time back in my old gym. It is going to be surreal since I have never sat in the stands. I am excited. It is great that all three of my coaches – Jose "Keno" [Gandara], Kasey [Crider] and Jill [Hadder] — are still there. We are excited to support the girls."
With just eight games left this season, Miami sits with a 17-3 mark and on a trajectory back to the NCAA Tournament, a feeling these five alumni remember all too well as a highlight of their collegiate career.
"Playing in the NCAA tournament is one of my favorite memories," said McDermott. "I remember how hard we worked all season to make it there, and even just making it to the first round was a rewarding experience. We had such an incredible group of girls and that just made the journey that much more fulfilling."
Templeton added, "The tournament is one of the best experiences an athlete can have during their career. It starts on selection Sunday, seeing where you get to travel to and who you get to play. It allows you to show off all your hard work during the season."
For Hernandez this night will prove to be even more special. Not only will she be in the stands with her old teammates, but she will also get to share the moment with her sister, Miami's senior defensive specialist Priscilla Hernandez.
While Sylvia got to enjoy the experience of making the tournament during her career, she has been longing the same for her younger sister Priscilla.
"I have been praying and hoping my sister would get to the tournament at least one year because some of my best memories are at the tournament," Sylvia said. "She is the hardest worker I know, and no one deserves it more. She has been bringing this team together, lifting everyone up and working her behind off every single day since I can remember to get there and compete to make a run. Nothing brings me more happiness than her being able to do that and experience that."
As the Hurricanes head down the final stretch of their regular season, they will look to continue to make their case for a berth in the tournament.
The most important thing along that path, cherishing the little moments.
"Keep working hard for each other and cherish every single second because it goes by way too fast," McDermott said.
Sylvia added, "Have fun and find joy."