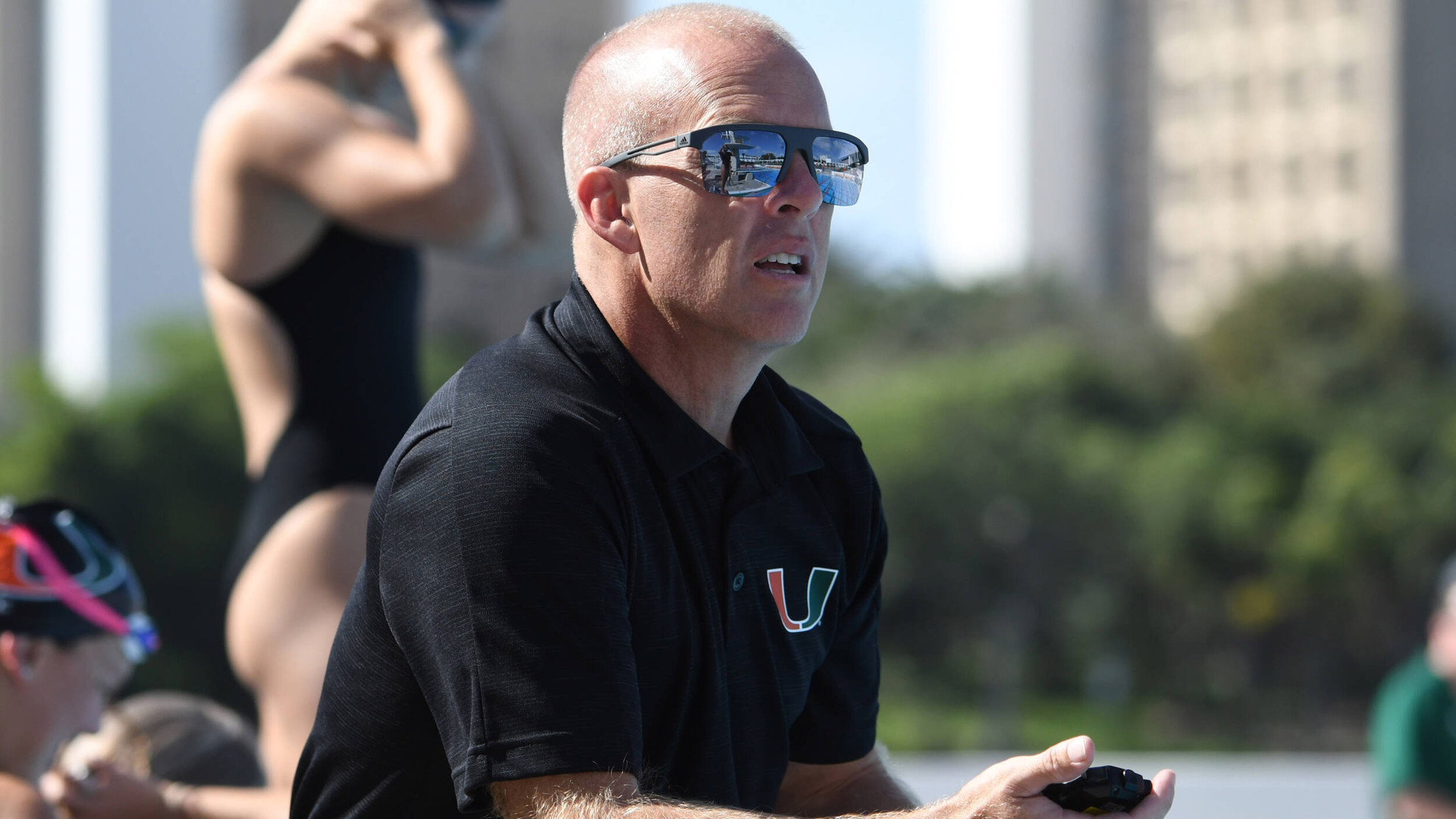 CORAL GABLES, Fla. – Ever since arriving to the University of Miami, head swimming coach Andy Kershaw has always emphasized the importance of protecting home water.
Friday at the Whitten Center Pool beginning at 4 p.m., the Hurricanes swimming & diving team gets its first opportunity of the season to do just that, as it open its home slate with FGCU.
Despite newcomers comprising nearly half the swimming roster, Kershaw knows the Hurricanes will be ready as they seek their fifth straight win over the Eagles.
"We've been talking to them about it, especially the newcomers. They're not quite half our team, but it's close," Kershaw said. "That's part of the fun and part of the process…teaching them that piece and that culture. We talked to them today about how our pool is unlike anywhere else in the country, and we have to make it what it is and represent who we are."
Friday's home opener also represents Miami's breast cancer awareness meet.
Miami (1-0) has been able to successfully defend its home water in recent seasons, including last year's win over Vanderbilt at the Miami Invite. The Eagles provide another challenge Friday after Miami opened its season with a win on the road at crosstown FIU and a strong showing at the SMU Classic in Dallas, Texas.
"There's a huge sense of pride and I think something they carry with them year after year," Kershaw said. "We know we're going to get great competition from FGCU, they've always brought a great team. We're looking forward to it in many ways."
FGCU (0-1) fell short in a close meet with Vanderbilt, 143-151, in its home opener last weekend.
Miami has enjoyed a number of impressive performances in its first two meets of the season, including a school record-breaking time in the 400-yard medley relay at the SMU Classic las time out. And while Kershaw has been encouraged by the Hurricanes' early efforts, he knows Friday's meet will provide a different type of challenge.
"This is one of the most grinding times of the season for any college swim team, in terms of training," Kershaw said. "They're bringing great energy all the time, every day. On the rare occasion when it starts to slip, we remind them about our standards and they're right back to it. They're picking each other up and really engaged in the process."
Miami will hope to secure points from some of its top distance swimmers, including Adrianna Cera and Aino Otava, while Kershaw is looking to mix and match various veterans and newcomers in different events throughout the meet.
"The first thing my mind goes to is their energy, their vibe and how they're approaching all of this," Kershaw said. "They're picking each other up and really engaged in the process and bringing great energy. That's what we're seeing in the performances.
They're not just stepping up in that specific moment, they're earning that performance and some of the great results we've had. I'm looking forward to it, and I know our team is, too."