Leading On and Off the Field
CORAL GABLES, Fla. – Lou Hedley has been a viral sensation of sorts from the start.
The punter gave the Hurricanes a jump on National Signing Day in 2019 when he became the first member of Miami's recruiting class to sign that day – a special privilege he was afforded because the day arrived in his native Australia before it did anywhere in the United States.
And when he brought his unique tattooed 6-foot-4, 225-pound frame to Greentree and began booming kicks downfield, his new teammates and coaches immediately took notice.
Not long after, so did the rest of college football, with Hedley generating countless headlines and making appearances on all sorts of television shows, including ESPN's College GameDay.
Last fall, his 47.3 yards-per-punt average ranked second in the nation. He was named a finalist for the Ray Guy Award, which is given annually to the nation's top punter and he earned second-team All-American recognition from the Associated Press.
But even with all the recognition, as an international student-athlete, Hedley has had to navigate challenges most of his fellow Hurricanes haven't.
And it's from those challenges that an idea – and a group – was born.
"I did an internship with [Senior Associate Athletic Director of Student-Athlete Development] Shirelle Jackson over the summer and we had an idea that with so many internationals at UM there should be some sort of support group so we can all get together and talk about any issues we have," Hedley said. "Whether it's visa status stuff or learning how to get a credit card in this country without a social security [number], little things like that."
Enter Canes World Wide, a new affinity group for student-athletes within Miami's Office of Student-Athlete Development. It is one of three such groups available to Hurricanes student-athletes, along with the Black Student-Athlete Alliance and Athlete Ally, a group for student-athletes who identify as members of the LGBTQ+ community or their allies.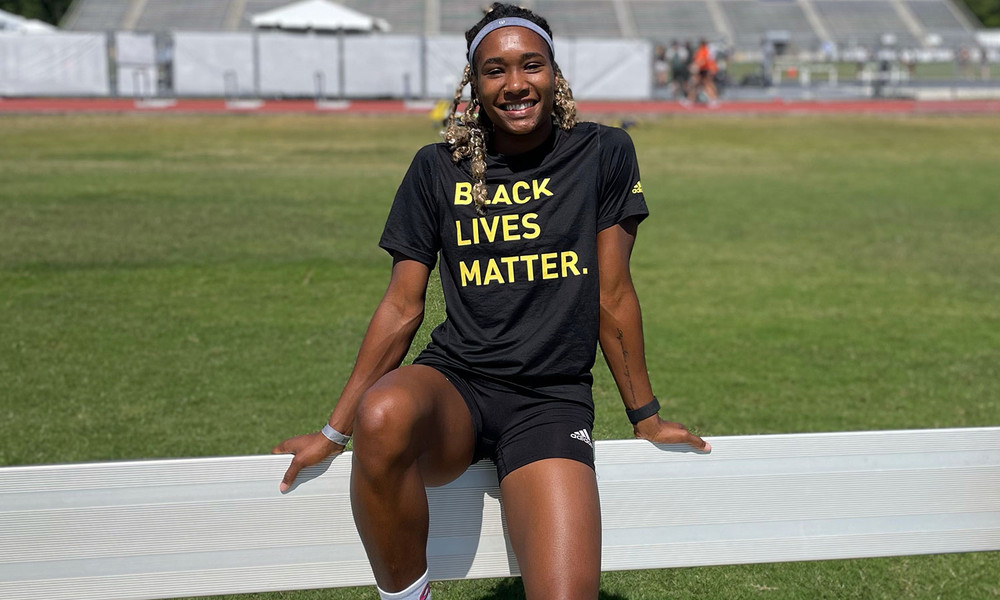 All three groups – led by various Hurricanes student-athletes – were founded within the last two years and have, those student-athletes said, given them a new way to make their respective experiences at Miami more fulfilling.
"I think these programs are incredibly important because they speak to the other dynamic makeup of what our student-athletes are, who they are and the aspects that make them just as human as everybody else," said former Hurricanes track and field national champion Michelle Atherley, who founded the Black Student-Athlete Alliance during the summer of 2020. "It also gives some perspective and ability for fans and administrators and everybody else to connect with them…I think it's incredibly important to build a community within athletics…It also just provides resources for student-athletes, even if nobody sees them. That all impacts the experience and hopefully, leaves a positive experience of what it was like to be a student-athlete at Miami."
Added Corey Jones, a member of Miami's cheer team and one of the student-athlete leaders of Athlete Ally, "I think all of the affinity groups are so necessary. They provide smaller, more inclusive groups for students who may identify as foreign-exchange students with Canes World Wide or a student of the LGBTQ community or ally for Athlete Ally, or a Black student-athlete in the Black Student-Athlete Alliance. It provides a smaller group for students to just be students and talk to one another and learn from one another. They provide a safe space for those marginalized groups."
Along with providing a space for Miami's student-athletes to address very specific concerns they may be facing, more than a few of the groups' leaders say they have learned valuable skills while helping pilot their respective organizations.
Jones, for example, stepped out of his comfort zone to serve as a moderator during a Pride Panel hosted by Athlete Ally last month. And both Hedley and Atherley have learned how to navigate the process of acquiring resources and support to build an organization from scratch.
Those are experiences they know will benefit them long after they leave Miami and finish competing, whenever that day may come.
"I was able to speak to other student-athletes around the country and see their perspective and get advice on how to implement this as an official group that is supported by those who have influence," Atherley said. "A lot of people have had negative experiences doing that and I wanted to make sure I presented in the most positive way. I wasn't sure what the feedback would be, so I went to Shirelle as somebody who is in the Black community, somebody who I've felt supported by in numerous things I've tried to do. To know she was full-on behind me and could pitch my idea and my initiative to the higher-ups was really important. I utilized her department to kind of share how important that was and we spoke to our AD and everybody in the department who could support us. Once they understood the importance of this and the mission and how it would serve our student-athletes, they were full-go and so supportive. They know exactly what I wanted to do and the purpose and how it would affect student-athletes' experiences at The U."
Said Hedley who has embraced his role as a mentor to fellow international student-athletes, "I'm always here for anyone that wants to talk about being homesick and stuff like I said in our first meeting…I'm down to help whoever needs it. I just like being an inspiration to people even back home who are kind of thinking about coming over and doing something like this. It's about being the best person I can be and being a good example for anyone else who wants to do it."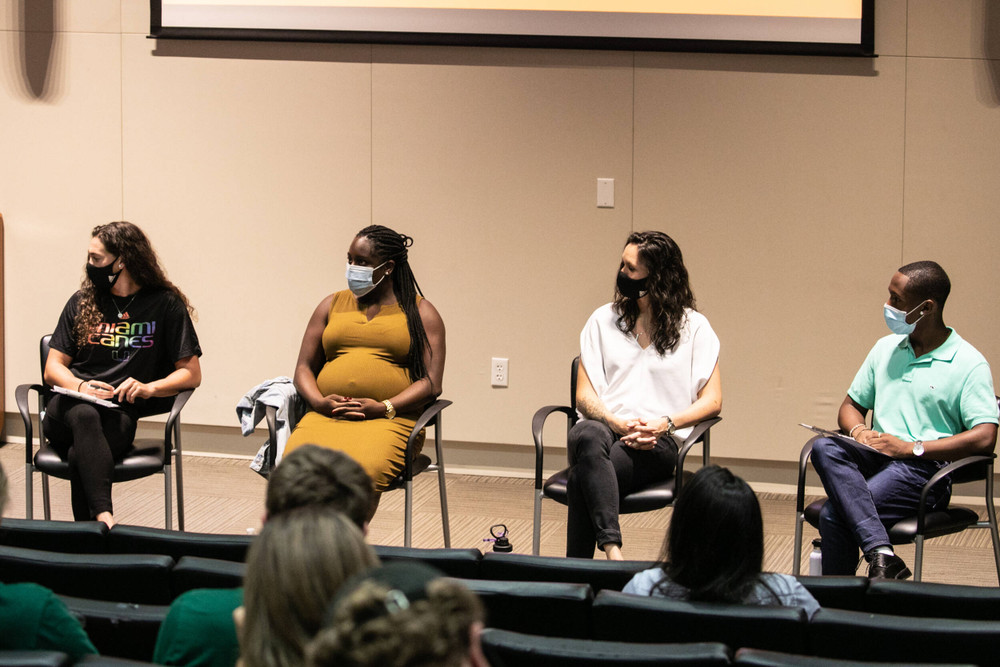 Given how all three groups have been founded in the last two years, their leaders say one of the biggest priorities for each now is finding ways to grow members and be more involved in on-campus life.
Connecting with similar affinity groups for Miami's traditional students, they hope, will come next. And Jones noted he'd like to see Athlete Ally become more present in South Florida's LGBTQ+ community beyond campus, too.
As that process continues, though, the student-athlete leaders say without the support from Jackson, her office and the rest of Miami's athletic department, none of this would be possible.
And that support is part of what's made each of them so proud to be Hurricanes.
"At the end of the day, Miami tends to be our student-athletes' home away from home. We spend more time here than we're at home and it's just been so great to know that our administrators are behind us," Jones said. "If our administrators are behind us, our student-athletes tend to follow…To know they've been so welcoming about all the affinity groups has been so great."
Said Atherley, "I think these groups mean that Miami, the University of Miami, can be a home away from home. I think it means you can find solace and support and love from people who are not your family or people you're unfamiliar with. I think it's an inviting environment and one that allows student-athletes to be who they are while competing at the highest level."