Hanlon Brings Goals and Drive to The U
CORAL GABLES, Fla. – If you look at the University of Miami rowing roster over the last few years, you'll start to notice a trend – every couple years, a rower from Langley High School shows up. This year was no different with the arrival of Caroline Hanlon.
"We joke that every four years, there is a Langley rower that goes to Miami," Hanlon said. "When I was a freshman in high school, Taylor Kuligowski was the senior captain and she went to row for Miami. And when she was a freshman in high school, there was another senior captain who also went to row for Miami."
Though she did not sign her National Letter of Intent until November of 2020, Hanlon knew from the very beginning that collegiate rowing was something she wanted to pursue.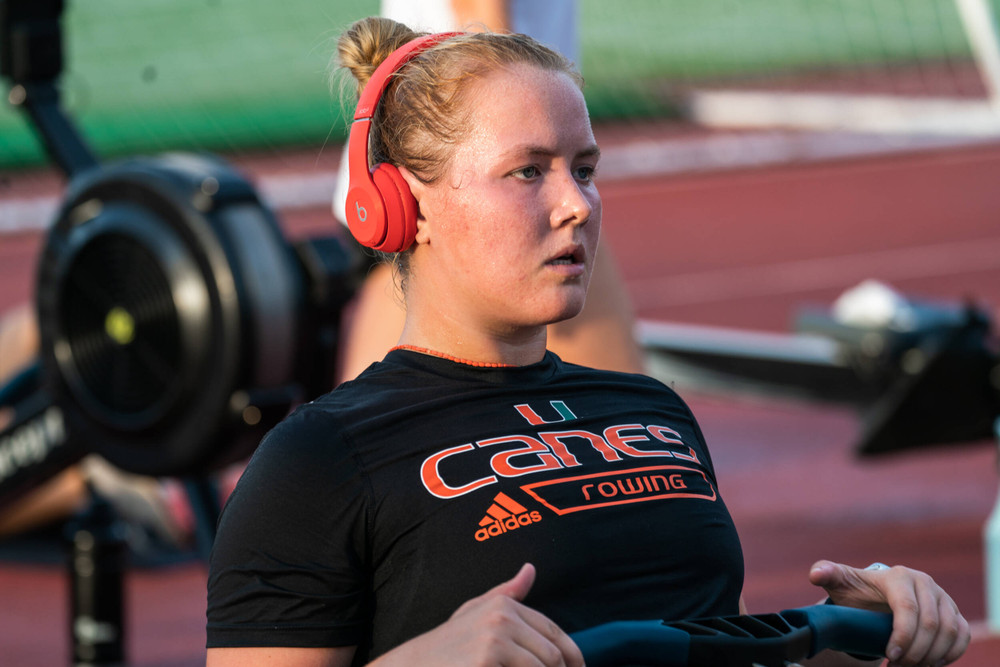 "I started rowing my freshman year of high school after my brothers tried it out," Hanlon said. "Originally, I was playing basketball, softball and sailing at a private school, but my parents thought it'd be a good idea for me to try a different sport so I transferred to Langley and started rowing."
The Langley, Va., native started in a 'Learn to Row' program and quickly fell in the sport, so much so that she quit all her other sports to prioritize rowing. It became a family affair as both her brothers ended up rowing all four years of high school.
As she immersed herself in the sport, Hanlon recognized that if she wanted to row in college and specifically become a Division I athlete, she would have to work hard to get faster. At 6-feet-tall, Hanlon had the foundation to be an exceptional rower; she just needed to put in the effort.
"During my sophomore year, I started to get faster and, as the years went on, rowing in college became more achievable," Hanlon said. "By my junior and senior year, I knew that getting up early and pushing myself were things I had to do to get to the college level."
The early mornings and countless blisters on her hands paid off when Hanlon committed to Miami to continue her rowing career.
"Coach Claire [Frenkel] reached out to me about a questionnaire I filled out and, once I looked into Miami a little more, I realized it was a great school and program," Hanlon said. "Also, I loved the palm trees and dolphins."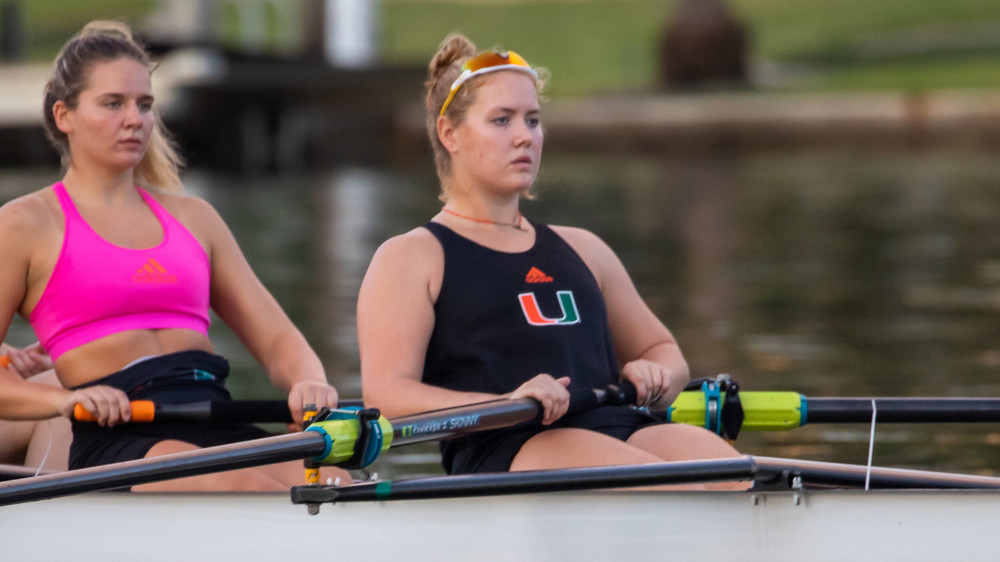 Rowing among dolphins is a common occurrence in Miami, as is the early practices that have become normal to Hanlon. But rowing has taught her how to manage her time and to become mentally tough. From moving to a new school to join the rowing team to working through particularly difficult rowing pieces, Hanlon has learned how to take control and push through obstacles.
With that perseverance comes rewards, which in Hanlon's case, happens in the form of raceday.
"I love going to races and just competing," Hanlon said. "We do so much work and put in so much effort throughout the season and we finally get to put it into play when we race. It's so satisfying to know that you work is paying off, especially if you do well and bring home a medal or a ribbon. It makes all the pain worthwhile."
Her first collegiate race is something that Hanlon is looking forward to, along with getting know her teammates and coaches. However, what the freshman is most excited about is working to become the best athlete she can be.
"My goal coming into these four years is to get as fast and have the best form as I can," Hanlon said. "Those are my goals every practice and what I think about each day."
Hanlon will have the opportunity to see how much she's grown since the beginning of the school year when the Canes host the Head of the Indian Creek on Oct. 16. Until then, she will continue to get up early and go to work, even if sleeping is one of her favorite things.