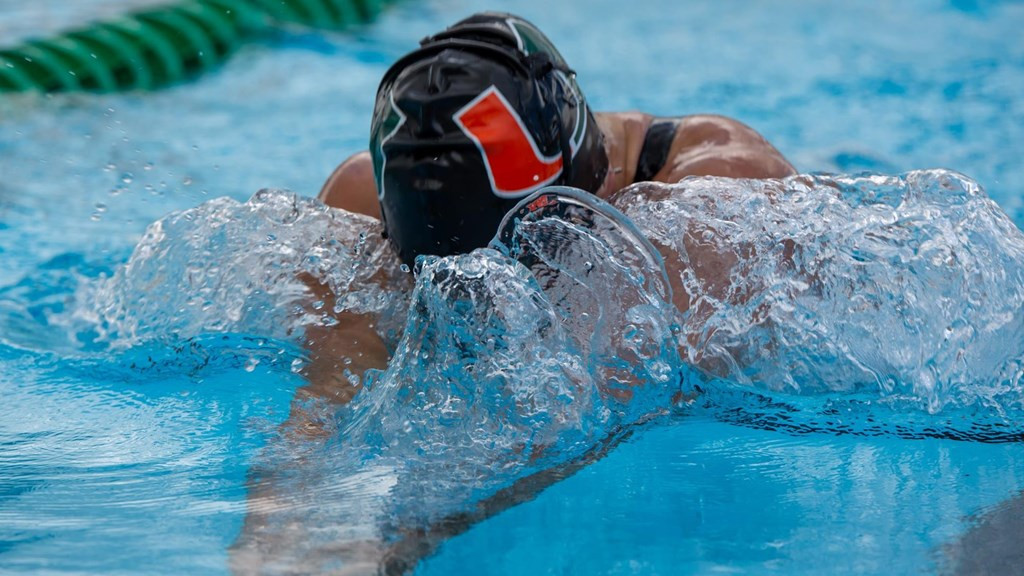 CORAL GABLES, Fla. – Though he can't say for sure exactly how Saturday's season-opening meet will unfold, head swimming coach Andy Kershaw knows one thing: he's excited for whatever comes.
The Hurricanes swimming & diving team opens up its 2021-22 season against crosstown FIU on Saturday at 11 a.m. at the Biscayne Bay Aquatic Center, and Kershaw said there is plenty to look forward to.
"There are a lot of different dynamics going on with this group," Kershaw said. "It's made it very fun. Training has been very energetic and very different than it has been in the past. That difference has added energy, which has been great."
Though the COVID-19-affected 2020-21 season provided its fair share of challenges, Kershaw adds a talented group of newcomers to a veteran core that is determined to build on last year's accomplishments.  
Miami returns fifth-year swimmers like Sydney Knapp and Carmen San Nicolas, who were granted the opportunity to return for an extra year due to the pandemic, and will feature an eight-member freshman class to go along with NC State transfer Danika Huizinga.
"Everything from getting people returning for their senior year, people moving into their senior year, it's a much bigger team for us. It's not a big team as far as collegiate swimming goes, relatively speaking, but it's a bigger group for us," Kershaw said. "The lineup tomorrow looks very full, which is very gratifying."
On the boards, head coach Randy Ableman returns one of his most experienced rosters in recent history. Miami has six returning divers with NCAA Championships experience – two women and four men – and adds talented freshman Maria Coburn, who has ample experience representing Team USA as a youth international.
Platform All-American Zach Cooper heads up a diving contingent that features Emma Gullstrand and Mia Vallée, who earned the first NCAA All-America recognition of their careers last year. Brodie Scapens, who also captured All-America honors, is working his way back from injury, while Max Flory and Jack Matthews look to build on last season's successful trip to the NCAA Championships.
While Kershaw knows his team will always have one eye turned to the spring calendar for the all-important conference championships and NCAA postseason, he expects his team to be ready to compete once they hit the blocks Saturday.
"One of the things I'm proud of with this team, is that they seem to have a good perspective. We know there's our big picture, gearing towards February and March," said Kershaw, heading into his ninth season at the helm. "But they're going to have the ability to recognize that tomorrow, in that moment, our meet against FIU is everything that matters.
"I'm very confident in their ability to turn that switch."
A number of returners have stood out during preseason training, including San Nicolas, who Kershaw said enjoyed a "tremendous summer." Senior Grace McGinnis has impressed during the early part of the year, while Adrianna Cera and Emma Sundstrand look primed to build on last year's success.
Among newcomers, Huizinga was one of the nation's top performers in the backstroke during her career with the Wolfpack, qualifying for the NCAA Championships in the 100-yard and 200-yard backstroke events last year. Giulia Carvalho, a freshman from Belo Horizonte, Brazil, has turned heads with a seamless transition to collegiate swimming.
"It's going to be really, really exciting to see them actually get on the blocks and put all the work we've been able to do up to this point to good use," Kershaw said. "I'm sure we'll see instances where people misstep and understand what we need to work on, and that's all part of this process."