Canes Best Panthers in Three Sets
MIAMI – The University of Miami volleyball team posted a dominant performance Saturday afternoon, shutting out the FIU Panthers, 3-0, at the Ocean Bank Convocation Center. Miami posted back-to-back shutouts to open the season for the first time since 2016. The Canes also swept FIU in the second match of the season that year.
"We always appreciate the opportunity to play someone from the city – part of what makes college sports fun is the geographic rivalries," head coach Jose "Keno" Gandara said. "We're really pleased with our performance today. Through two matches, we're finding we have lots of lineup options and are mature enough to handle the adaptations necessary to be great over time."
It was a team effort on Saturday as three Canes registered five or more kills – Janice Leao (13), Janet Kalaniuvalu (nine) and Peyman Yardimci (six). Setter Alanys Viera recorded two kills on two attempts for her first-career kill, to go along with eight assists on the afternoon.
"I was impressed with our blocking performance today – Janice Leao, Peyman Yardimci and Janet Kalaniuvalu, in particular," Gandara said. "That's been a tough area for us for a few years now, so being great across three sets today was awesome."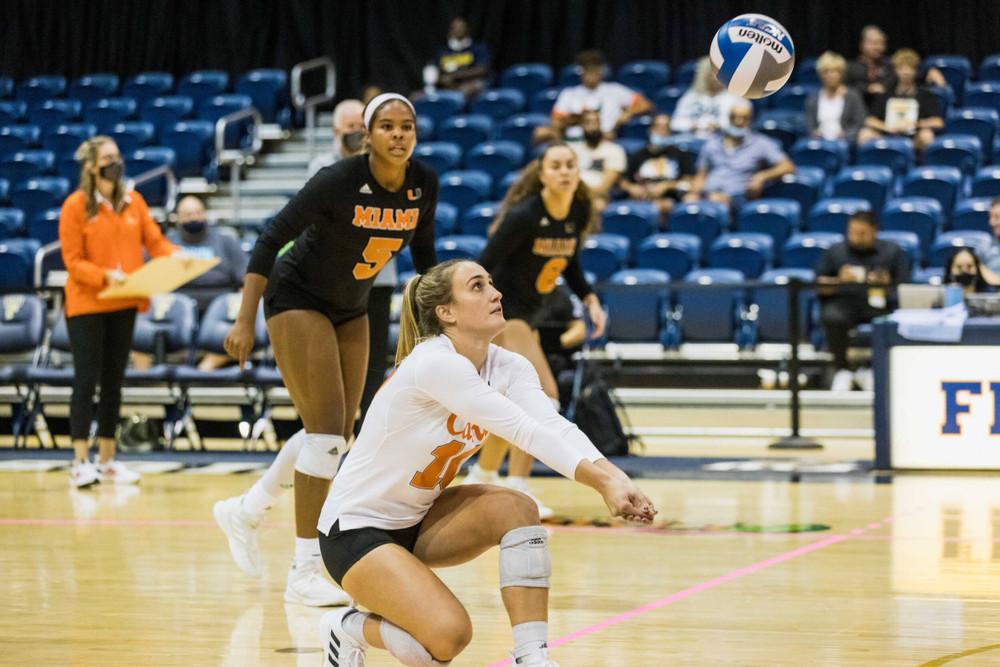 Senior Priscilla Hernandez led the way in the back row for the Canes, recording her second straight double-digit dig effort with 11. At the net, junior middle blocker Kennedy Prince tallied a team-high three blocks.
The Canes came ready to play, recording a .312 hitting percentage in the first frame to take a 25-10 first-set win. Miami kept its momentum going in the second frame, starting the set on an explosive 18-3 run. The Panthers battled back, closing the gap to 10 thanks to an 8-3 run to bring the score to within 10. However, Leao was unstoppable at the net, drilling her 10th kill of the match to clinch the set for Miami, 25-14.
The Canes recorded five straight points to open the third set but had to contend with a relentless effort from the Panthers for a remainder of the match. The teams traded points throughout the third frame and FIU cut Miami's lead to two points, 23-21, as the match drew to a close.
Despite the pressure, Miami remained strong and sealed the match victory with a 25-22 win in the third set.
The Canes return to the Knight Sports Complex on Sunday when they host UMBC in the home opener at 4 p.m. The match will air on ACC Network Extra.
To keep up with the University of Miami volleyball team on social media, follow @CanesVB on Twitter and Facebook, as well as @Canes_VB on Instagram.