CORAL GABLES, Fla. – Michelle Atherley still hasn't watched the entirety of the video.
She doesn't have to.
Atherley knows exactly what Darnella Frazier, then just 17, captured with her cell phone when former Minneapolis police officer Derek Chauvin pressed his knee against the neck of George Floyd for nearly nine minutes last May.
She knows Floyd repeatedly told officers he could not breathe. She knows Floyd called for his mother before his voice fell silent. She knows passerby tried to help, but ultimately, in the end, a Black man died after being in police custody.
Video or not, that knowledge in and of itself has been traumatic and painful enough for Atherley and millions of Americans, including many of her fellow student-athletes at Miami.
But that pain helped spur the Hurricanes track star into action in a way she maybe hadn't quite imagined possible before Floyd's death a year ago Tuesday.
"George Floyd's death definitely ignited a pathway for people like me and other activists who have been in this for years and years to really give people the education that they needed in order to make change happen," said Atherley, a graduate student at Miami. "I was already shocked and appalled because of the Breonna Taylor situation and that, piled on with George Floyd's death, was a lot. It was shocking…it felt very vulnerable and it was hard to process…
"When I got back to campus [after the COVID-19 closure] and the athletic department reached out to student-athletes to have something like a town hall meeting, that was the first interaction I had with other people, completely discussing the situation and how it made me feel. It was an amazing opportunity and something I thought was extremely necessary and very helpful at the time…And that's kind of where I began my efforts to open up more spaces like that for Black student-athletes, student-athletes in general and anybody who wants to learn or be an ally in situations like this."
In the year since Floyd and Taylor's deaths, Atherley has been at the forefront of creating honest, open dialogue about race and social justice among Miami's student-athletes and members of the Hurricanes' athletic department.
She founded Miami's new Black Student-Athlete Alliance Organization, which she hopes will inspire and empower Black student-athletes. She helped create the Black Male Student-Athlete Engagement & Empowerment program — a space for Miami's Black male student-athletes to meet, share their own personal experiences and address issues that affect them specifically. The program was recently announced as a recipient of one of the University's racial justice grants. And she's done her best to encourage her fellow student-athletes to be as civically engaged as possible, especially ahead of the 2020 election.
It hasn't always been easy, but Atherley has been willing to rise to the challenge.
She hasn't been alone in her efforts.
Quite a few of Miami's student athletes have used their platforms over the course of the last year to advocate for social justice and equality.
The Hurricanes football team, for example, created its Social Justice Council that not only gave its student-athletes a place to express their feelings, but has tried to help them create change. Among the council's first initiatives? Making sure every member of the football team was registered to vote.
Other teams helped ensure their eligible student-athletes were registered to vote, too. And there were many team conversations about what happened in the wake of Floyd's death.
Some teams across Miami's athletic department wore shirts at various points throughout their respective seasons with messages ranging from "Black Lives Matter" to "Equality" to "Unity" to "Justice." And at some points in the year, some Hurricane student-athletes opted to kneel before their games.
And while some student-athletes didn't always agree on some of the actions taken by their teammates, there was, Atherley said, a lot of trying to understand each other's viewpoints.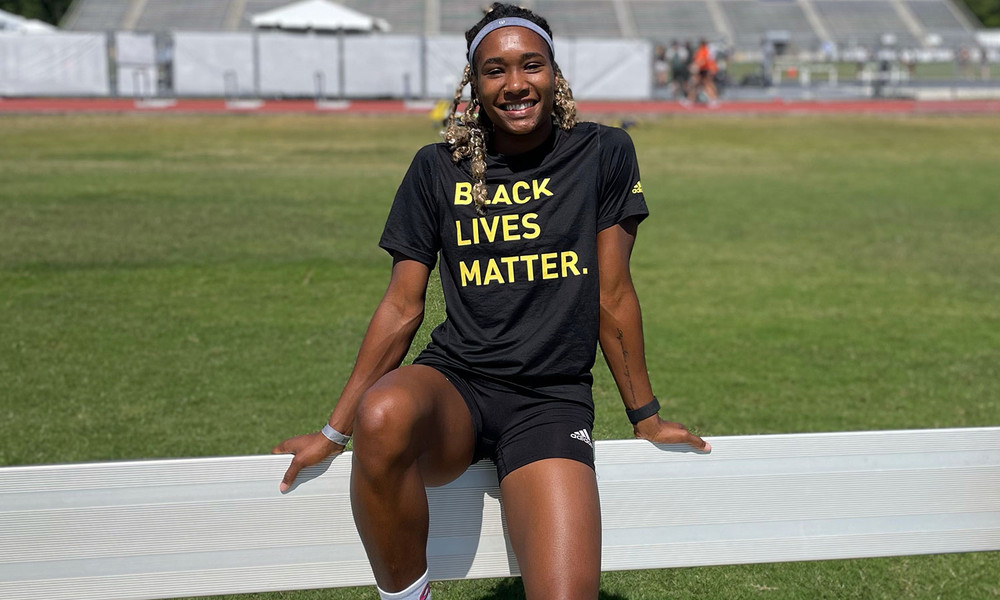 Through it all, from staffers to coaches, the athletic department as a whole tried to lend its support to all of those student-athletes as much as possible.
The goal for everyone was simple: make sure all of the Hurricanes felt comfortable to speak their minds and share their thoughts, even if that meant being uncomfortable.
"People say athletes should shut up and dribble, but all the way back to Bill Russell deciding he wouldn't play in a game because they wouldn't serve the Black players on the Boston Celtics at a [Kentucky] lunch counter, it's been ongoing," said Renae Myles Payne, Miami's senior associate athletic director for administration and chief diversity officer. "Athletes have always kind of stepped up and made statements and found ways to lead in this space. And it's been very encouraging to see this generation of student-athlete do that and decide 'This is who I'm going to be.'"
Added Shirelle Jackson, Miami's senior associate athletic director for student-athlete development, "It's important to provide that support because it's what we tell them we're going to do while we're recruiting them, right? I have the pleasure of being in front of the majority of our prospective student-athletes and their parents. When we talk about The U family, when we talk about support, it's ensuring we do what we tell them we're going to – which is be there for them, support them, help them in this growth process. Support is everything. To me, when you're supporting someone, you have to support them in totality. You have to support them in sport, in academics, and in life. It's all of it. It's not just about cheering for them on Saturdays and hoping they do well."
The athletic department's efforts to provide support and create a safe space for conversation weren't limited to just Miami's student-athletes.
Staffers went through weeks of diversity training and received education about the Black experience in America. The department's Diversity and Inclusion unit created the Trailblazer Award, which recognizes current and former minority student-athletes and others affiliated with athletics who have distinguished themselves as pioneers and game-changers on and off the field.
Former student-athletes Ray Bellamy, Kim Sands and Will Allen, who were honored as this year's Trailblazers along with former University President Henry King Stanford, spoke to Miami's staff and student-athletes about using their platforms to create change. Additionally, members of the athletic department were instrumental in helping set up the ACC Brotherhood Alliance which meets monthly and helps provide professional development for Black male student-athletes and recent ACC graduates.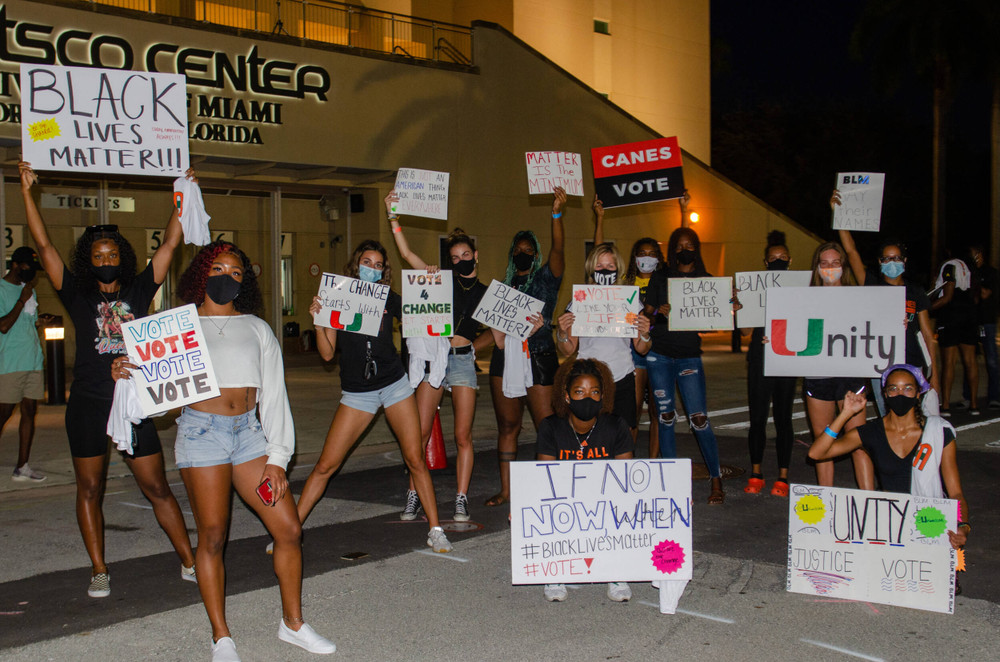 For Hurricanes quarterback D'Eriq King, seeing all of those initiatives take shape has been especially meaningful – and a reminder, he says, of Miami's commitment to creating a positive, inclusive atmosphere where he says he feels comfortable leading and speaking his mind.
"Everybody's probably heard the saying 'Don't talk about it, be about it.' That's what we wanted to do," said King, one of the leaders of the football team's Social Justice Council. "Obviously, with our leaders, our coaches and our administration, they did a great job of giving us all the resources that we needed to do things like that. That was the big thing: We didn't want to talk about it one time. We wanted to talk about it the whole year and still talk about it to this day. We're still trying to address issues and fix problems"
King, Atherley and the rest of Miami's student-athletes know the change they seek won't come overnight. Racism and inequality haven't vanished in the year since Floyd's death. And while maybe there has been some progress they'd hoped to see, they know their work isn't finished – at Miami or beyond.
But they're determined to take what they've learned this year and build on it.
Miami is committed to continue helping them do that.
"I think we just have to keep the conversation going. I think we need to try and understand everybody, try hearing them out," King said. "In this day and age, if you disagree with somebody, it's like 'Oh, I don't like that person.' But I know the people I've been around, my teammates, coaches and trainers, I think we can have conversations. Just keep the conversation going, try to hear people out and talk about our differences."
Said Blake James, Miami's director of athletics, "I think we have to keep the approach that we've taken over the last year as a priority in how we do things. I think it's important to support, to keep the discussion going knowing that this is going to be something that we're going to need to talk about in five years, 10 years and onward. I believe these types of conversations will continue to be important and it's something I want to make sure we keep doing."