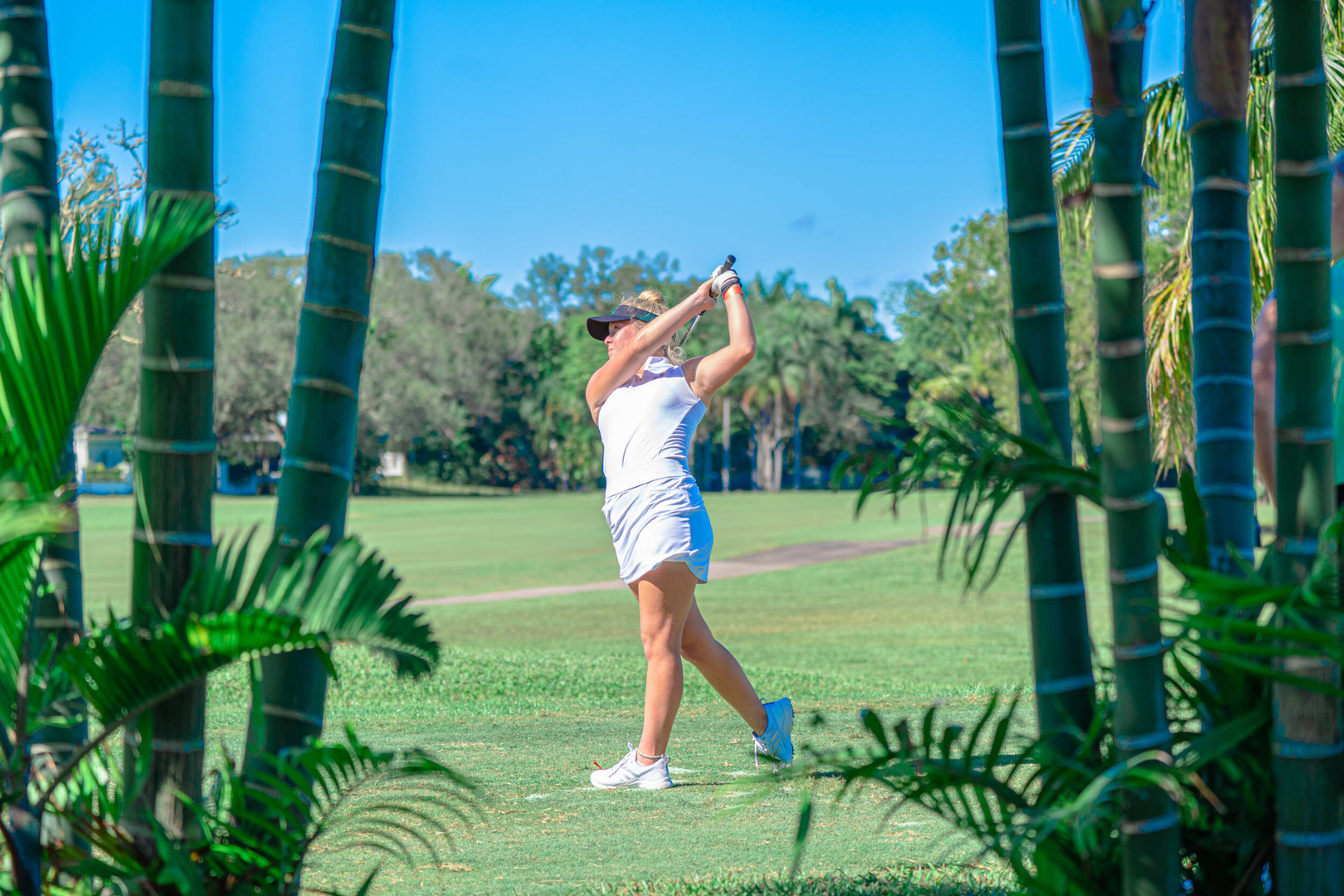 CORAL GABLES, Fla. – Two weeks after opening the 2021 campaign in Orlando, Fla., the University of Miami women's golf team is set to return to competition Sunday at the fourth annual Moon Golf Invitational.
Nearly a year removed from last taking part in a tournament as a unit and with a pair of freshmen in the lineup, the Hurricanes did not skip a beat at the UCF Challenge (Jan.31-Feb, 2).
Not only facing stiff competition at the Eagle Creek Golf Course, the Hurricanes battled the elements during the final pair of rounds,
Despite the challenges, all five Hurricanes competing earned top-30 finishes, led by Franziska Sliper (10th), Kristyna Frydlova (14th), Sara Byrne (19th) and Nataliya Guseva (19th) ranking among the top 20 individuals.
As a team, the Hurricanes stormed back in the final round to finish third at the event.
"I was impressed that four of our players finished among the top-20 against such a strong field, especially with Sara and Nataliya competing in their first event," Miami head coach Patti Rizzo said. "I'm just so excited for what this spring season has in store. This week, we just want to see continuous improvement from all of the girls, as well as see Renate [Grimstad] and Nataliya play all three rounds to their full potential."
Making their collegiate debuts sporting orange and green, Byrne and Guseva each made strides in their young careers on their way to both finishing three-over-par and earning their first career top-20 finishes.
In her first round of competition, Byrne put together an impressive back-nine, collecting an eagle to finish the round two-under-par.
As the weather deteriorated over the final two rounds, Byrne gained valuable experience on the course, making sure to take it one hole at a time.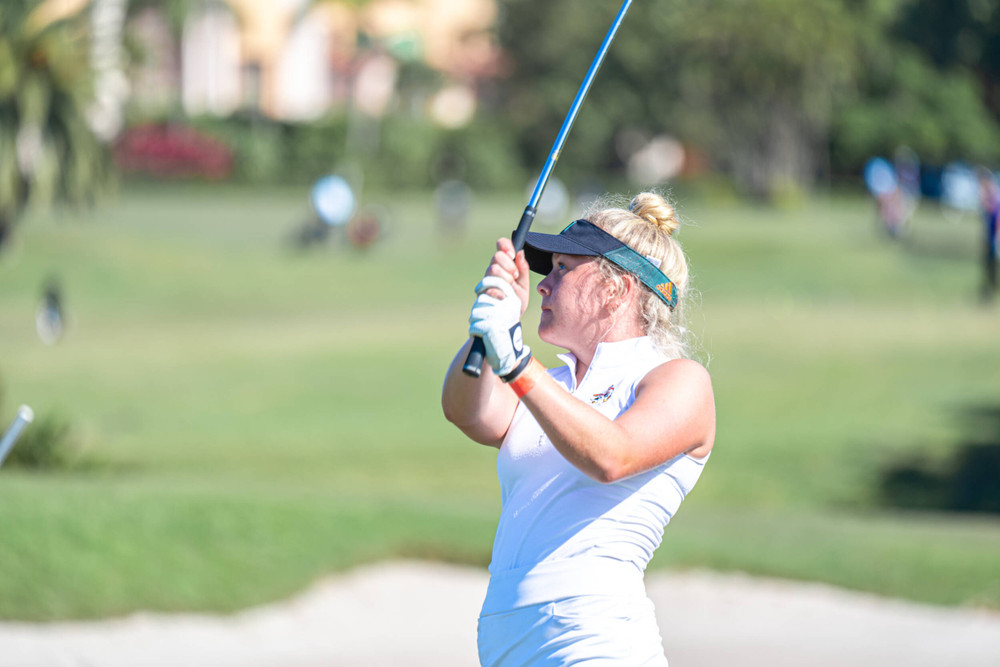 "At UCF I went into the week not knowing what to expect, so I really did just take it one shot at a time and that is what I'm planning to do again this week," Byrne said. "I realized that it really does just come down to a shot or two, meaning every single shot matters. Even if the day isn't going great, you have to remain focused and move on to the next hole. I'm looking forward to just getting out there again and competing for a team win."
With the top-20 finish, the Cork, Ireland, native once again solidified her spot in the starting lineup for the Hurricanes, a spot she wants to keep fighting for.
"It means the world to me to be able to play again this week," Byrne said. "Having such a strong team really makes me appreciate every tournament I get to go to. It was amazing playing in my first collegiate tournament, as I gained a lot of experience from it. I was pretty happy to get a top 20 finish and secure a spot for this week's lineup."
One of two Hurricanes ranked among the top 100 in the World Amateur Golf Rankings, No. 90 Guseva also gained a ton of experience in the harsh Orlando conditions, leading the team in scoring on day three of competition.
Overcoming a slow start, the Moscow native carded a two-under, 70 in the final round to secure her first-career top-20 finish at three-over-par.
"It was a really great experience for me to play my first event at UCF and finish among the top 20," Guseva said. "I was a little disappointed in my game during the first two rounds because I was expecting more from myself, but I know that I learned a lot. For this next event, I know that I once again need to fight until the end and do everything I can to help this team win. I was able to do that in the final round at UCF, finishing two-under in very tough conditions.
"I just have to make sure that I give it my all on every hole, because I know that each of us are fighting for each other, we are playing for each other and competing for one another," Guseva added. "So, I will go out there and give it my all this week because as a team, we are ready to compete. Today wasn't the best experience for the practice round due to the rain, but we will come out tomorrow and give it our best and see what happens."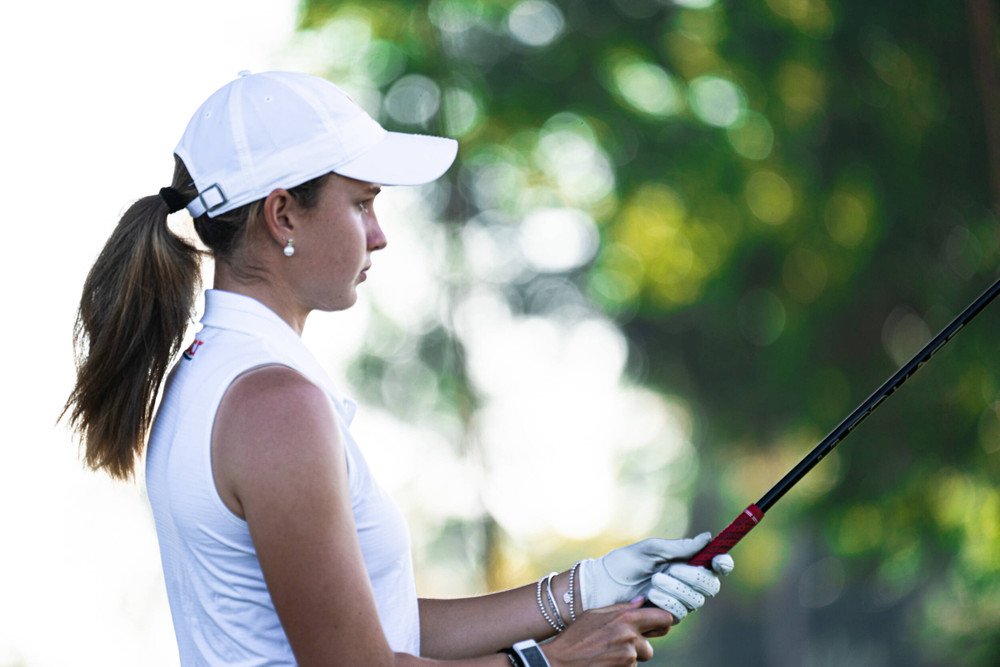 Competition is set to begin in Melbourne, Fla., Sunday at 8:30 a.m., with a shotgun start. The three-day event will consist of 54 holes on the par-72, 6,328-yard golf course. Live results for the  event can be found HERE.
Miami will battle 17 teams at the invitational, including Alabama, Arkansas, Auburn, Augusta, UCF, Coastal Carolina, Florida, Florida Atlantic, FGCU, Florida State, Illinois, LSU, Louisville, North Carolina, Oklahoma, South Carolina and Virginia.
Miami will open things up against student-athletes from FAU and Florida on Sunday. Sliper (hole 15), Frydlova (hole 16), Guseva (hole 17), Byrne (hole 18), and Grimstad (hole 18) make up the lineup for the Canes.