Stay Tough, Stay Faithful
CORAL GABLES, Fla. – Not only did Miami defeat in-state rival Florida State on Sunday, but head women's basketball coach Katie Meier also tallied her 300th win at the helm of the Canes.
During her time as the head coach of the Hurricanes, Meier has amassed a 300-194 record and coached her team to 11 postseason appearances and nine 20-win seasons. But, while the 300th win was a special one, for Meier, it was more so the exhibition of the hard work the team put in over the nine-day break.
"I'll do anything for this university and I'm happy to have that, but I'd rather celebrate beating Florida State and them coming off this gut-check week," Meier said. "They earned the win and they worked hard and they stayed faithful."
Four Canes scored in double-figures against the Seminoles, marking the first time four Miami players have tallied double-digit outings in an ACC game this season. It was truly a veteran-led performance as the upperclassmen accounted for all 68 of Miami's points.
A trio of Canes recorded five-plus rebounds in the contest, paced by redshirt junior Destiny Harden, who tallied her third career double-digit rebounding effort with 12 boards in the game.
Coming off a tough loss to Georgia Tech, the Canes used the nine-day break to refocus on playing Miami basketball.
"We did all sorts of things to find our toughness and get the joy back, but also not ignoring that we hadn't been playing hard enough, all of us together," Meier said. "We got down to the grit and were really emotional, so I'm really proud that we came out of it against a big rival and stayed faithful and believed in each other."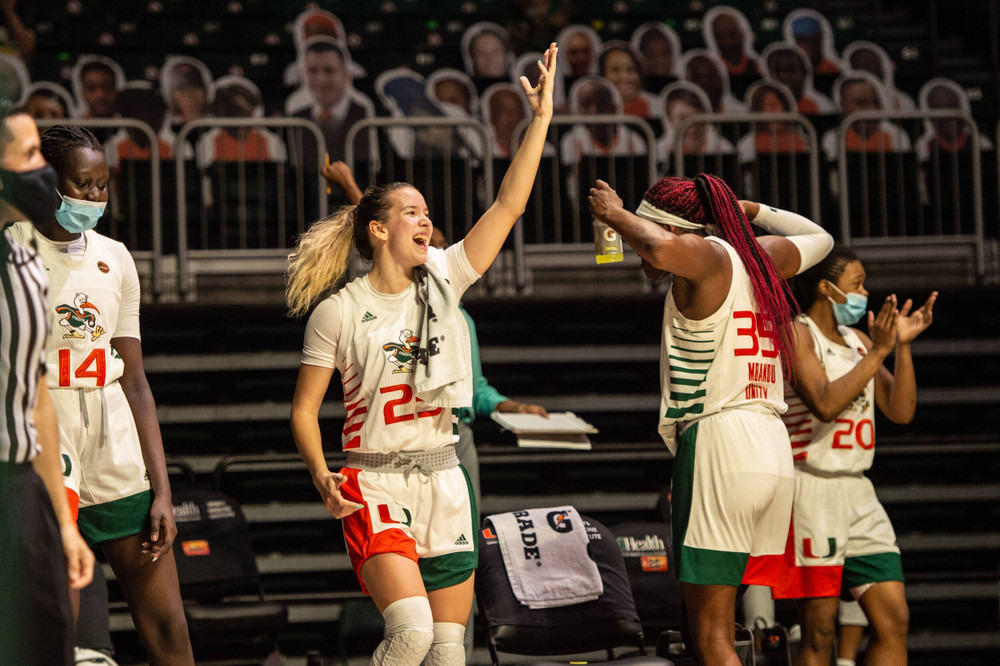 Miami will need to carry that toughness and faithfulness into Thursday's contest against Virginia Tech, as the Canes and the Hookies sit tied for eighth in the ACC standings.
Virginia Tech's Aisha Sheppard and Elizabeth Kitley ranks second and third in the ACC in scoring (19.1) and rebounding (11.1), respectively.
"Virginia Tech is rolling right now," Meier said. "They had some early struggles where they played great, but just didn't the wins. Now they are not only getting the wins, but also earning them."
Miami has been dominant in the series between the Canes and the Hokies holding a 21-8 advantage. The Hurricanes are 13-2 in their last 15 games against Virginia Tech and boast an 11-2 record when playing in Coral Gables, Fla.
The Hokies have won the last two meetings but prior to those wins, Miami won 15 straight contests. The games between the teams have always been competitive with 15 of the 29 games resulting in single-digit wins for the victors. The Canes hold the 11-4 edge in those games.
Thursday's game will tipoff at 6 p.m. on ACC Network with Pam Ward and LaChina Robinson on the call. Fans can also listen to the game on WVUM 90.5.