Swimming Season's Theme: 'Adaptation'
CORAL GABLES, Fla. – Adaptation.
If there's any type of overarching theme for the Hurricanes this season, head swimming coach Andy Kershaw is quick to identify it.
"I think we're continuing to work through the process and adapt when needed. That's one of the areas where I think I've been the most proud of the team…pushing when we can push and adapting when we need to adapt," he said. "Just not letting things ever get too far out of whack one way or another."
As his team prepares for only its second dual meet of the season Wednesday at FGCU, Kershaw said he has been encouraged by the efforts of his Hurricanes despite the unpredictability since returning to the pool after a lengthy winter break.
"When we have to make adaptations or things like that, just rolling with it…they've handled it really well," Kershaw said. "I do know that we have been able to push here, recently, the last two weeks. I know they're tired. But I also know they're able to rise above that and perform. I'm looking forward to seeing them do that."
Kershaw points to Aino Otava as a prime example of a swimmer who has elevated her performance despite uncertain circumstance.
The sophomore standout posted the eighth-fastest time in school history in the 400-yard IM and sixth-best time in the 500-yard freestyle just before the break in a multi-day invitational with Vanderbilt.
"Leading into that meet, Aino had very little training like she would normally have leading into that. To see how she performed, it's a perfect example…if they will let their preconceived notions go, their bodies are able to do amazing things. This has been a great experience in that regard - it doesn't have to look the same in order to perform at a really high level."

Andy Kershaw on Aino Otava
Assistant coach Tanja Kyllainen saw high levels of energy and commitment from Otava, her former Finnish national teammate.
"She was able to get back into training and her top shape coming off some injuries," Kylliainen said. "She gained confidence but also learned how to embrace everything, find balance and be a well-rounded person and not just a great swimmer."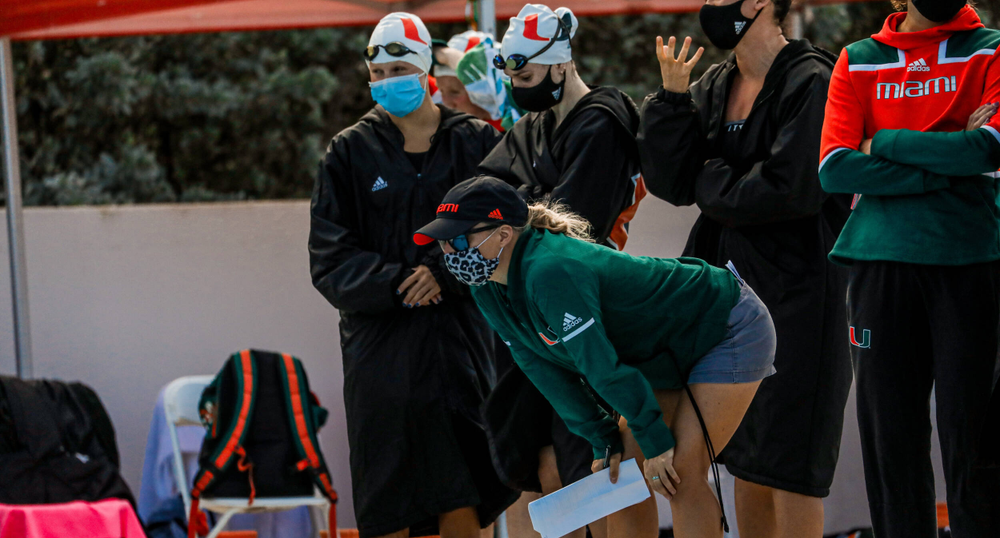 Miami is looking for its fourth straight victory over the Eagles Wednesday in Fort Myers, Fla.
"It's a program I've had a lot of respect for, and they've earned it over the years – the recent success we've had against them, I cherish – because of that respect I have for them," Kershaw said. "They've got a good group of returnees, some really elite-level people. They've brought in a really good freshman class. It's going to be a battle."
But Kershaw knows that, given the unpredictability every college team has faced this year, anything can happen Wednesday when the two teams hit the water.
"They haven't had a dual meet. We've only had one, other than our midseason invitational, so who knows where either of us will be," he said. "It's always an interesting time of year for a swim team in terms of training and competition. I think both teams will be raring to go and who knows how it'll shake out. I think our team is going to be in a good mental spot and I'm eager to see how it all plays out."