Trust The Process: Otava's Journey to The U
CORAL GABLES, Fla. — It all started with a game of 'koomcha.'
A pool deck tradition for swimming teams across the globe, it was the accomplished veteran Tanja Kylliainen who invited a younger swimmer to join in on the fun at the 2016 Finnish National Championships.
Aino Otava still remembers being flustered as a bright-eyed teenager in Helsinki.
"I was walking out of the warm-up area when Tanja [invited me]," Otava said. "I didn't know her. I knew she was really good, breaking Finnish records and everything. I was like, 'Yeah, sure.' We played a couple rounds of koomcha…that was my first memory of Tanja."
The duo competed for Finland together a few months later at the 2016 European Championships in London.
"Throughout that meet, she was super sweet and very bubbly and I had a great impression of her," Kylliainen said. "She wasn't quite up with the older kids at that point. She was one of the younger national team kids, but I had a lot of respect for her and the way she did things and how she carried herself. Definitely at that time, she was a little bit younger. She had some growing up to do."
Little did Kylliainen know that, three years later, she'd be the one helping Otava in that maturation process.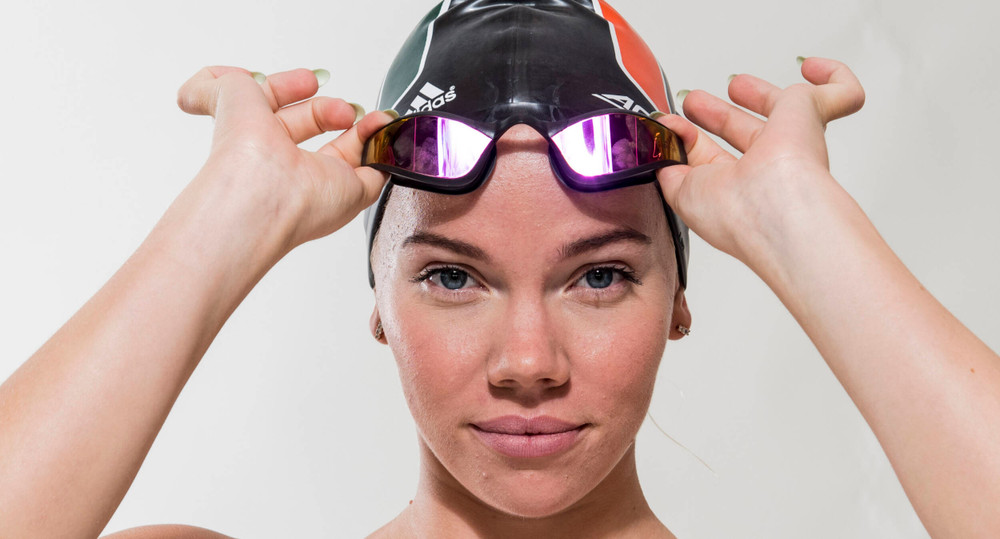 When she was named the assistant coach for the Hurricanes in 2018, Kylliainen had conversations with her new boss, head coach Andy Kershaw, about potential future Hurricanes.
"It was kind of more roundabout than anything. I think Andy and I had had casual conversations," Kylliainen recalled. "I knew this area, I know these swimmers pretty well up in Scandinavia…are there kids that I can bring in that I can educate on the process and use my connections and relationships that I already have? Aino was one of those people who came to mind."
Kylliainen sought to learn more about Otava from her club swimming coaches back in Espoo, Finland.
"We talked so much about the different culture about US and Finland," she said. "How she was training-wise, how she's wired as an athlete…I got to learn a lot more that way. It's a process that picked up. What it came down to was, we want Aino and she wants to come here. That's kind of how it went."
There was only one problem; becoming a student-athlete at the University of Miami had never crossed Otava's mind.
"I didn't even know Miami existed," she said.
Otava had already been recruited by several major NCAA programs, but the lack of interest from college coaches in her career outside of the NCAA realm was off-putting. Having competed for Finland throughout her youth swimming career, Otava was unwavering in her commitment to qualify for the Olympics and represent her native land.
"At this point, I was getting frustrated," Otava said. "I've talked to a lot of good places that felt like good choices, but something was not clicking."
Her entire perspective changed when Kylliainen put her in touch with Kershaw.
"I think after the first call, I talked to Andy and I was talking about my personal goals – I have goals in college, but I really want to make the Olympics," she recalled. 'He said, 'By the time you come here, we would not only help prepare you for the 2020 Olympics, but the Olympics after that, too.'
"I remember that so well, because I thought, 'This is a place I will be taken care of.' A lot of other places, when I talked about my own goals or being on the national team, they were kind of brushing it off. For Andy to emphasize that there are goals like that…he really cares. He doesn't want me only to have success at ACCs or NCAAs, but also in the national competitions."
That's not to say there haven't been bumps along the way. Otava's first season at The U was marred by health issues, including a lingering hip injury that prevented any real chance of tangible success in Year 1.
"The adjustment was a bit difficult as it can be for international students," Kylliainen said. "For her, she had some injuries that popped up and how she's wired, she wants everything to go really well all the time. We had to teach her that progress is what we're looking for. We're not looking for perfection."
It was throughout that injury and the recovery as a freshman, however, that Otava learned a favorite mantra of NCAA coaches – and one that Kylliainen believed in wholeheartedly: trust the process.
"The whole time when I was injured and hit rock bottom, Tanja and Andy said, 'You have to trust the process. You have to go through this, we'll work through it. It might not feel good right now, but it's going to come at some point.'"
Kylliainen said Otava started to see the results she was looking for when she returned home to Espoo during the quarantine period beginning in late March.
"She was able to get back into training and her top shape coming off some injuries," Kylliainen said. "She gained confidence but also learned how to embrace everything, find balance and be a well-rounded person and not just a great swimmer."
Otava was a different swimmer upon her return to Coral Gables. In Miami's final meet of the fall against Vanderbilt, it was Otava who led the charge. The sophomore recorded a first-place finish in the 1,650-yard freestyle and the 200-yard butterfly. She delivered one of the best finishes of the event, a time of 4:22.57 in the 400-yard IM – the eighth-fastest in school history.
Kylliainen said she has never doubted the ability of the second-year standout.
"I always knew she had this in her. I had seen it at different meets. I knew she had some certain tendencies, the want for everything to be perfect. But often times that makes some athletes the best in the world at what they do," Kylliainen said. "We always knew she had the right tools."
Otava also posted the sixth-best time in school history in the 500-yard freestyle (4:49.93) against the Commodores.
"Now, she's loving it. That's what we want for all our athletes. Swimming isn't everything. Sport isn't everything. It can be gone in a second, as we've seen this year. To be able to teach them those things and for them to be able to respond and soak that in, that's the difference this year. She is on a mission."

-Tanja Kylliainen
Otava was set to train at home with her former club program during the winter break. But she received a text from her club coach during her layover in Frankfurt, saying she would be unable to train due to a surge in COVID-19 cases in Finland.
Stricter lockdowns would be implemented, and training was off the table.
Deterred? Not Otava.
She flew back to Miami a week early to get a head start on training for the spring.
"I spent six months at home. I was really looking forward to coming back here and training with the team, because that's where a lot of my motivation stems from," she said. "Coming back from injuries and stuff, I'm excited. Having the first year I had, I think I've found a new passion for swimming and having fun in training. It's really awesome to be able to train with the team every day."