SARASOTA, Fla. — It was Isabel Traba who broke the news to head swimming coach Andy Kershaw via text message in early October.
"Did you hear the U.S. Open is in Sarasota?" she asked.
Kershaw could sense a well-founded excitement.
Normally a centralized event, COVID-19 travel restrictions forced this year's U.S. Open to be spread across nine different locations nationwide. For Traba and freshman Savannah Barr – Miami's two entrants in the event – this weekend's festivities at the Selby Aquatic Center will mark a special homecoming in a year that has been anything but normal.
"I'm really excited because they're really invested," Kershaw said. "They care a lot and they care a lot about the team. They're very team-first people. That makes it even more special."
Both Barr and Traba competed for the Sarasota Sharks club swimming program, which calls the Selby Aquatic Center home. The duo earned spots in the event by posting qualifying times at USA Swimming-sanctioned events in the last year
"Obviously it's awesome that this was chosen as one of the locations. It's so nice to see so many people that I've trained with and so many coaches I've trained with for so many years. It's a special thing, and I'm glad that we're here and get a chance to be here."

-Isabel Traba
Both Traba and Barr, one of Miami's top point-getters in last week's opener against Florida, said they recognized familiar faces immediately upon check-in on Thursday afternoon. The duo, along with Kershaw, made the trek across Alligator Alley into familiar territory.
Barr will competing in the 400-yard freestyle, 200-yard freestyle, 100-yard freestyle and 200-yard butterfly. Traba will take part in the 200 fly.
"It's really cool and it's been cool in a dual way – when we walked up the first time to the facility, a couple hours ago, the people checking in the teams in knew them and were like, 'hey, there's two Sharks wearing The U!,'" Kershaw said. "I think it's going to be a special thing for them. In so many ways, it's indescribable how cool it is for them and to be part of it."
For a student-athlete competing in only her second meet as a collegian, Barr said the excitement about wearing the 'U' on her swim camp is palpable.
"Everyone always talks about it but it's completely different and even more amazing when you get to take part and represent it," she said. "I noticed that last week at Florida, and I'm super excited to continue repping The U."
Barr posted impressive times in the 200-yard freestyle (1:50.89) and 100-yard freestyle (52.02) last week, while Traba had strong outings in the 200-yard fly (2:04.15) and 100-yard fly (57.75).
"I think in the case of these two, they're both eager to show where they're at, show the work they've put in," he said. "There could be a scenario where the pressure could almost overwhelm you, but in this case, they're both more like, 'Hey, I want to show everyone the work I've put in and where I'm at.'"
Kershaw said he was encouraged by both during Miami's first meet of the season last week in Gainesville, Fla., and does not expect the emotions around a homecoming to negatively impact either Barr or Traba.
"I'm looking for them to go at it and lay it out there and see where they're at," Kershaw said. "It has obviously been a different year since March. We're trying to use that to our advantage in terms of thinking, just go put it out there, be aggressive and enjoy the opportunity to race. This is an opportunity you have. Cherish it and go throw down."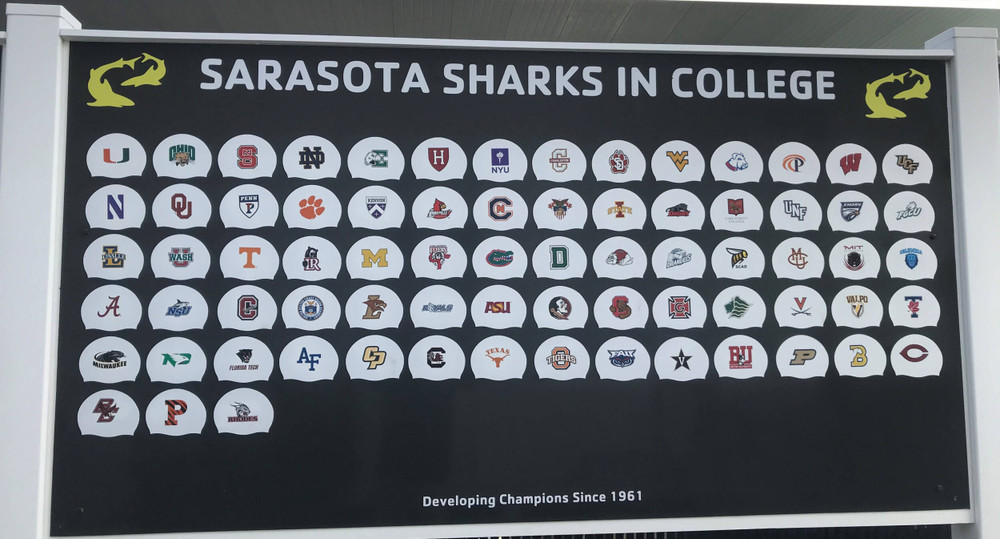 At the front of the Selby Aquatic Center, there's an elevated display honoring swimmers who have gone on to compete collegiately.
The board reads, "SARASOTA SHARKS IN COLLEGE."
73 caps are laid across the display, representing the different teams who have recruited former Sharks. There are programs all across the country from every conference represented.
But very first swim cap on the top left of the board, in the first row of the display, has the same "U" that both Barr and Traba will be wearing proudly all weekend.
"It's a super special thing to be able to rep The U, and even more special to do it in your hometown at your home pool," Traba said. "One of my good friends' moms saw us at check-in and said how weird it was to see us wearing different colors. It's such a special thing that we get a chance to be here together."