ACC Walk-On to ACC Administrator
CORAL GABLES, Fla. – "If you want to stump somebody on a trivia question, just ask them who was Miami's starting point guard for their first-ever ACC Tournament win and I guarantee you, you will keep your money."
Lee Butler is one of the few people who knows the answer to his proposed stumper. The answer, after all, is Lee Butler.
A two-year walk-on for the University of Miami men's basketball team, Butler received his lone starting nod on March 9, 2006, helping the eighth-seeded Hurricanes defeat ninth-seeded Clemson, 66-63.
The game took place in Greensboro, N.C., at the long-tenured home of the ACC Tournament, the Greensboro Coliseum. It is a venue that Butler now frequents in his current role as the ACC assistant commissioner for men's basketball.
"I think about it all the time and I think that's why this job is a perfect fit for me because of how personal it is," Butler said. "My goal is to give every one of our men's basketball student-athletes the same, if not a better experience than I had. I want them to feel and create the same type of memories that I have; memories that I'll keep with me forever."
* * * * * * * * * * * * * * * * * * * * * * * * * * * * * * * * * * * * * * * * * * * * * * * * * * * * * * * * * * *
Butler's journey to his current role as a vital cog in the machine that is ACC men's basketball started early in his tenure as a student at the University of Miami.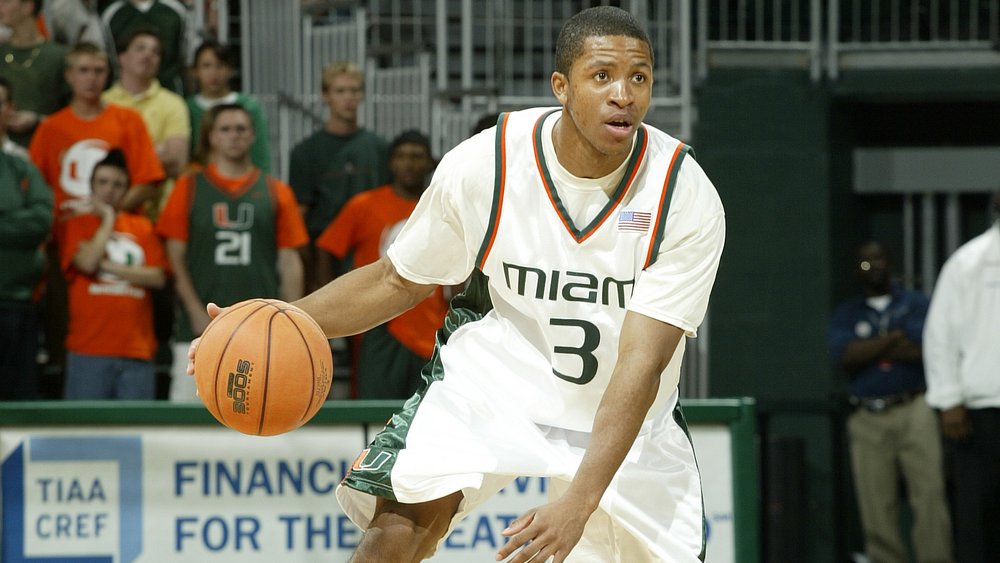 The Woodbridge, Va., native joined the Hurricane women's basketball team as a practice player in 2003. Between his play for Ferne Labati's team and his performances in intramural leagues, people began to notice Butler's talent.
Gary Hamilton, then a rising junior on the men's team, knew of Butler after seeing him play several times. With the staff seeking new walk-ons in 2004, Hamilton and some fellow upperclassmen suggested the coaches give Butler a shot.
Their confidence in Butler from what they had seen of him in the gym was aided by the word of Tamara James, a budding superstar on the women's team who tried to help Butler get a tryout with the men's program.
"I believed that Lee was just the perfect fit and it was just a good situation for us," Hamilton recalled. "I remember Eric Wilkins, Robert Hite and I were the upperclassmen and we all recommended Lee, for sure."
While their words were enough to get Butler a chance, his play would be the deciding factor in whether or not he made the team.
After a successful showing at an initial tryout at the James L. Knight Sports Complex, Butler got invited back for a second chance to prove his worth.
"I'll never forget, it was on a Friday morning, crazy early. I did that tryout and later that same day, I was taking a bath, actually, in my dorm room and they called—Chris McColpin called, he was our video coordinator at the time—and they offered me a spot," Butler said. "They were like, 'Would you like to be a member of the men's basketball team?' Or something like that. And I'm like, 'What kind of question is that? Of course!' And so, the rest is history."
* * * * * * * * * * * * * * * * * * * * * * * * * * * * * * * * * * * * * * * * * * * * * * * * * * * * * * * * * * *
Butler made his Miami debut in the eighth game of the 2004-05 season and did so in splendid fashion.
The 6-foot-1 point guard tallied five points and an assist in just four minutes, connecting on his lone field goal attempt and three of his four free throws in an 81-50 victory over Stetson.
"That game was on TV. I still have that tape," Butler said. "I haven't watched it in forever, but that's a good memory."
As for the memories those around Butler have of him, the prime term that comes to mind is humility. It is a term referenced by both Hamilton and Darren Cohen, Miami's director of basketball operations from 2004-09, when discussing Butler.
"Humble, for sure. Hard-working. One hundred percent respected by his teammates," Cohen said of Butler as a collegian. ". . . He's just a regular, hard-working guy and I'm an old-school guy by nature and just sort of appreciated what he brought to the table every day."
Cohen's assertion regarding the respect Butler's teammates had for him is certainly a valid one. It was further confirmed following Butler's senior season when he received an acknowledgement of that respect.
"They offered me a spot. They were like, 'Would you like to be a member of the men's basketball team?' Or something like that. And I'm like, 'What kind of question is that? Of course!' And so, the rest is history."
After the 2005-06 campaign, Butler claimed the Hurricanes' Ultimate Teammate Award, an honor that remains meaningful to him to this day.
"That was special to me because it was voted on by the players," Butler said. "To have my peers recognize me as the guy they want in the foxhole with them meant a lot to me because I prided myself on being a great teammate."
Hamilton, a classmate of Butler who has played professional basketball since his 2006 graduation, shared what made the guard such an excellent teammate.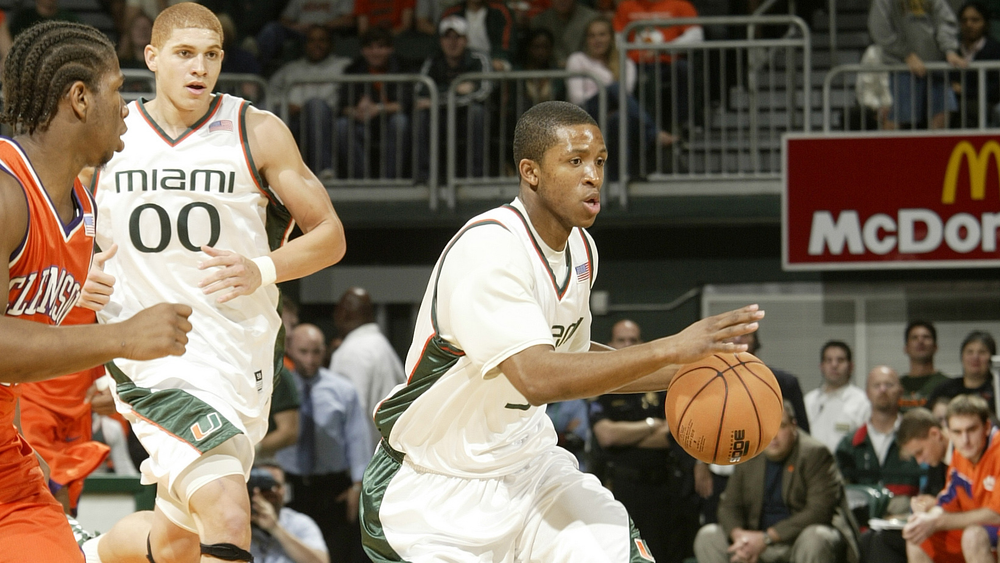 "Lee, man, he helped out all around. It was more than just basketball. He was helping guys in the classroom, if anybody had the same class with him," Hamilton recalled. ". . . Just the energy that he would bring daily; you couldn't slight [that] as a walk-on. You would want to come in and try to just prove yourself and he was just so much of a competitor.
"He was a real humble guy, for sure," Hamilton added. "He was real quiet, but easy to get along with."
* * * * * * * * * * * * * * * * * * * * * * * * * * * * * * * * * * * * * * * * * * * * * * * * * * * * * * * * * * *
Not long before Butler earned the recognition from his teammates, he began to think about what his next step would be after college.
Knowing he wanted to stay in the sports world, Butler opened lines of communication with teams in the then-NBA Development League. However, a different opportunity presented itself and Butler seized it.
Carole Walker, an academic advisor in the Miami athletics department, mentioned an ACC internship program open only to graduating student-athletes from league institutions.
"She was the football academic advisor, so we didn't even have a real relationship, but she brought that to my attention," Butler said. "I decided, yup, that was something I wanted to do once I learned more about it. I applied for the internship at the conference office."
Butler spent time with Cohen doing mock interviews to prepare for the real one and a member of the coaching staff made a call to Davis Whitfield, the ACC hiring manager, on Butler's behalf.
Soon thereafter, Butler went up to Greensboro for the interview and he came away with his first post-college job.
"I ended up getting that internship and it was in the championships department, actually," Butler said. "[I was] the 'futures intern' for championships, working with those Olympic sports. I did that for 11 months coming out of undergrad."
The suggestion from Walker and the ensuing year in the Tar Heel State proved to be particularly important in shaping Butler's professional path to this day.
* * * * * * * * * * * * * * * * * * * * * * * * * * * * * * * * * * * * * * * * * * * * * * * * * * * * * * * * * * *
After the completion of his internship with the ACC, an opportunity came up for Butler to return to his college home. Seeking his first full-time position, Butler learned of an available position at Miami in the athletics department's event management office.
Butler interviewed, received an offer and took it without even trying to negotiate his salary. Although it was an entry-level, low-paying position, he was thrilled to be back in Coral Gables.
"I go back to Miami thinking I could be here for the next 50 years and be happy," Butler shared. "That was my mentality when I went back there. It was, 'Hey, I'll be here forever.'"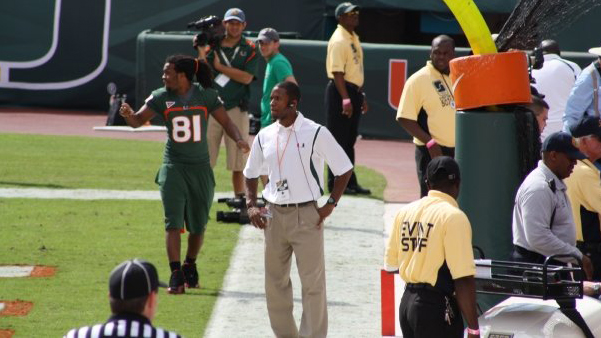 Just a year after playing basketball for the Hurricanes, Butler's new role put him in a position to help manage the team's games at the then-BankUnited Center.
To Cohen, now a colleague of Butler, having someone in that spot who understood both sides was particularly valuable.
"I always admired that Lee was able to take his knowledge of what the basketball program actually needed and blend it and communicate with those who are looking at it from just administration," Cohen said. "Meaning, he took his situational experience and used it to benefit both the administration and the program."
Butler, who recalls learning a great deal during his time working at Miami, also began pursuit of a master's degree in sport administration during his second stint in Coral Gables.
In a profession with significant time demands, Butler took one night class each semester as a part-time student. Earning that postgraduate degree meant a great deal to Butler, who wanted to become the first person in his family with such an accolade—and he did just that.
"The way I was brought up is every generation in your family is supposed to keep lifting that bar and keep raising that standard. I finished my graduate degree in early 2010," Butler said. "Then, my brother, [Deon], who played football at Penn State—third-round draft pick in the League, played four or five years in the NFL—he actually goes on to finish his degree, as well, when his playing days are over. That was just affirmation for me that I did the right thing—that he was able to see how important that is. We went from nobody in our family having an advanced degree to two of us all within a four- or five-year window."
Initially in no immediate rush to finish that degree with his intentions of staying at Miami for a long time, things began to change before his final semester.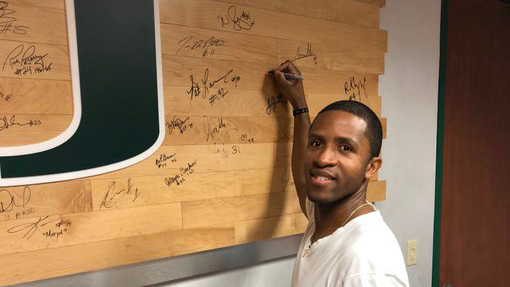 It was then that an offer that was "too good of an opportunity professionally to pass up" came about. Whitfield told Butler he was leaving the ACC and his right-hand woman, Kris Pierce, would be promoted to his spot, making hers available. He thought Butler was a good fit for that opening.
Butler, though, would only leave if he could first finish that master's degree that meant so much to him.
"If the ACC gig came up a year before, right when I still had maybe three or four classes left for my master's, I probably would not have left," Butler said.
Fortunately, he was able to work out a situation where he could finish his degree in an intersession course. After two-plus years at his alma mater, all the pieces fell into place for Butler to head back to Greensboro.
"That was my second-to-last week at Miami, was doing the intersession class so I could finish my master's," Butler recalled. "I looked at the timing, how all that aligned. I was like, 'It's meant to be. I got to do it.' That's why I took [the job]."
* * * * * * * * * * * * * * * * * * * * * * * * * * * * * * * * * * * * * * * * * * * * * * * * * * * * * * * * * * *
For four years, Butler worked in the ACC championships department—the same place he interned after graduation—and oversaw about 10 of the league's Olympic sports.
His role included day-to-day management of those sports, as well as creating schedules, running the conference tournament and overseeing officials.
All of that prepared him for his current role as the league's assistant commissioner for men's basketball, a position he shifted into six-plus years ago. His responsibilities remain quite similar, but are instead focused on just one sport—and a particularly high-profile one, at that.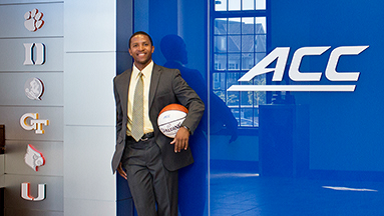 "I tell people all the time, a lot of it is the same. It's not a whole lot different except the politics that come with the basketball piece and the exposure that comes with the basketball piece, but at the end of the day, it's very similar," Butler said. "Coaches, whether they're [working in] volleyball or basketball, they want a fair schedule, they want their student-athletes to have a great experience. TV wants the best games that they can get. At the core, it's all very similar."
In addition to his work creating an equitable schedule that best displays the league's immense talent and helping manage the ACC Tournament—the event he has such a fond memory of from his playing days—Butler also serves as the liaison to numerous external parties.
"My goal is to give every one of our men's basketball student-athletes the same, if not a better experience than I had. I want them to feel and create the same type of memories that I have; memories that I'll keep with me forever."
That includes, among others, Precision Timing, DVSport and the event operations managers at each member institution, the role he held at Miami. Much of his work deals with providing assistance to those on-site school contacts, including "communicating those regular season policies and procedures" and creating the game management manual.
Internally, one person whom Butler now works with closely is Bryan Kersey, the ACC coordinator of men's basketball officials. The two share an interesting backstory that dates all the way to Butler's days as a Hurricane walk-on.
After officiating a game in Coral Gables, Kersey took a connecting flight to Charlotte, where he was set to fly to Norfolk, Va. Butler, set to return home to northern Virginia for a funeral, had the same flight path as Kersey, but their connecting flight from Charlotte got canceled.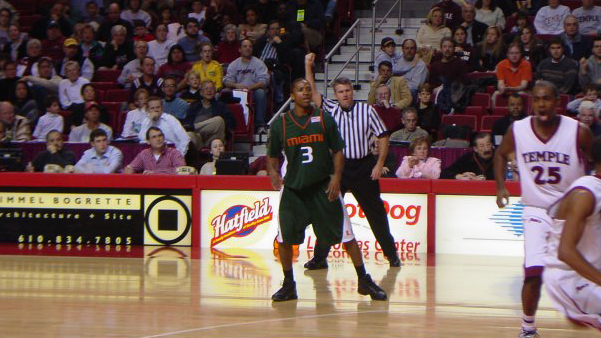 Although the two did not know each other personally at that time, Kersey, a native of Carrollton, Va., saw Butler in his Miami sweats and offered to help him, as Butler was an infrequent flyer unsure of how to proceed.
"I talked to the [person at the counter]—back then it was US Air—and I said, 'Hey, I got this young kid that needs to get to a funeral. Can you move him to that flight, as well?' They said sure, so they put him on it. I go to Lee and I said, 'Lee, come on,'" Kersey recalled. "He said, 'Where are we going?' I said, 'We're going to get on another flight.' He said, 'Well, I got family picking me up in Norfolk.' I said, 'Call your family, tell them to go to Newport News. This is when we land, but we're not going to get to Norfolk tonight.' So, I got him on the plane, he flew home, his family met him at Newport News Airport and he made it in time."
A few years later, they were working together at times when Butler helped run basketball games at Miami and now, a decade after that, they play essential parts in administering officiating and game policies in arguably the best basketball conference in the country.
From player to game operations coordinator to high-level ACC administrator, Kersey has seen Butler develop throughout the years into the professional he is now.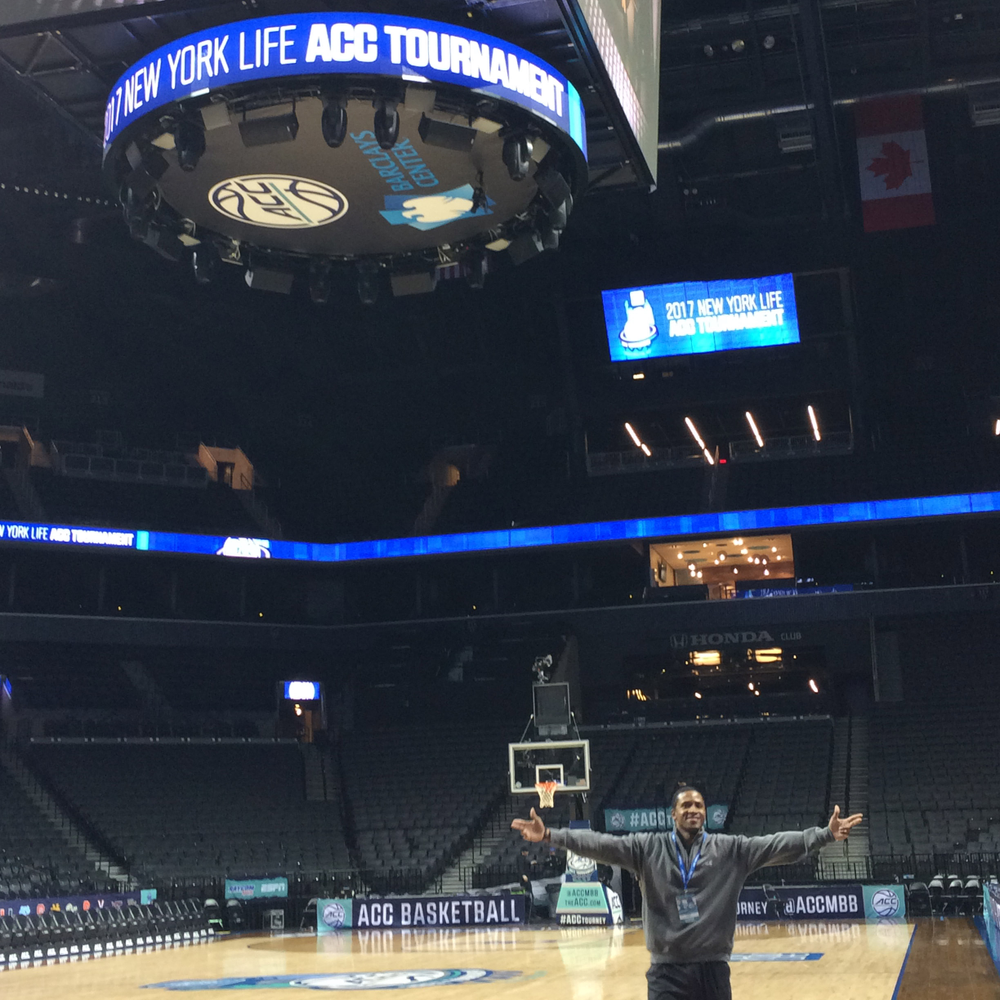 "He's grown great because now he's gone from making sure everything's okay to knowing everything's okay and I think that's a huge difference," Kersey said. "Now, he sets the standards, whereas before he was making sure we were following them . . . so now that he's in control of that, he's got a huge grasp of the way it should be done. And he's created that, which is great."
* * * * * * * * * * * * * * * * * * * * * * * * * * * * * * * * * * * * * * * * * * * * * * * * * * * * * * * * * * *
While many collegiate athletics professionals played a sport at the collegiate level, few played the same sport in the same league they now work.
Butler is one of the individuals who fits that bill and it does nothing but help him. It is a sentiment voiced by Butler and shared by those around him.
"Just the walk they have to take, the traveling they have to do, [he gets it]," Hamilton said. "I think that the position that he's in is just serving him well because he has done it. Who better to go to than someone that's been through it before?"
"You walk in with instant credibility because you know the league," Kersey added. "Our league is very close-knit, our league takes care of its own. So, being a former player, he walks into the position that he has and he could sit across the table from anybody."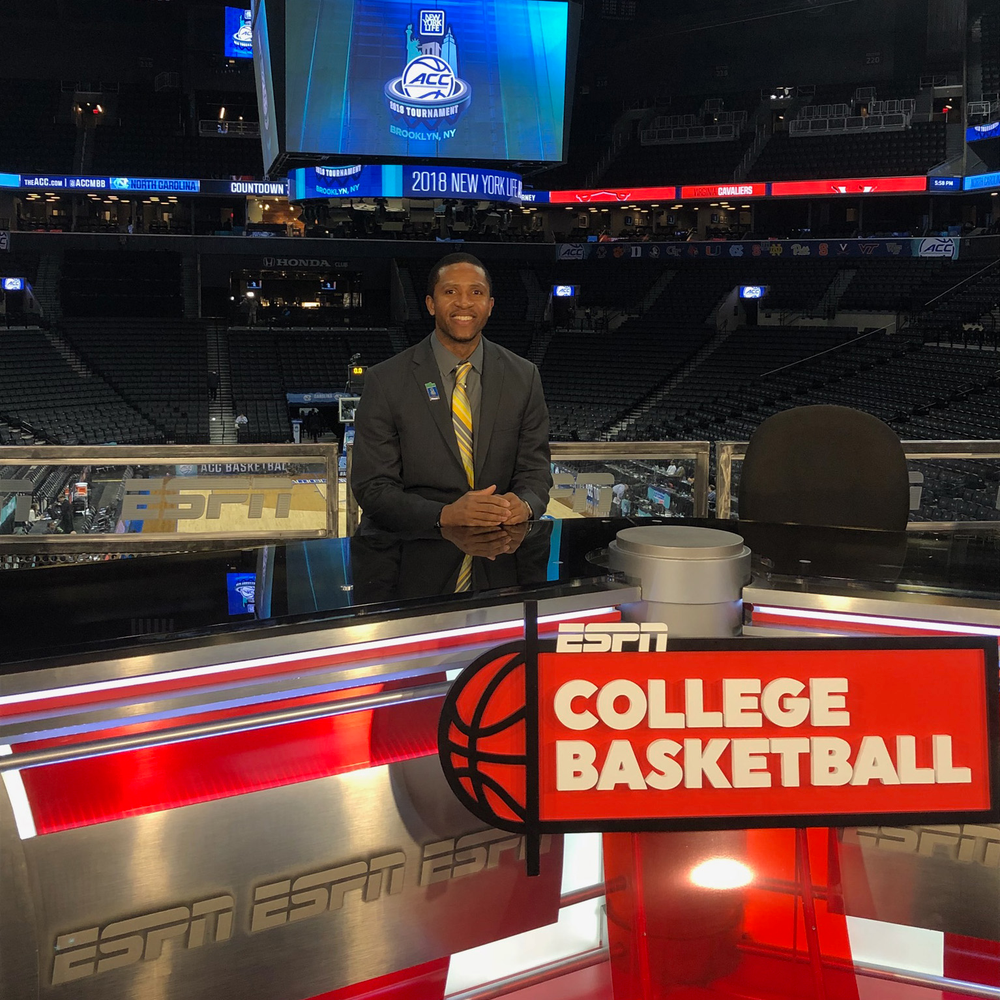 In addition to his playing days at Miami, Butler also cites his experience as an employee there as a key that has added to his credibility and allowed him to "empathize with the constituents" he serves.
The question for Butler is now whether or not he plans to continue working with those same constituents or if he sees his career going in a different direction. The answer, however, is not that easy.
"I've never been one to say, 'Hey, five years from now, 10 years from now, here's where I want to be,'" Butler shared. "I'm a big believer in, be where your feet are, focus on what's in front of you or what's on your plate right now. And if you do that and you take care of the business that's immediate and in front of you, the rest will take care of itself."
There is one particular potential path, though, that does appeal to Butler and it is one that harkens back to his days suiting up as a college athlete.
Although Butler is by no means locked in on taking that road, it is one that he thinks would allow him to do good for others.
"If there's a change in the direction of my career, then I would hope it's in a direction that allows me to have more student-athlete impact directly," Butler said. "I do think, from my past experiences, there are some things that I could help young people [with and] help them manage on campus, especially on the basketball side where so many basketball student-athletes are focused on their professional aspirations. Just to remind them and their families that there's going to be a life after basketball and you've got to keep that in mind as you go through your education in college."
* * * * * * * * * * * * * * * * * * * * * * * * * * * * * * * * * * * * * * * * * * * * * * * * * * * * * * * * * * *
Butler has assuredly come a long way since joining the Hurricane basketball team. Much of that can be attributed to him still being, as Cohen says, "the same humble, hard-working, blue-collar guy he was" as a college student.
However, Butler feels he also learned a great deal from his time at Miami that benefits him still to this day.
"The diversity in that city and what that taught me about empathizing with people or having respect for different cultures and different people is probably one of the number one lessons that Miami taught me," Butler shared. ". . . Then, just to strive for excellence. When you think of the University of Miami, you think of excellence, right? Whether it's academic, whether it's athletic. That's another thing that I took away from UM, just strive for excellence in every aspect of my life, whether it's personal or with my family or professionally or athletically when I was a student-athlete."
To Butler, getting where he is today simply would not have been possible without his days as a Miami basketball player.
"Everything that I have in my life right now, besides my brother and my parents, I have because of my student-athlete experience at the University of Miami," Butler said. "That has charted the rest of my life, from the time I graduated up until now."