Seasoned Canes: Fans Share Their Stories
Julian Keen (Reynaldo Hernandez)
If you needed any insight on what kind of person Julian Keen was, the crowd that day was pretty indicative: standing room only.
Thousands of officers traveled this past June to Keen's funeral, which was held in LaBelle, Fla.
And if you needed any insight on how dedicated to the Hurricanes he was, the hats worn by family and friends was equally as indicative.
"In Memory of Julian Keen," the hats read – but with the "U" in his name replaced by the logo of the school that he loved so much.
A wildlife conservation officer, Keen was shot and killed in an effort to stop a hit-and-run suspect while off duty. He was only 30 years old.
"He was a huge fan," Reynaldo Hernandez said. "We were up early in the morning on game day. He's from Immokalee, where Edgerrin James was from. He was a diehard fan. Miami Football is what we loved. Since we graduated high school, it's all we ever talked about."
Each Miami home game, Keen and Hernandez made the two-hour drive from LaBelle to Hard Rock Stadium. Often times, they'd go to the games and travel back the same day.
"He loved Ed Reed, Sean Taylor…Miami Hurricanes football was everything to him," he said.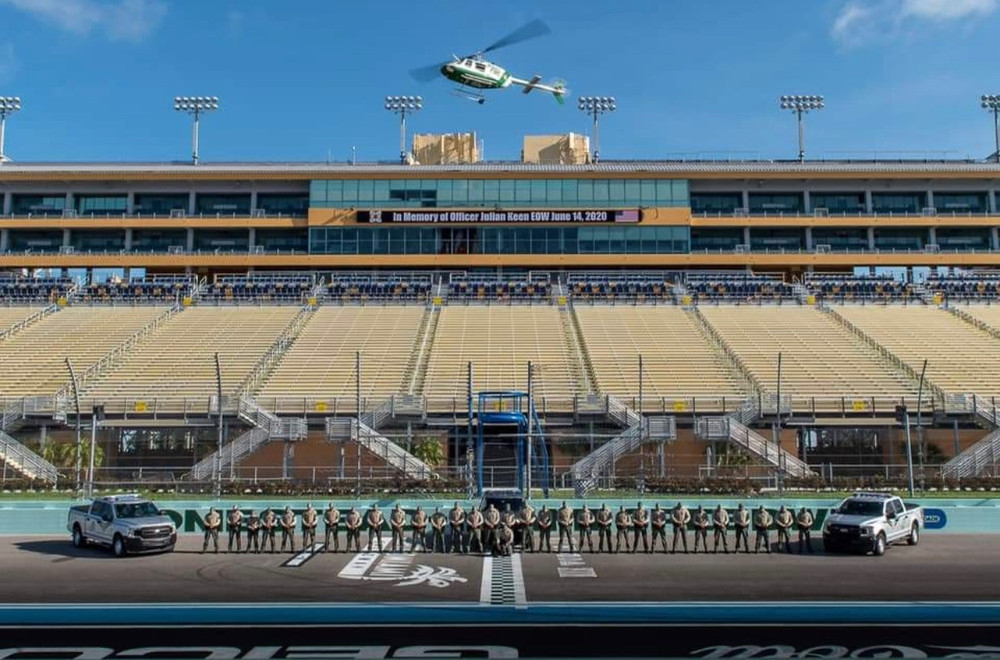 Hernandez considered Keen more of a brother than a friend.
"He was a great guy who would do anything for anyone," Hernandez said. "He never judged anyone. We were so excited for this year's team."
The duo made the trip down to Coral Gables for Notre Dame weekend in 2017. They arrived bright and early for College Gameday's campus visit, and were planning on returning to Labelle to watch the game at home.
Keen's love for the Hurricanes ensured they would not miss that historic night.
"Julian said, 'If you find tickets under $160 each, I'll buy them for both of us,'" Hernandez recalled. "I found them online for $159. We were like, 'I guess we're staying.'
"It was the best game we've ever experienced."
Some people in the crowd estimate there were more people at Keen's funeral than the entire population of Labelle.
Now, as a way of honoring Keen, Hernandez is taking over the tickets in Keen's name and will continue their tradition of attending Miami Hurricanes games.
"Our tickets have always been in his name," Hernandez said. "It's an amazing feeling just to know, I'm still going to be doing this for us. I'm not going to stop just because he's not here – he's going to be with me, regardless. I'm going to take my kids, my family and I can't wait. Our love for the Hurricanes was something special."