A Common Goal and New Mindset
CORAL GABLES, Fla. – The cross country program is back and running, literally.
Both athletes and distance coach Cody Halsey have nothing but excitement returning to the track and trails, training together as a team.
Mental toughness was one of the biggest challenges the Miami cross country runners faced while training alone and at home during COVID-19. Direction and coaching are two things Halsey believes the team was craving over the summer and it is clear to her that there is a lot of excitement and hunger after just one week of practice.
Sophomore Andrew Madden was able to run with friends at home, but it was not the same as his group in Coral Gables.
"It's nice when everyone is doing the same thing, back on the same page and working toward the same goal again," Madden said. "It feels great and makes things easier and a lot more fun."
Madden was one of Miami's top freshmen last season and Halsey believes he will be able to step into a leadership role early with a season under his belt.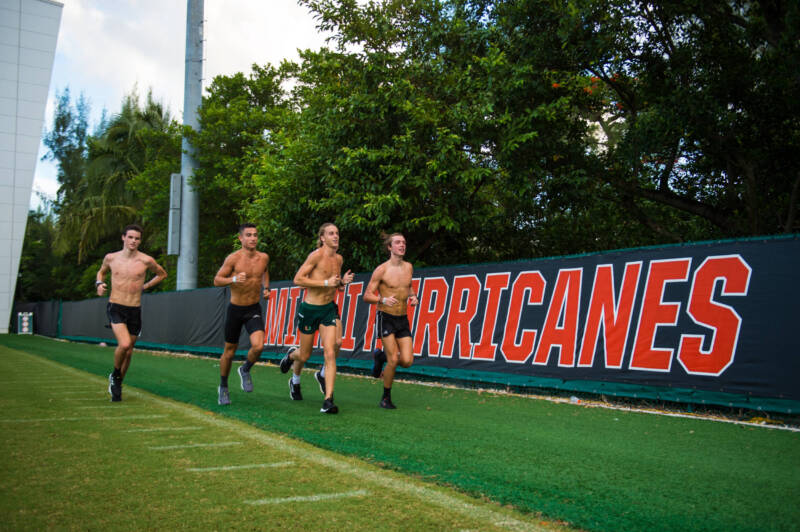 "They look to him as far as bringing that extra addition of talent to the group. It helps them get better, but as Andrew is helping them get better, they're helping Andrew get better as well," Halsey said.
But it's not just Madden who will help guide the Canes on this different and unusual season, but senior Emma Langlois, the lone senior for the 2020 cross country season.
Langlois was the only female Cane to compete at the 2019 NCAA South Region Championships and broke into Miami's all-time list in the 3000m and 5000m during the indoor track season. Her drive and focus have only elevated since the arrival of Halsey last year and she believes her relationship with her coach will only help her get better.
"I'm glad I get to help Cody with leading the team because I feel like we're on the same page, so it's been really good to be back," Langlois said. "I've always wants to be in that role and have the younger girls look up to me, but it's also eye-opening that it's here and they come to me about smaller things that come so natural to me.
I want to break personal records and the times on the all-time list," Langlois continued. "Those are definitely going down, but not just by me. I hope the other girls knock them down, too."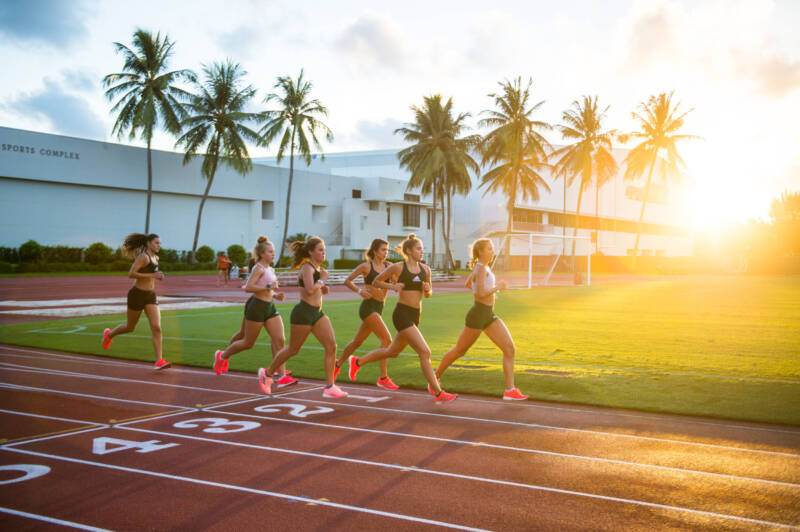 It's a new winning and positive attitude that Halsey brought in 2019 – a mindset that they are capable of achieving these goal and can push themselves harder than they believed they could.
The team has invested into the training and Halsey has seen the results.
"I'm excited, we have a young group, but they're all really hungry," Halsey said. "They want to be great and they want to do better than they've ever done. It's exciting to work with that energy."
The work ethic has shown in new times and better paces from just a year ago. Halsey and her teams have kept running logs from their time together and the times have drastically improved. It's rewarding to Halsey to be able to look at the workouts her team did at the same time a year prior and see all the success and progress her team has made.
"Being able to see them improve and do things that they didn't think they were capable of achieving and doing it together is awesome," Halsey said. "Their improvement has been so great that they're even prepared for what they can do. I think just every year, focusing on being better and bringing in kids that are prepared for that as well is going to drive us."
The training has proven to be successful. Now it is time to put in the work for another year. The expectations for the season are understood by everyone on the team.
Halsey is ready to see what the cross country team can accomplish in 2020.
"They've all either been coached by me at least or year or have been recruited by me," Halsey said. "I think everyone is on the same page and they're all ready to get back at it and compete. We're going to get better every day and they're invested and ready to work."