Sensibaugh Ready To Soak In Final Year
If you walked anywhere near the Whitten University Center Pool that day, maybe on a trip across campus to the bookstore or to grab a coffee nearby, you probably heard it.
Campus was all but empty, except for the few students who remained for the quiet days of Thanksgiving break.
The song is immediately recognizable – "Zombie" by the Cranberries, a 1994 release that made its way to the speakers on the pool deck at practice that week.
If you did not hear the song itself, you surely heard Chandler Sensibaugh on the blocks, slapping kickboards together and leading her teammates with a rousing rendition of the song's chorus.
"She certainly is a character," head swimming coach Andy Kershaw said. "But it only surfaces at the right times. She seems to know when to bring the humor and when to bring the intensity. That's the kind of person she is. She'll put her head down and work, and when humor is needed, she's there to be that person. And when people are not their head down and working, she's there for that, too."
Think of it as giving back.
Sensibaugh, one of Miami's four seniors, expresses deep gratitude to her teammates who have meant so much to her during her career. Sensibaugh has enjoyed of the biggest time drops in Kershaw's time at the helm, and the Arlington, Va., native immediately credits her teammates when asked about her own successes.
One thing I struggled with early on was confidence and I never have had to worry about that because I knew my teammates were going to be there for me. Every time I got out of the pool, they'd all congratulate me. That's one of the most gratifying things, knowing you have your teammates behind you at every race. Everybody here is like that for everybody else.

Chandler Sensibaugh
One area where she has not faced any struggles? In the classroom.
Sensibaugh has a 3.97 GPA as a double-major in political science and criminology, and took her LSAT this past July. She will start applications for law school this coming fall, with hopes of landing either at Miami or maybe somewhere back in the northeast, closer to home.
But it was not always so easy in the pool. It was not until later years in high school when Sensibaugh saw significant enough time drops that she began to consider college swimming as an option.
It was on her recruiting trip to Coral Gables that she knew Miami was the place for her.
"Everyone says, 'You'll know when you get to that campus, that that's the place you want to be,'" Sensibaugh said. "I remember coming on my recruiting trip and I was like, 'This is it. There's no other school for me.' Looking back, this is the place I was meant to be."
Kershaw and assistant coach Tanja Kyllainen have worked closely with the rising senior, leading her to historic time drops in the 200-yard fly and her 400-yard IM.
"She came in just wanting to work hard and go hard in her races and it really took some learning and understanding that there's also an effort that needs to be put forth in the strategy of it, and she has really perfected that," Kershaw said. "She had to learn that a little bit from some of the upperclassmen who came before her and now she passes it on to the people who are beneath her.
"She's one I can count on and can say, 'If you will do this, this stuff will work.'"
Sensibaugh, who coaches a youth team during summers at home in Virginia, said she came away amazed with the individual detail laid out by Kershaw and Kyllainen in their daily practice plans for Miami's swimming contingent.
"I think their dynamic is a large part of the reason that the team is what it is. They work so well together," she said. "I was talking to Andy once and I said, 'Your practices are so elaborate and detailed and thoughtful.' I coach back home and I've had to write practices and I truly admire him for doing this for each individual on the team."
Kershaw credits Sensibaugh's sense of hard work for all of her accomplishments and said he is looking forward to one last run with a special senior.
"For her to be able to walk away with her held high, being able to say she did take advantage of all of the opportunities and worked her butt off…that's special," he said. "In any program, there are people who walk away with great accomplishments that are largely based on talent. For Chandler to walk away with the talent and the hard work, knowing she applied all of the work to the talent she has and that's where her success came from – that's what makes it special."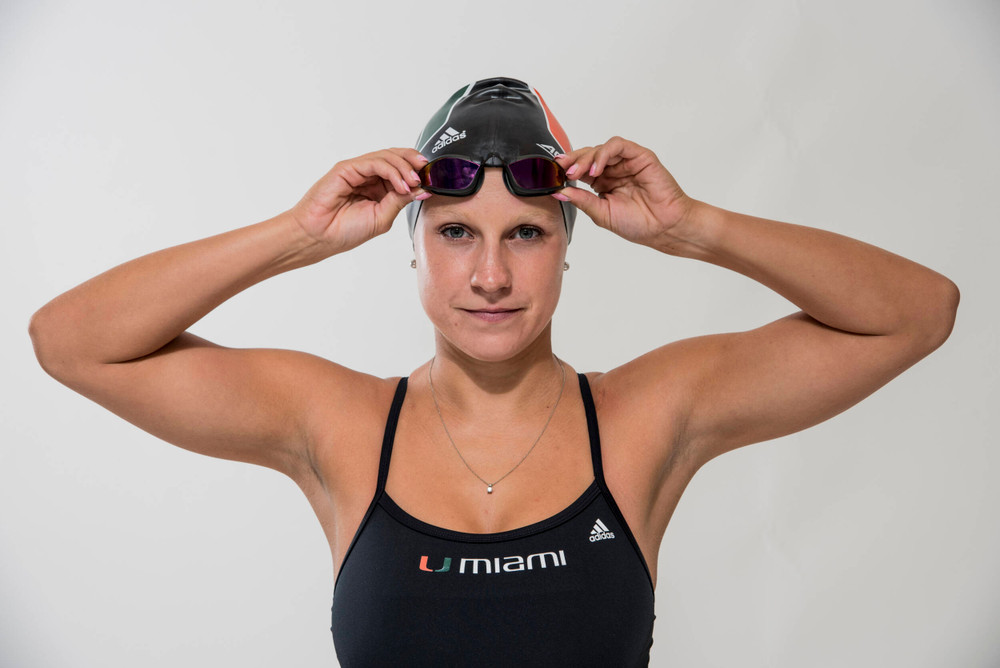 Sensibaugh cannot wait to share the water with her three fellow seniors during their final season together. Whether that will include more lead singing roles, assisted with kickboards and the complex's speaker system, is yet to be seen.
"I have these three great people who have been there through it all. At the end of the day, I know they're going to be there working hard with me, and that really pushes me to train hard every day," she said. "One thing that resonates with me is, 'Once you put the U on, you never take it off.' Andy always says that. I feel extremely fortunate to have had this opportunity and I'm excited to be going into my senior year and have a position of leadership to be with my team.
"Even though it might not be the season we envisioned, I love everybody on the team. We're all great friends. I'm excited and ready to soak it all in."