From Unrest to Success: McGinnis' Battle With Narcolepsy
Grace McGinnis remembers those high school presentations. You know the ones – lights turned off, teacher speaking in the middle of the afternoon, usually some sort of slideshow or video on the projector in the background.
She only remembers them to a certain point, though – and then, the distinct feeling of helplessness as her eyelids start to droop. Her exhaustion would then carry over into swimming practice and other afterschool activities, as it did almost every day.
"I could barely keep my eyes open. There were these moments where it led up to a point where my body was barely functioning at school, I was falling asleep in every class and I would struggle to get through a practice," she said. "For a couple of months, that's where it all fell into place where I knew something was really wrong."
McGinnis' parents, along with most of her teammates, assumed it was normal teenage growth. Both she and her older sister, Claire, were competing for a top local club team in Michigan, swimming six days per week. They were also both excelling academically.
"People thought, 'Of course you're tired. No one does what you do.' We had high standards in our household," McGinnis' mother, Teri, said. "Our kids were not the type to make excuses. They'd swim injured or do whatever they had to do."
When a doctor suggested it might be the high school sophomore's diet, Teri scoffed at the notion.
"Grace was a healthy kid," she said. "She was a great eater. She never ate fast food…I knew it couldn't be [nutrition]. She was a dream when it came to that. "
Finally, one of McGinnis' doctors suggested that she take part in a sleep study. With an aunt who passed away from sleep apnea before the age of 50, there was concern that she might be suffering from something similar.
It was in that test that they finally found the reason for her longtime struggles.
According to the Mayo Clinic, narcolepsy is a "chronic sleep disorder characterized by overwhelming daytime drowsiness and sudden attacks of sleep."
Not an ideal condition for anyone, least of all an aspiring Division I student-athlete with hopes of competing collegiately in a physically grueling sport like swimming.
"I was really happy to know the reason for why I was feeling tired all the time and struggling through every day," McGinnis said. "But also I felt this sense of not knowing how to manage it. I didn't have anybody who really understood it. I think that's what made it even harder."
Teri said her daughter immediately reaped the benefits of the diagnosis, which calls for specific medication.
"I remember her coming home from school one day and saying, 'I feel like I've been walking around in a fog for so long, it was so bizarre to be fully engaged,'" Teri said. "She could even feel her mental concentration growing."
McGinnis said her sleep issues had been compounded by her struggles to communicate with her coaches and teammates.
"I wasn't doing a good job expressing what was going on with me or how things were going," she recalled. "It was definitely this difficult place where I was showing up to practice every day, but also feeling like I wasn't swimming at my fullest capacity or being there and totally present…Through that, I realized the most important thing was that, even though people might not understand narcolepsy fully, as long as I try and communicate what's going on and how this affects me, then people can better support me."
McGinnis vowed to not repeat those mistakes when she arrived to the University of Miami as a true freshman in the fall of 2018. With her older sister, Claire, already counting herself among the Hurricanes swimming team, it was important to McGinnis to start anew with head coach Andy Kershaw an assistant coach Tanja Kylliainen.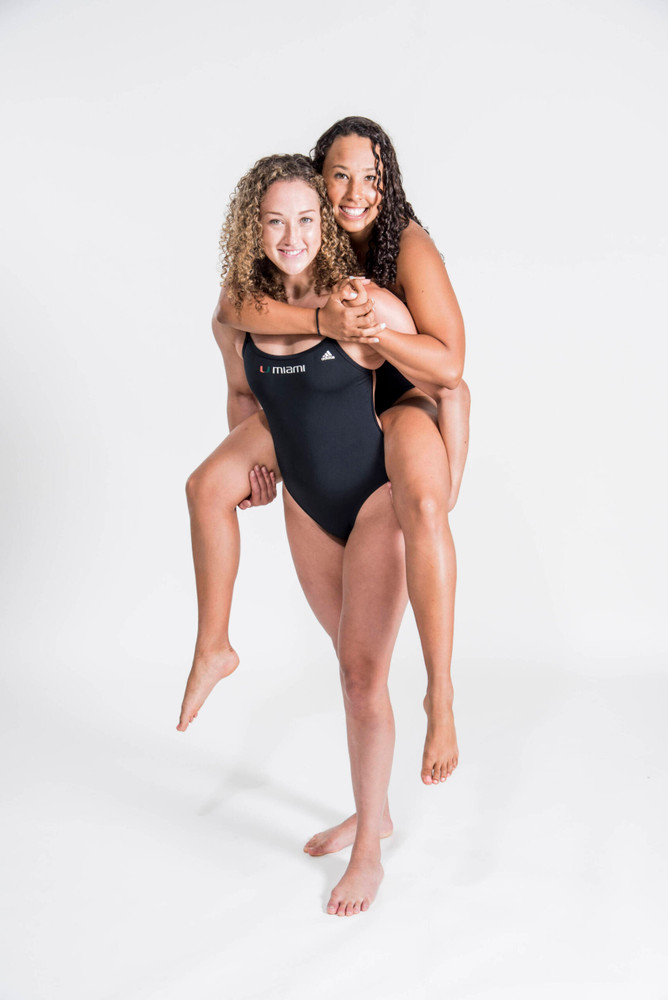 "From the get-go, I got with Andy and Tanja and went through everything with them," McGinnis said. "I told them there might be days where my body breaks down. It might be because I'm not sleeping well, or my body just wants to sleep in this moment. It's not that I don't want to be here or that I don't want to work hard.
"That was really important to me, that they knew that, so they could coach me in the best way and understand where I was coming from."
To Kershaw, McGinnis' ability to step forward and communicate with her new coaches left a strong first impression.
"Sometimes, I think, for an athlete to reach out and say, 'I'm going to need some help with something'…that can be one of the most courageous things they do because it's not how they're wired," Kershaw said. "Having the courage to do that and to see how she has grown and the ability to do that was great. We've tried to help her understand that by her communicating about it clearly, that's going to contribute to the team the most."
The McGinnis family's belief in Kershaw and Kyllainen was reaffirmed by that conversation, Teri said.
"I remember Andy said, 'Grace, I would rather you have four or five amazing practices than seven terrible ones in a row because you're exhausted. Let's keep our eye on this, we're better off training your body that way.' That was one of the most amazing things," she said. "It still gives me chills. Grace feels home with them. They know her. They're probably the first two adults, outside of her parents, who were really understanding of it and wanted to learn more about it."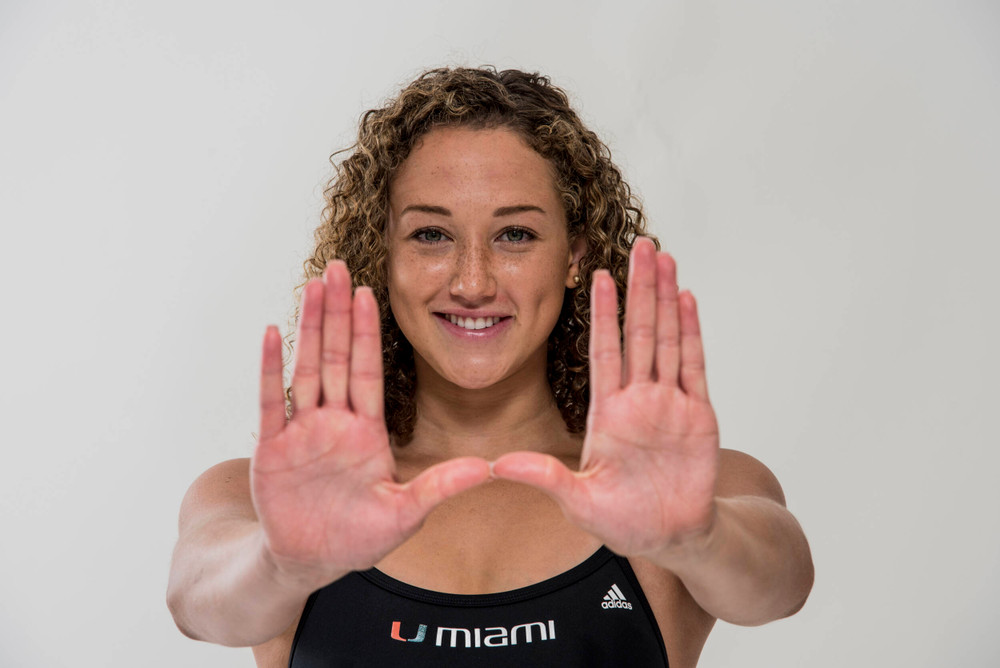 According to the National Institute of Health, between roughly 135,000 and 200,000 people in the United States are believed to suffer from narcolepsy.
The statistic, however, comes with an important disclaimer from the NIH:
"However, since this condition often goes undiagnosed, the number may be higher.  Since people with narcolepsy are often misdiagnosed with other conditions, such as psychiatric disorders or emotional problems, it can take years for someone to get the proper diagnosis."
Entering her junior year as a swimmer at The U and on the pre-med track, McGinnis said she is living more freely than ever before. She also serves as an outlet for those in need, a driving force behind her efforts to spread awareness about the disorder.
"I recently started a blog about [narcolepsy]. It's almost therapeutic for myself to share because a lot of times I would bubble up or not share things and it would kind of hurt me more because I would feel bad about nobody understanding. That has been really cool," she said.
Kershaw said he has seen a noticeable maturation in McGinnis, which has led to growth both inside the pool and otherwise.
"I think the communication aspect, she has matured so much in that way…being able to speak with so many different people, whether it's coaches, sports medicine staff, her teammates, whoever," Kershaw said. "To see that growth, that's a huge part of the process. Someone in a situation like she's in, that is a huge example for the other people on the team."
For McGinnis' mother, watching her daughter's growth during her time at The U has been nothing short of rewarding.
Though her daughter has struggled at times, she said has gained some valuable life lessons in the process.
"That's part of her life and her journey. It's okay. Not everyone has to understand you and feel sorry for you. That's life," Teri said. "What makes me so proud, and it's maybe because of that, she has started her own blog and is constantly posting and sharing positive things, and is getting positive responses from people. I think that has fulfilled a little bit of the void that sometimes, as an athlete, she felt when she didn't want to complain earlier in her life. It's not something everyone understands and I'm so proud of her for that."