Miller Makes History As NBA G League's First Female G.M.
Tori Miller had to break the mold.
With her two sisters attending Emory University and the University of Georgia, and her boyfriend on scholarship at Georgia Tech, the Atlanta native knew she needed to forge her own path.
Now, Miller is on a basketball trajectory unlike any other woman in history – literally.
On July 9, Miller was named the first female general manager in NBA G League history, promoted within the front office of the College Park Skyhawks, an affiliate of the NBA's Atlanta Hawks.
Miller, who graduated cum laude from the University of Miami in 2013 with a bachelor's degree in business administration, said she owes a lot of her success to her undergraduate career at The U.
"I went down to Miami during a Harambee Weekend, when a lot of accepted minority students are invited down to visit campus, and I just fell in love," Miller said. "I didn't apply to anywhere in-state, but I wanted to go to a school similar to Atlanta, in terms of having a real city vibe, but one that also had excellent academics.
That's how I ended up at Miami, for the best four years of my life."

Tori Miller
While she didn't compete as a Division I athlete at Miami, she said basketball has always been an integral part of her life.
"I played all the way through high school. I always joke with people, I'm 5-foot-2, so you would never think that I'm involved in basketball. Maybe the track & field team, but not basketball," she said. "I always wanted to stay involved, always wanted to be around it. That's why I chose this career path like I did."
It wasn't an easy road.
After spending two seasons as an intern in the basketball operations department of the Phoenix Suns after graduation, Miller was forced to start over when she was unable to land a full-time job with the Suns.
She would not be deterred. Miller made the cross-country drive back to Georgia and, with no full-time job, decided to embark in a career in unpaid scouting. She split time in her home state, attending all local college games, and would visit local college games near Delaware, where her now-husband lived at the time.
"I would send out monthly review reports to all 30 NBA teams," Miller said. "They would include information for call-ups, let NBA teams know who was playing well in the league, what players to look at, any players who were injured or guys who were new in the league…I started to get a lot of traction and feedback from teams from that."
For Derek Pierce, the Vice President of Player Personnel for the Atlanta Hawks, Miller's passion for, and knowledge of, the G League was obvious from the start.
"She is extremely driven and very passionate about the G-League itself and what it represents," Pierce said. "Even from an organizational standpoint [with the Hawks], we treat the G League as an opportunity, not only for our players, but for our coaches, for our staff, for executives to grow. She has a passion for the league itself. She has a great understanding of the league's inner workings."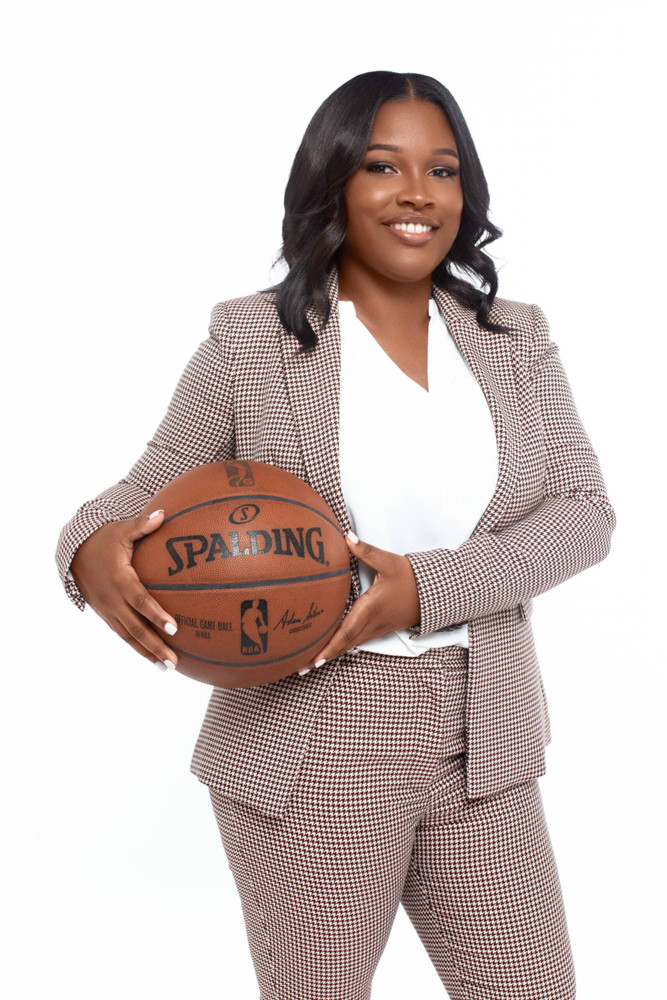 One of Miller's contacts at the time, Malik Rose, was named general manager of the newly formed Hawks' affiliate, the Erie Bayhawks, and decided to bring Miller on board as manager of basketball operations, giving her her first full-time job in sports. The team won its division and made it to the Eastern Conference Finals in Miller's first year in the organization.
Pierce replaced Rose as general manager of the newly renamed Skyhawks in 2018, one year before the team relocated to College Park and changed its name.
"I think you have to be flexible, first and foremost," Pierce said of being a GM in the G League. "There are so many different responsibilities, from housing your staff to housing your players to working with the business side to marketing the team. That's all in addition to the player development aspect of things. You get thrown in the deep end, essentially, of what it's like to run an organization, so you have to be very flexible and willing to work with a lot of different people to be successful."
Miller, who was promoted to assistant general manager under Pierce in 2019, has played a pivotal role for the Hawks in her time with the organization.
"Between coaches and executives around the league, she has a rapport with a lot of key people, including execs within the league itself," Pierce said. "She has a very good understanding of the working rules. The G League is very different from the NBA, as far as the rules of compiling rosters…there's a lot of different things you have to manage that the NBA side does not. She has three years of experience in that regard, and she has really been our boots on the ground."
Miller isn't the first Miami alum making waves in the NBA. Garrius Adams is working for the Charlotte Hornets' front office, while James Jones is currently the general manager of the Phoenix Suns.
But even as the first woman general manager in G League history, the significance of her ascent did not dawn on Miller until a few days after her appointment.
"I started to get all the texts and the calls. All the emails. I saw my name on ESPN," she said. "I didn't understand the magnitude, in the moment. I got texts and calls from young girls reaching out, telling me I was an inspiration for them. They may have been on the brink of giving up, but now they see someone like me, it gives them the motivation to keep going. That's what really got me."
Miller has a deep gratitude for her time at Miami, which she said played a formative role in shaping her to become the rising star she is today.
"It helped me get out of my comfort zone, be away from home, grow up and mature. Had I not gone to Miami, I don't know if my career would be where it is today."

Tori Miller