Knapp's "Crazy Idea" Leading to Success
It started off as "just a crazy idea."
Three and a half semesters into her collegiate career, Sydney Knapp started to parse through her classes for the fall leading into registration for her junior year.
"I call it my mid-semester crisis," Knapp joked. "I feel like everyone has that feeling in some capacity, where you have to plan out your classes and you're like, 'What am I doing with anything?' 'What do I want to do my life?'"
Knowing she would be remaining in Miami for the summer for the first time, to both train and take classes, Knapp decided to go for it; she would do everything in her power to graduate in three years.
Knapp approached head swimming coach Andy Kershaw on her plans.
"I went to [Coach Kershaw] and said, 'I'm not going to do this if you don't think it's right, but I have this crazy idea.' And he said, 'If you can do it, and you're going to stay and swim, I'm all for it.'"
Kershaw remembers the conversation vividly.
"I just remember saying, 'Knappster, we will do everything we can to help you balance.' We talk a lot with the whole team about the importance of communication. If you get in a tough spot, communicate with us and we'll help you. I think we all have to be prepared where there might come a time where we have to say, 'We can't do this, or this isn't working. But let's go for it until that time comes.'
"She took it on and that time never really came."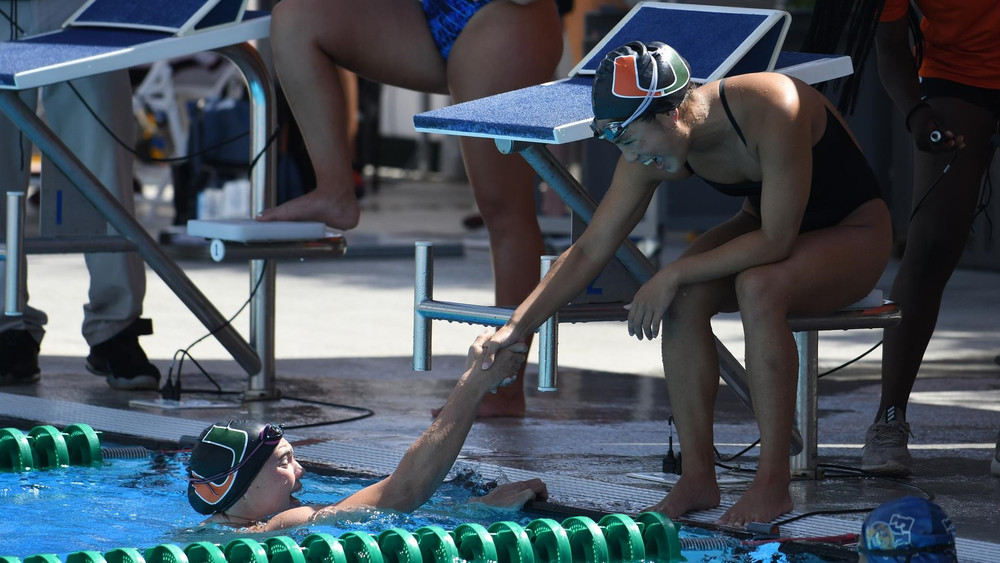 Fast forward a year, and Knapp was preparing for the first virtual commencement in University of Miami history. She was graduating in three years as a double major in both communication studies and international studies, to go along with a minor in Spanish.
Oh, and her GPA? 3.97.
"Sometimes she makes it look easy, but it's not automatic," Kershaw said. "Seeing the behind-the-scenes work, all the passion that goes into it, the time management that goes into it, everything that she puts in to make it look as easy as it does…that part to me is as important as anything."
To Miami's Senior Associate Athletics Director for Administration, Renae Myles Payne, Knapp stands out even amongst a group of talented peers. Myles Payne is in her first year as the program's sport administrator.
All student-athletes have a competitive streak and the ability to balance all that's asked of them. But the great ones are just able to take it to another level. They don't just compete and balance school – they actually lead the department, the team, everyone…into setting a good example of how you can be great. That's what she exemplifies.

Renae Myles Payne
In addition to her work in the classroom and in the pool, Knapp served on the University of Miami's Student-Athlete Advisory Committee's executive board for the first time last year, as the group's community service and outreach coordinator.
"There were definitely days when it caught up," Knap said of her busy schedule. "That's kind of where I go back to the pool, and there are days when it catches up. So even if I can't get everything done at once in practice, what can I get done now? In the broader scope of life, what's the one thing I can work on right now? Then, when that's complete…what's the next thing?"
For Knapp, a necessary shift in mindset took place entering that pivotal junior year – largely thanks to the guidance of Kershaw and assistant coach Tanja Kylliainen.
Knapp spent the summer training long-course – not her favorite type of training – and a process-oriented focus became the driving point of her summer.
"Even if there are days and practices where maybe you're super sore or you hit a wall halfway through practice – whatever the situation may be and you're not training as ideally as you'd want to be, there's always something you can take from practice," Knapp said. "I think that new understanding really took me far. Even on days when maybe I'm not hitting the time I'm supposed to, if I can still stick to doing the under waters I'm doing off the wall, or stick to the stroke count, or whatever that one piece might be…if I can nail that, I know I can walk away from the practice saying I gained something and that was a successful practice."
Focusing on Knapp's out-of-the-pool success would be doing the two-time team captain a disservice; the Germantown, Md., native blossomed as a junior, setting several top-10 marks in her signature freestyle events.
She posted the 10th-fastest time in program history in the 50-yard freestyle (23.11), the eighth-fastest time in the 200-yard freestyle (1:48.52) and the sixth-fastest time in the 100-yard freestyle (49.88).
"As success comes, expectations build. That's natural," Kershaw said of Knapp's junior year. "That's a good part of the process. Keeping everything in perspective and having seen many people go through that process, and knowing all the outside things she was doing outside of the pool as well, it was absolutely magical."
Not a bad resume for someone who may not have been swimming in college if the current recruiting processes were in place when she was going through the process.
"It's easy to forget that that's not how she came in," Kershaw said. "She came in wanting an opportunity. Now we recruit these kids so much earlier that if she had been in that process, a junior in high school now, even she says she might be at the University of Maryland, where they don't even have a swim team. That puts into perspective where she was coming in. To see how much she has gained…the work ethic was always there. That was never a question. She is wired to work hard."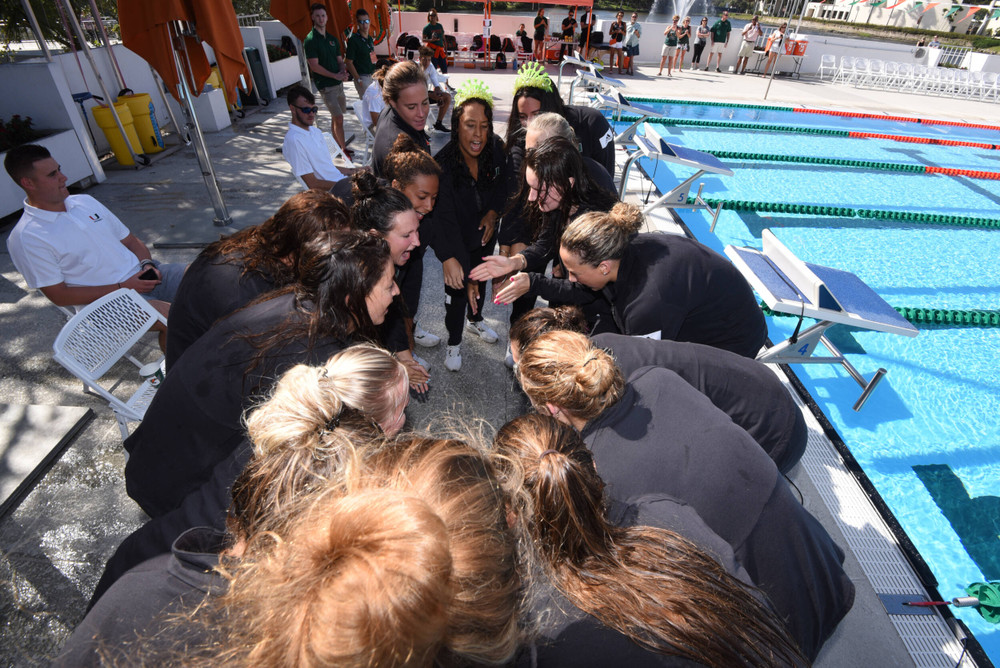 Now, Knapp is preparing for her first year in what is known as the graduate school's MAIA program – master of arts in international administration. She has always been fascinated by work in the government, and may opt for that route once she's done at Miami.
Regardless of her career path, Myles Payne sees a young woman whose qualities will translate from the pool into life after graduation.
"She's so balanced. She has this funny side to her, but then she's a fierce competitor," Myles Payne said. "Some competitors are just always serious, they walk around and have this game face on all the time. She has this funny side to her but when she gets into the water, she's a competitor. She's a leader. She has the ability to bring people together with all those attributes."
But when asked about her legacy as a University of Miami student-athlete, Knapp's words capture the essence of what sets her apart.
"It's a really pivotal year," Knapp said. "Between coronavirus, the NCAA name, image & likeness legislation, new transfer rules, and how people are finally willing to confront years of social injustice and inequity…we stand at a very interesting crossroads.
"People have such power to make a difference in so many different ways. I hope that I'm in a position to be able to amplify the voices that need to be heard and be able to help other people make the differences they want to make. The student-athlete voice is so powerful. And people will listen...I hope that I can help to create that platform that people can utilize."

Sydney Knapp