A foreign sport to her family and peers, Daniela Darquea continues to rise to the challenge 21 years after picking up a club for the first time.
No one in her family played. None of her friends played. And, to this day, Darquea is not exactly sure what initially drew her to the sport of golf. She just knows she is doing what she loves and has experienced multiple life-changing achievements along the way.
Over her three-and-a-half seasons as a member of the University of Miami golf team, Darquea earned ACC Scholar-Athlete of the Year honors (2015-16), garnered WGCA All-American status twice (2014-15, 2015-16) and captured a trio of individual tournament titles.
In 2016, she and her teammates managed to do something no women's golf team at the University of Miami had done since 1992. The Hurricanes returned to the national stage and advanced to the NCAA Championship.
Less than six months later, the native of Quito, Ecuador, made the transition to the professional ranks and, in just a short period of time, made LPGA history.
Following a successful rookie season, Darquea became the first Ecuadorian to earn an official LPGA Tour card — an achievement she holds dearly to this day.
"It is both a major honor and responsibility to not only be a good athlete, but also be a good role model and image for all the kids watching," Darquea said. "I am really hoping other kids from Ecuador get to make it on tours, boys or girls, PGA or LPGA. I think that the sport definitely needs to be a little bit more popular out there in Ecuador and I know I can make a big difference."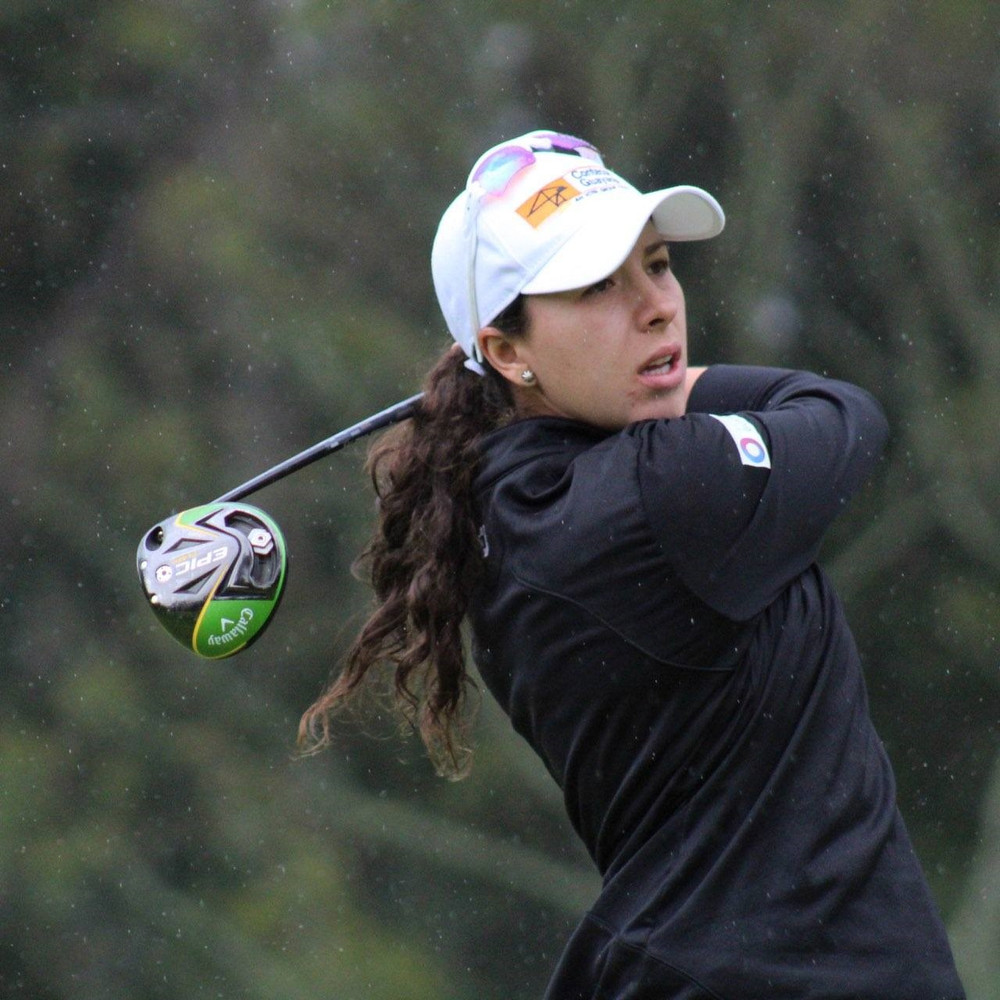 After making 20 cuts on golf's biggest stage since the start of 2018, Darquea entered the 2020 season looking to continue to grow as a professional and make strides toward her ultimate goal of being the top female golfer in the world.
However, as Darquea wrapped up play at the ISPS Handa Women's Australian Open on Feb. 16, she quickly learned the season was in jeopardy. As the ongoing COVID-19 pandemic began to spread across the globe, the LPGA put a halt to its tournament action.
Not knowing what the future would hold, Darquea's "brief visit" to Ecuador lasted much longer than she anticipated. However, the time back home was a blessing in disguise during these unprecedented times.
"Following my trip to Australia, I was only planning to be in Ecuador for a week before they started cancelling everything. The visit was longer than expected, but it was great because I got to spend some time with my mom," Darquea said. "It was just great to be home. I feel like my family is pretty much my entire support system and I think the hardest thing about playing professional golf is that I have to travel a lot and I don't get to see them very often. I just loved being with them…helping to make sure they were all staying healthy during these tough times."
Back in her native city, Darquea looked to make the most of her opportunities and remained focused on staying physically and mentally strong in preparation for the moment competition resumed.
"In Ecuador, the protocols were a little bit different than here in the U.S. We weren't allowed to practice or do anything for two months. So, I made sure to try and stay in shape by doing a lot of bodyweight exercises," Darquea said. "At first it was fun, but then, as you would expect, it started to get a little bit boring, but I think I managed it well."
After two months, the Ecuadorian government began granting permission to the country's high-level athletes to start practicing. Darquea took the opportunity to return to the golf course.
"It was really interesting to start practicing after such a long break, since I literally had not touched a golf ball [during the stretch]," Darquea said.
Another thing that helped get her through the sports' hiatus involved taking what she had learned from her time spent in the UM classrooms. Darquea, who earned a bachelor's degree in exercise physiology, has put her knowledge to good use.
"I have been focused on my nutrition. I have been cooking a lot," she said. "So, that has been another good thing about this stretch. I have been able to cook my own meals, eat healthier and work on getting better nutritional habits in general. So, I am hoping to carry that while I am traveling for tournaments."
These new habits are already playing a major role, as she is currently practicing social distancing in Toledo, Ohio, in preparation for the return of LPGA tournament action on July 31.
Set to compete at the LPGA Drive On Championship, Darquea is looking forward to what she anticipates to be a stress-free season since she knows her card status will be safe heading into the 2021 campaign.
"I think, this year, it is mainly about, hopefully staying healthy while traveling and having some fun. It is a year where we don't necessarily need to play really well to keep our card because we are safe for an extra year. So, it is a year where I get to pretty much just play the events I feel comfortable traveling to," Darquea said. "Playing without that added stress, I think, is definitely going to give me some confidence to perform at my highest level and I think it will be very valuable. It is going to be more of a 'let's have fun' attitude, rather than worrying about how many points I need to secure my membership status."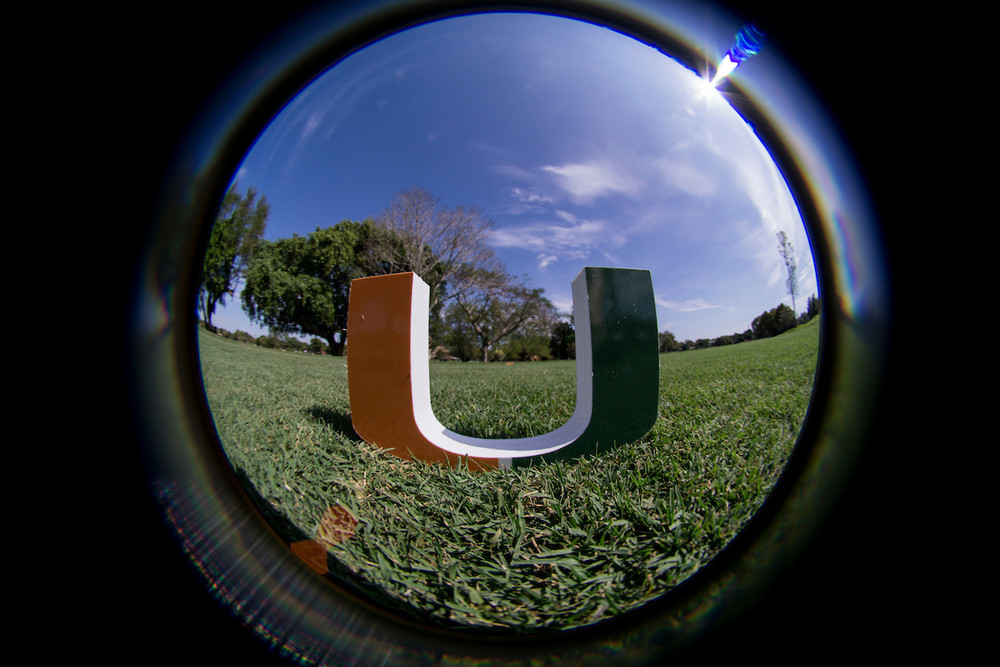 Reflecting on her Miami career and how it helped mold her into the competitor she is today, Darquea is grateful for everything head coach Patti Rizzo, assistant coach John Koskinen and her former teammates taught her.
"Coming from a small country like Ecuador where golf isn't the most popular, Miami gave me the chance to start competing and actually noticing how good I was. And it was while I was at Miami, that I realized my potential and ultimately made the decision of turning pro," Darquea said. "It was a really good learning experience. I learned a lot from my coaches. I grew a lot as a golfer and a person. I learned how to play a lot better at Miami. So, I will always be thankful for what coach John and Patti did for me. And the program continues to get better and better under their direction, so I can definitely see Miami winning an NCAA championship in the coming years."
Specifically, she explained how she learned a lot about course management and strategy from Koskinen, while Rizzo instilled in her the confidence necessary to compete at the next level.
"From coach Rizzo I learned I was a really good player and I just needed to trust myself," Darquea said. "She always told me, 'You don't know how good you are. You always act like you aren't good enough.' She was always giving me the extra boost of confidence I needed to succeed."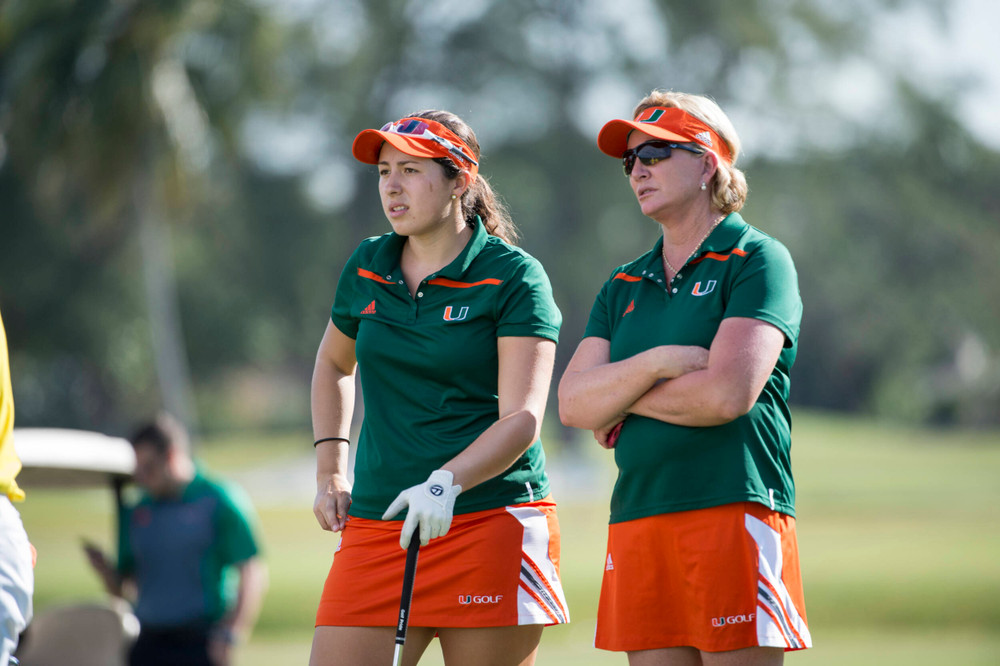 Overall, as Darquea has her mind set on her future, she is also watching closely as a pair of her former UM teammates hope to follow in her footsteps.
"I have been watching Dewi Weber's and Delfina Acosta's careers very closely. They are both so talented and I know they are going to keep fighting to earn their cards. So, I am really hoping they both advance and there can be three Hurricanes out here," Darquea said with a smile. "I think the only advice I could give them, since they are such great players, is to just stay patient and believe. Because if I made it, I know they can as well. They have the game to be here and I know they have the commitment to be here, so just stay patient and believe."
Until then, Darquea is humbled by her journey and is excited for what is to come.