Supporting The U from Afar
It's a question he gets asked often.
How did a University of Mississippi graduate born and raised in the heart of SEC country become a Miami Hurricanes fan?
The answer, Warren Savery says, is pretty simple.
"I loved sports magazines and at one point, a friend of mine got a magazine that had an article on Ted Hendricks in this magazine and to be honest with you, it was the uniforms," the longtime Golden Canes Society member laughed. "The uniforms then had a gold helmet with the hurricane warning flag on it. I had been a big Tennessee fan, but, then I also liked Miami."
It may have been a uniform that introduced Savery to the University of Miami, but there were plenty of other reasons he wound up falling in love with a school hundreds of miles away.
The more Savery learned about the Hurricanes, the more enamored with them he became.
The winning. The Orange Bowl. The tradition.
Miami may have been far away, it may not have been his home-state university and it may not have been the school he attended, but in its own way, it was special.
And when he finally had the opportunity to visit Miami, attend his first baseball game and he eventually joined the Hurricane Club, Savery's tie to the University only grew stronger.
"It's about the people," Savery said. "The people there have become friends. They've become family. We have so many friends from all our experiences. My wife, Bessie, she's enjoyed it, too."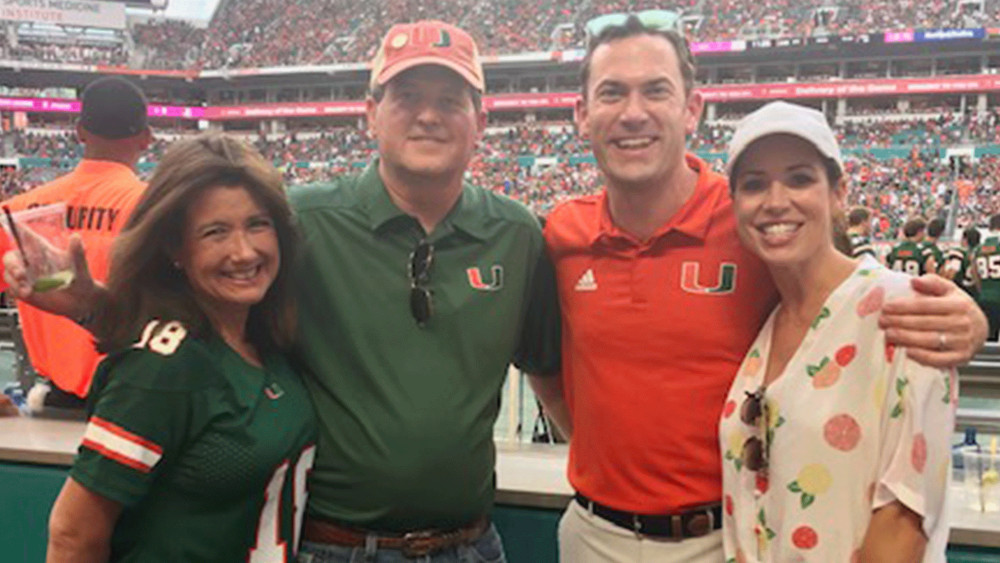 These days, Savery lives in Houston and friends and family there, along with friends and family in Mississippi, still give him good-natured ribbing about his Hurricanes fandom. But, they understand Miami has become a part of his life.
And those friends and family have come to understand that Savery's love for the University isn't just about cheering for the Hurricanes on the football field, the baseball field or the basketball court.
"A lot of people aren't going to know about UM unless they went there," Savery said. "I start trying to explain what a special school it really is, not just the team, the school. And they'll say 'I didn't know it was private,' when I tell them we've got about 10,000 undergraduates. Our marine biology school is one of the finest in the country. There's no better. Our medical school, our law school…it's strong across the board. It's not easy to get into the University of Miami. They go, 'Really?' and I'm explaining how hard it is.
"I try to be the person who tells them what Miami is. We'll talk about teams, of course. That's part of it. But I do try to let people know more about Miami. You just wouldn't believe how many people don't know about it. They just think of a 30 For 30 documentary. They don't know."
While Savery may not be a South Florida native or a Miami alum, he's been a quick study in all things Hurricane.
He's had the experience of running through the smoke before a game at the Orange Bowl. He counts Miami's hard-fought 28-27 win over Florida State in 2002 as one of the best games he's watched in person. And he can rail against some of the tough calls Miami's had to endure with the most passionate of fans.
Losses, as one might imagine, are frustrating. But his support, even from a distance, has never wavered.
All because he stumbled on a magazine article with a uniform that caught his eye.
"Everybody loves a winner, but are you there all the time? That's what makes the difference and makes it so special," Savery said. "I've told all my kids through the years you get into things what you put into them. I didn't know where this was going to take me. I had no clue that any of this would happen. How could you? But, it's been a fantastic ride, even in times when we haven't won big. It's still all about The U and it always will be."