Five months of offseason training in the books, Dewi Weber was back on the greens in March for the start of the 2020 Volvic Race for the Card.
With the 2019 season in her rear-view mirror, the former University of Miami captain and three-time All-American entered the year with six top-10 professional finishes and an extra year of additional experience to her name.
"What did I learn from my first year? Oh, a couple things," chuckled Weber. "One of the biggest takeaways is that it is so important to just take it one tournament at a time. It is really easy to get carried away, thinking this is the one tournament where I could win or lose it all. But really, while on tour, you are playing so much compared to amateur life, so you have to understand that your moment is going to come as long as you stay patient."
Weber also explained how playing professionally definitely adds an extra bit of pressure to every stroke.
"It is really different if you are trying to make a putt on the last hole for $8,000 in comparison to just the pride of winning a tournament," Weber said. "And really, the idea of coming in second means so much more on the Symetra Tour, compared to a third-place finish. So, that is a different kind of pressure that you don't get to experience as an amateur at all."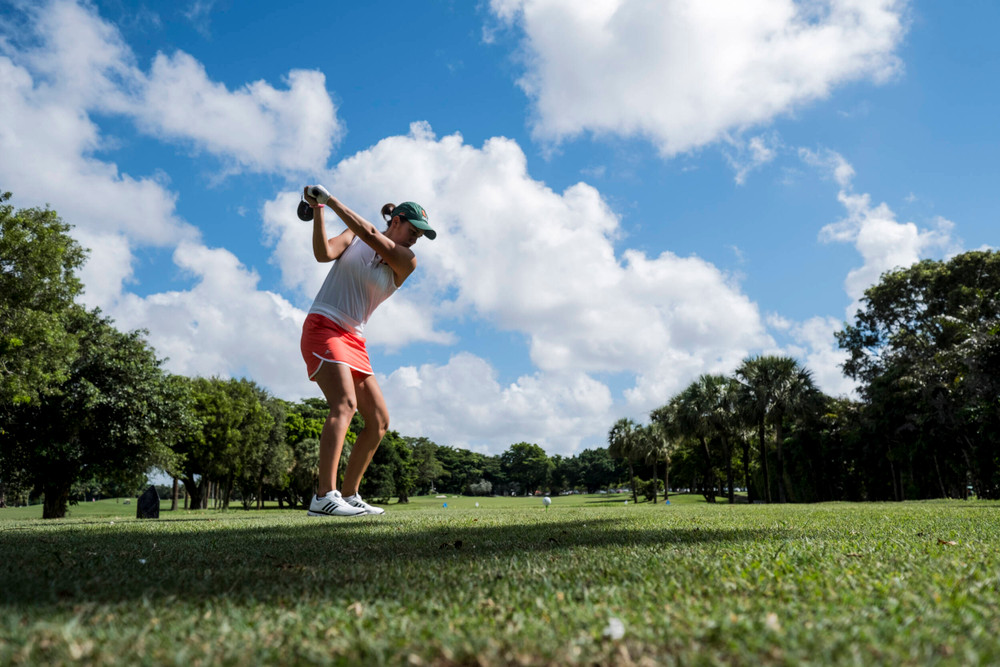 Graduating from Miami in three-and-a-half years, Weber capped her collegiate career earning a double-major in film and advertising, along with a double-minor in marketing and musical theater.
Along with the countless lessons she said she learned from head coach Patti Rizzo and assistant coach John Koskinen, her education has also played a major role in her professional journey.
"Advertising myself, especially in my line of work where you are playing for money, but also trying to get sponsors, has been crucial," Weber said. "You have a lot of Pro-Am [events] you have to do. So, it is always good to have those communication skills with you and having the ability to present yourself. So, in that way, my major has really helped me. I feel really comfortable going into a Pro-Am and talking with people about my quote-unquote work."
Carrying all of this experience with her, Weber opened the 2020 campaign with a top-15 finish at the Florida Natural Charity Classic and strong ambitions.
However, as quick as the season began, uncertainties flooded in even faster as the ongoing COVID-19 global pandemic began to cycle through the news.
Her mind set on taking it one tournament at a time with an ultimate goal to finish among the top-10 and officially earn her LPGA Tour membership in November, Weber and her peers were called in for a briefing following play.
"During that tournament, like many others, our commissioner felt very confident in the tour schedule," Weber said. "So, I left [Winter Haven, Fla.,] feeling pretty good going into the season, especially since we were scheduled to have a pair of off-weeks prior to the start of our west coast stretch. However, during the first off week was when the governor of California initiated the stay-at-home order and placed the state on lock down. So, it became pretty obvious that those two tournaments were not going to happen."
Days later, Weber officially learned that her dreams of joining the Tour were once again being placed on hold, as she quickly had to return to an offseason mindset.
However, with gyms and golf courses closing across the country, Weber had to get creative in her workout regime.
"With the courses shut down in Miami and no gym access, I couldn't really do much from a golf standpoint," Weber said. "So, I just did a bunch of at-home workouts and bought a putting mat and every day I would practice my putts, 10 to 12 feet putts, because that was the only thing I could do."
Following a six-week hiatus, Miami opened its local courses and Weber jumped at the opportunity.
"During those first couple of weeks back, I tried to really work on the fundamentals. Then, once I saw that my swing was getting back into form and everything was feeling and looking very solid, I started keeping my scores and getting myself back into tournament mode again," Weber said. "…Right now I am just [role-playing] different situations on the course to really prepare myself for competition."
Simultaneously, the LPGA Foundation has been prepping for the return of play, with the seventh annual FireKeepers Casino Hotel Championship at Battle Creek Country Club in Battle Creek, Mich., scheduled for July 24-26.
The event will mark the first tournament to be played by the LPGA Tour family following cancelations. It is also the first of nine tournaments on the remaining 2020 Symetra Tour schedule, making an even 10 tournaments for the 2020 campaign.
According to the LPGA, purses are still being finalized, but players on the Symetra Tour will be competing for greater than $1.5 million during the season. Additionally, the Symetra Tour will once again award LPGA Tour Membership to the top players on the Volvik Race for the Card money list at the end of the year. However, five cards will be available instead of the 10 that have been distributed each year since 2008.
Despite obvious disappointment in the shortened season and number of available cards, Weber is just thankful to at least have the opportunity to compete and is hoping everything is able to go according to plan safely.
Weber also shared some advice for her former Miami teammates with the anticipation of the NCAA season getting underway in the coming months.
"I think something that is a little bit more tangible than the other, is improving your short game, particularly putting. I have always been a pretty well-rounded player, but my ability to drive, especially with my iron [clubs], into the green has [always been my strongest suit]…But, I have learned how much more important the short game is and how much you are going to win based on short game," Weber said. "In the end, almost everyone is going to have a pretty decent long game, but you are going to have courses where your short game is so much more important because you are going to have situations where you have to be creative. The standard chips and bunker shots are not always going to be available to you…So, I have basically switched my focus from a lot of long game practices to a lot of short game practices. Getting my wedges dialed in, while looking at putting from both a mindset and a technique.
"I would also emphasize how important it is to work on the mental aspect of the game. That's not sexy, that's not fun to do. However, what has personally helped me is walking through my mental game with another person, not doing it all by myself," Weber continued. "Talking it through with a sports psychologist and saying, 'Hey this is happening; how should we attack it?' Or, 'Hey, in these stressful moments you think about ABC, maybe you can respond in a different way.' Having someone giving you feedback, instead of trying to do that all by yourself is a much better way of approaching that."