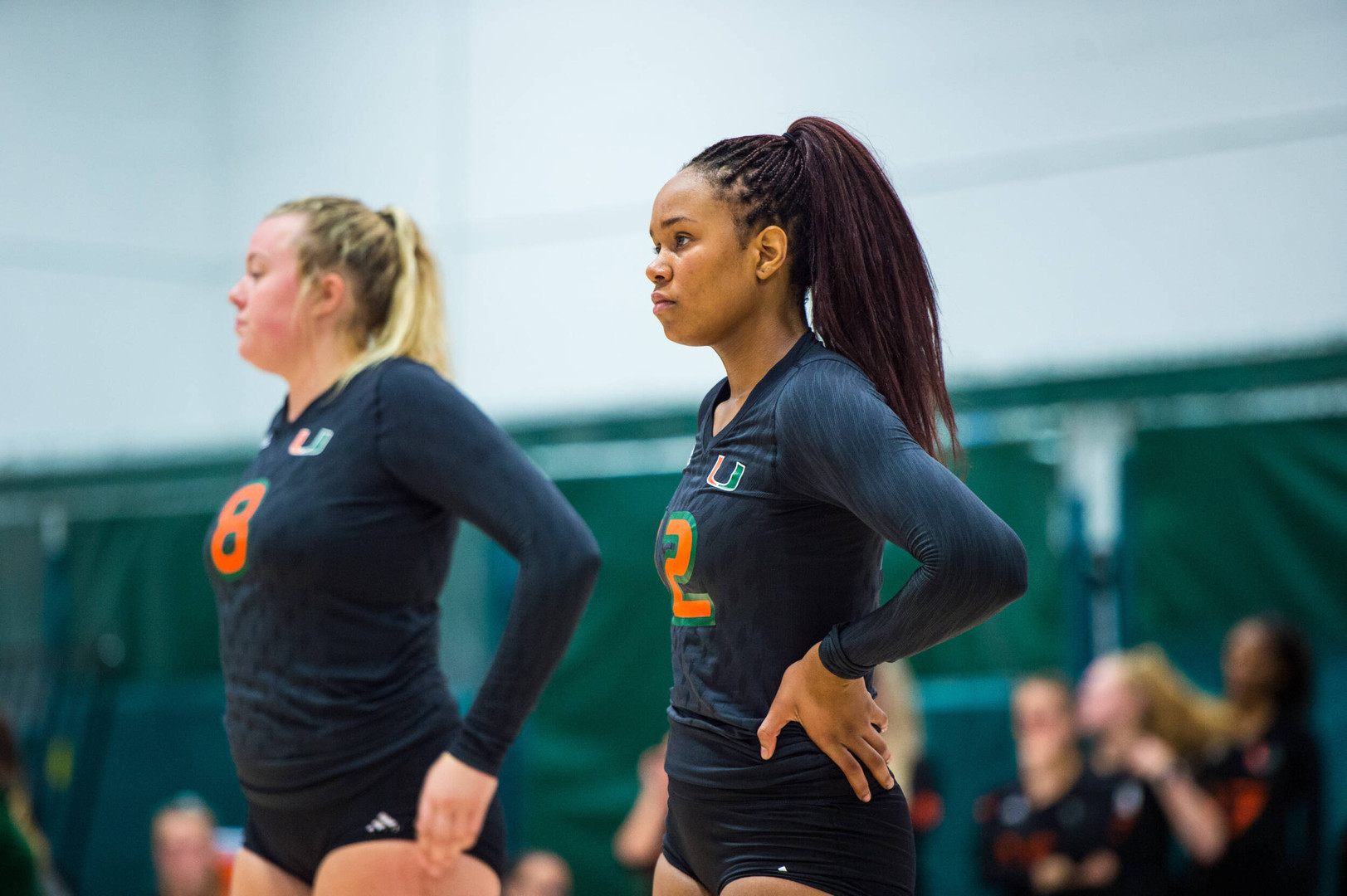 CORAL GABLES, Fla. – One play in the first set of the first scrimmage of the 2019 volleyball campaign is all it took for a season to be over before it even started.
Taylor Burrell's sophomore season was done after just the first set of the August home exhibition match against FIU. After landing wrong on her left leg, Burrell tore her ACL.
Initially, Burrell experienced shock, not knowing what just happened. Then the pain set in and her fears started to sink in.
"I almost passed out. It took a while for everything to really hit," Burrell said. "I really thought it was just going to be something that'd I'd be out for a couple weeks, not nine months. When I found out that wasn't the case, that's when everything started spiraling down."
Burrell missed the entire 26-match season and spent a majority of her time rehabilitating her surgically repaired knee, watching practice and wondering what was next for her volleyball career.
The Boca Raton, Fla., native was looking forward to the 2019 season. She entered preseason camp fighting for a starting position and was ready to showcase her developed skills on the court. Leading up to the season, Burrell was constantly in the weight room, training and preparing for the long season ahead. But the unexpected injury derailed her plans for a big sophomore season.
"It was kind of a betrayal [from my body] in a way because I was hurt that I did all this work and worked super hard and it was gone just like that," Burrell said. "It was a lot of emotions and it became negative thinking. It wasn't necessarily that I didn't want to play anymore, but more of, 'I can't believe this happened to me.'"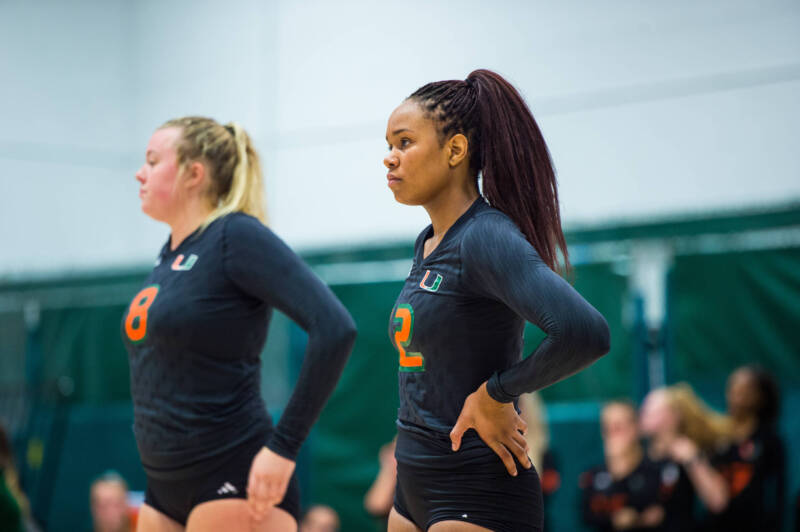 The betrayal led to fear. Fear of just watching her teammates practice in the gym. Fear of returning to walk, then run and, eventually, play. But for Burrell, she made sure to suppress her emotions in front of her teammates.
"I didn't want to rub off on my teammates, so I kept it in," Burrell said. "Instead, I would just offer tips to Janet [Kalaniuvalu], Kennedy [Prince] or Janice [Leao]. So, I kind of hid my emotions because I didn't want to bring everyone else down because everyone was going through things."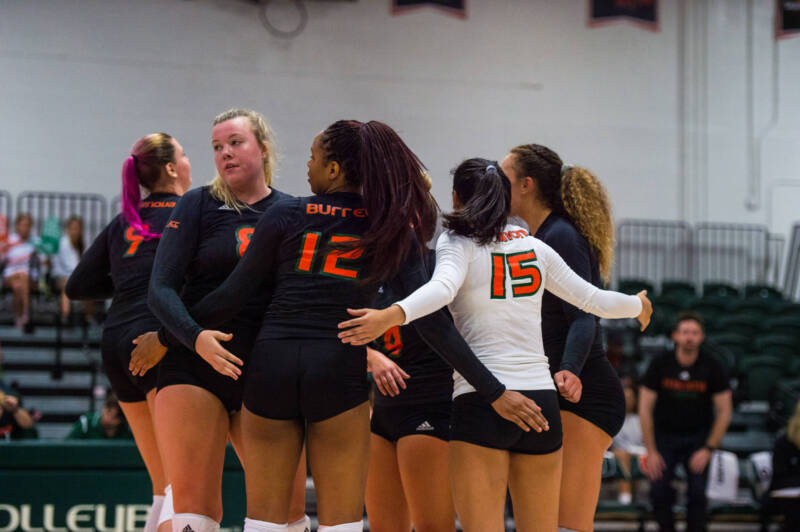 The turning point for Burrell was the moment she was able to start running again. Just three months after her injury, everything started to feel real and the anxiousness of her return slowly started to slip to the back of her mind. Running led to jumping drills — a key component in volleyball — and once there, her mindset changed.
Burrell's rehab went smoothly.
She was ahead of schedule and getting stronger with every session. She regained her mobility and range of motion easily. Volleyball's staff physical therapist, Julia Rapicavoli, credits Burrell's positive attitude and mental toughness for her success in rehabilitation.
"She gave 110 percent effort with every task I gave her. I think this allowed her to be successful not only with her rehab, but will carry forward onto the volleyball court," Rapicavoli said. "She has worked extremely hard to come back stronger, both physically and mentally. It has been amazing to watch her transformation over the past 10 months."
The work ethic was also there prior to the injury. The eagerness to get into the weight room was apparent. A vertical of 10'4 and the ability to dead lift 300 pounds was in her wheelhouse. Burrell enjoyed outlifting people. Caitlin Smith, the team's strength and conditioning coach, recalls Burrell calling out her teammates when they were lifting the same weights and made competitions out of it because of her competitive nature.
Now, after her ACL repair, Burrell still has the same mindset, but is paying more attention to the little things in her workouts.
"I think jumping and landing is the biggest thing [I work on now] because that's what I do the most," Burrell said. "Now being more comfortable and aware of what I'm doing in terms of that is big. I didn't pay attention to it last season so it makes sense why I got hurt. Now I'm being consistent in things I need to do to make sure my knee is solid."
Burrell has already reached her max on deadlifts from last season. Recently, the outside hitter hit 315 pounds for three reps and continues to improve her strength, stating she's stronger than she was prior to surgery. This doesn't come to a surprise to Smith, though.
"Even before her injury, Taylor was one of my strongest athletes. She always wants to be lifting more than anyone. She's a huge presence in workouts," Smith said. "I think the biggest change in her now is she understands the importance of the small things, especially what she does outside of her sessions and how they impact her recovery performance. She's constantly asking me for feedback in our sessions and has opened the door to a whole new level of potential for herself as an athlete, individual and teammate. I'm excited to see how far she can go and the leadership she can give the program."
What's next for Burrell and the Canes is unknown, but what she does know is that the nerves will be there prior to that first match. Normal pregame jitters and a sense of fear over her knee will be in the back of her mind, but once she gets her first play in, she think her nerves will subside.
Burrell is not the only one excited to get back into the gym, but also associate head coach Kasey Crider. It has been more than a year since he's seen Burrell play and isn't sure of what will happen when he finally does, but what he does know is that type of person Burrell has become.
The poise and ability to eloquently speak to her teammates and coaches over time has changed. Crider describes Burrell as a grownup compared to what walked onto campus two years ago. As far as physical ability, the skies the limit for her in his eyes.
"There's a chance – she's that physically gifted and driven right now – that at some point in her career that she could touch 10'6," Crider said. "That's national team level. The outside hitter on our national ream right now, I think, is touching 10'2. It's hard to say what you'll see from her on the court because it's been a while since we've seen her play, but look for someone who can jump really high and someone who can have a lot of success as an attacker and be a really special blocker."
For Burrell, her goal is indeed to reach 10'6 in her vertical jump, as well as come back, exceed what she could have done last season and apply all that she has learned from her coaches while watching practice.
Despite all that happened, she is more motivated than ever to prove to herself that she can be better than last year.
Only time will tell for Burrell and the Canes.