Delivering a Lifelong Love of The U
CORAL GABLES, Fla. – For years, the preparation for every delivery was the same.
When Dr. Spencer Kellogg learned one of his patients had a connection to the University of Miami, he made sure their little one arrived into a world filled with orange and green.
Miami banners were put up in the delivery room. So, too, were hurricane warning flags. Plush Sebastian the Ibis mascots or football helmets were nearby.
And just as he delivered each new little Miami fan, Kellogg – whose white lab coat is proudly embroidered with his "Canes Doc" nickname – would nod over at the nurses in the room and cue the playing of the Hurricanes fight song.
"It was all matter of creating Hurricanes cyborgs with subliminal implants. It had to be excessive," joked Kellogg, a two-time Miami graduate and longtime member of the Golden Canes Society whose ties to the University run deep. "When I deliver the babies, it'd take me an hour to decorate the room if I had a member of the Hurricanes family in there. Players, coaches, staff. And I make sure the fight song is the first thing that child hears."
Kellogg's special efforts with the more than 500 Canes babies he delivered didn't end there.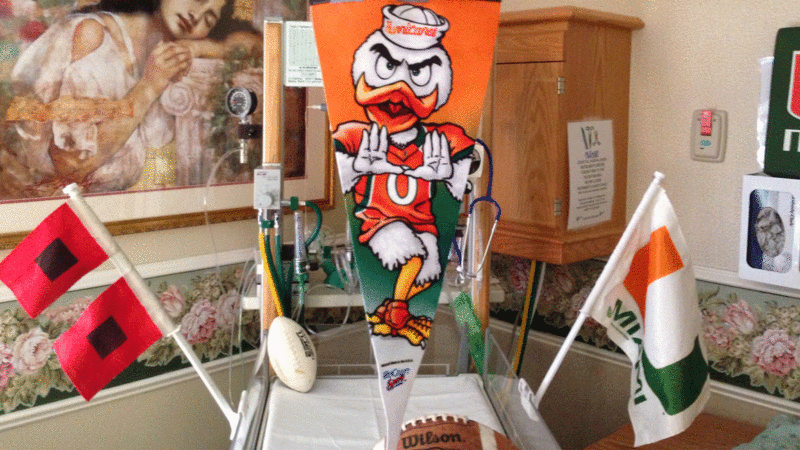 Each year, he'd have hospital volunteers knit special skull caps for his patients' newborns to wear in the nursery, a memento for mom and dad to cherish and a beacon that made it easy for him to quickly see which were babies he'd delivered the moment he set foot in the nursery.
All of it, the doctor said, was a labor of love, a way to make special moments even more memorable for his patients and to honor the alma mater that changed Kellogg's life.
"A lot of people wind up having a fleeting, touch-and-go, four-year experience with their college," said Kellogg, who graduated from the University in 1971 and then attended medical school at Miami. "But I had it ingrained in me again in graduate school and ingrained again during my residency. I had an extension of over 12 years of education there. It was special."
Kellogg's passion for the University, as one might imagine, extends beyond the delivery rooms where he's delivered generations of babies.
A longtime Hurricanes season ticket holder, he was at every one of Miami's five football national championship games. He owns a set of championship rings. Tailgates, first at the Orange Bowl and later at Hard Rock Stadium, are more than Saturday pastimes.
They've become the stuff of family lore.
"We brought our children, in diapers, to the Orange Bowl. Back then, they didn't even have UM diaper bags like they do now," Kellogg said. "It morphed to bringing our grandchildren, in diapers, to the Orange Bowl. It was quite an experience for three generations now watching games in that grand old lady. … It's absolutely a tradition. There are no plans made during football season. Everybody knows where they're going to be, what they're going to do. The only thing we switch around is the menu. We have a group of six trucks that get together, we all go, we get there at the opening gun and we're there all day. It's quite a tradition, rain or shine, we're there. Tents, pigs, barbecues, everyone's preparing starting on Thursday evening."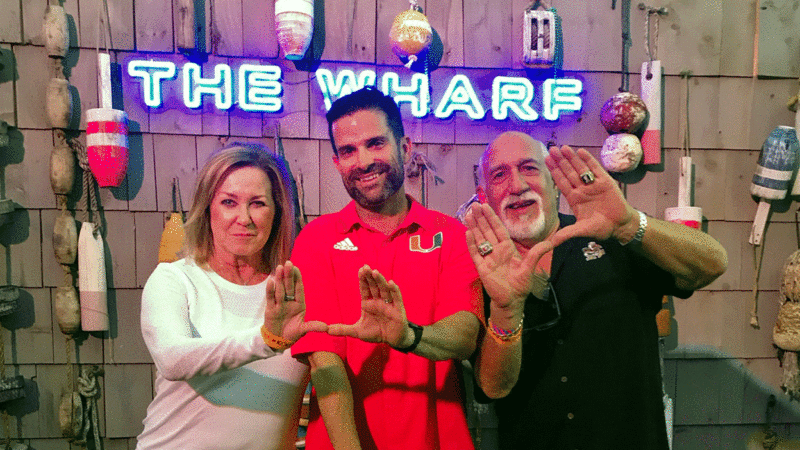 Kellogg is adamant that tradition will continue and to help on that front, he's made sure his grandsons – 13-year-old Jake and 10-year-old Liam – are Miami fans, too.
When each was born, Kellogg worked with UM to ensure both had memberships in the Hurricane Club and season tickets moments after they took their first breaths.
The boys were when they were born, Kellogg notes proudly, the youngest Miami fans to have those distinctions and there are, of course, family photos to document those moments.
"Everybody says 'We bleed orange and green,' but in our family, every bodily function is orange and green," said Kellogg, who saw his first game at the Orange Bowl in 1967. "For our family, it was always there. It's always been in our blood. … It's all about being true to your school and not being the epitome of a fair weather friend. I've seen the low, low, lows of the 60s and 70s and the euphoria of the 1980s and the great win streaks at the Orange Bowl.
"It's been important to show my family that even in the down years, when I've had to cry after games and bite my lip, we still have to hang in there. We're going to keep going to the games and our six-hour tailgates will forever continue."