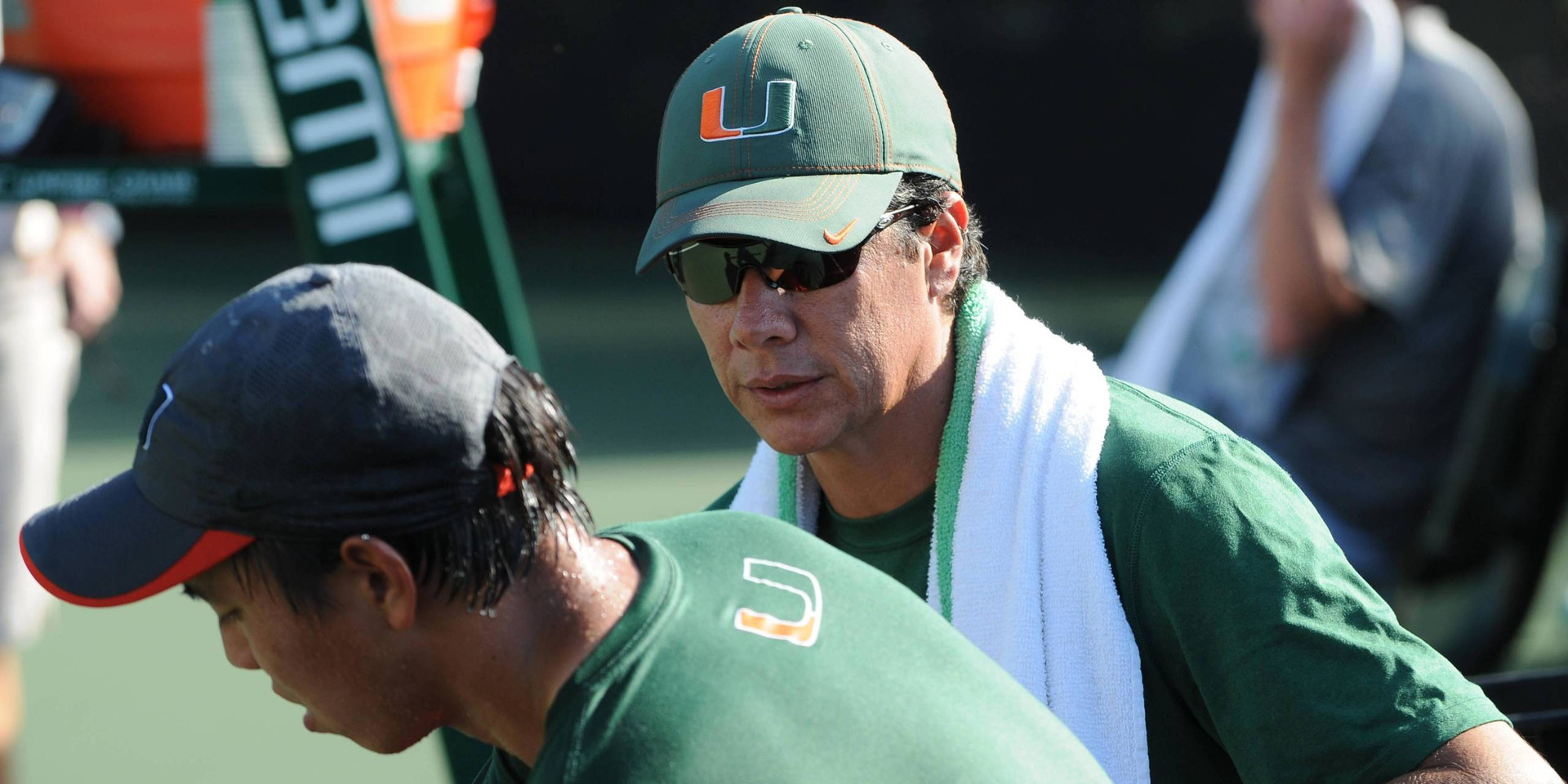 by James Quigley, University of Miami student
Miami Hurricanes head coach Mario Rincon knows how to make his student-athletes feel at home, even if home is thousands of miles away.
Just ask Henrique Tsukamoto, a junior on the University of Miami men's tennis team. Rincon was determined to recruit Tsukamoto so the coach did something out of the ordinary and flew him from his home in Brazil to Miami for an official visit. While in Miami, Tsukamoto attended a Hurricanes victory over The Ohio State football team. He bonded with the tennis team during the short weekend and formed a relationship with his future coach.
Rincon has recruited stellar tennis players from all over the world since he took over as the head coach of the University of Miami men's tennis program in 2004. Three of his non-American recruits went on to become NCAA All-Americans as Hurricanes – Luigi D'Agord of the Bahamas, Daniel Vallverdu of Venezuela, and Carl Sundburg of Norway. Rincon has reeled in the nation's sixth-best ranked recruiting class for 2014, a group that includes Alexander Fahnehjelm of Sweden and Piotr Lomacki of Poland.
So what is coach Rincon's secret? Perhaps it is the understanding and relatability that he brings to the job as a former international Division I tennis player himself.
Rincon has been playing tennis for as long as he can remember. "Tennis was a huge part of our family," he declares, grinning ear to ear. Ernestina and Mario Rincon Sr. raised their five children on a country farm in Duitama, a small town on the outskirts of Colombia's capital city, Bogotá. The elder Rincon loved the game of tennis so much that he began practicing with his children as soon as they were able to grip a racket.
The Rincon family had a membership at a nearby club that had two tennis courts. Rincon reminisces about his early playing days on these courts with great fondness. "Growing up in a big family was a lot of fun," he recalls, "I always had someone to play with and compete against."
Eventually, fellow members of the club began to complain about the Rincon family's constant usage of the tennis courts. Fortunately, the family farm had plenty of land, so Mario Sr. decided he would save some money. He found level ground, laid down some red clay, and built a tennis court from scratch. "That was much more convenient, and a determining factor in our development, for sure," says Rincon.
Like many small boys in South America, the younger Mario had dreams of becoming a world-famous soccer player. "It's everyone's first sport in Colombia because you're surrounded by it and [soccer players] are everyone's heroes over there," explains Rincon. However, Mario Sr. saw his son's potential on the court and forced him to quit soccer in order to concentrate on tennis.
Rincon, the middle child, remembers his father as a strict parent, and an even stricter coach. "My dad wanted me and my brothers to get scholarships to schools in the states," says Rincon. "He thought our best chance was tennis, so that's where he pushed us." The elder Rincon practiced with his son daily, occasionally against his will, and was hard on the younger Mario when he failed to meet expectations.
At the age of 14, Rincon began travelling throughout South America playing tennis in junior tournaments. It was around that time that he began to realize his potential, and he developed a passion for the game. Rincon was not heavily recruited out of high school, and he chose to play for North Greenville College, a small junior college in South Carolina.
In conversation, Rincon is engaging and willing to discuss his past openly and in great length. However, he claims to have been shy when he first started college because he was still new to the English language. Thousands of miles from home, Rincon saw his family once during his two years in South Carolina. He was fortunate enough to find a home on the North Greenville tennis team.
"My family was my teammates and the coaching staff," says Rincon, "they had a great influence on me and I appreciate them very much." Rincon went on to become the 1987 National Junior College Champion in singles play as a sophomore. His success garnered the attention of several NCAA Division I tennis programs, and he eventually accepted a scholarship offer to play at the University of Kentucky.
Rincon was a standout tennis player and NCAA All-American for Kentucky in 1988. He decided to forgo his senior season and turn pro following a dominant junior campaign in which he defeated the top-ranked college player in America, won the SEC Flight 2 singles championship, and finished the season ranked No. 29 in the nation.
As a professional tennis player, Rincon spent a decade on the ATP World Tour. He was Colombia's top ranked player for a three-year span from 1994 to 1996, during which he was consistently ranked among the top 200 players in the world. Rincon has participated in qualifiers in each of the four Grand Slam events: Wimbledon, the Australian Open, the French Open and the U.S. Open, and played in the main draw of the US Open. For nine years Rincon represented Colombia in the Davis Cup, the premier international team event in men's tennis, and his play was the driving force behind the Colombian team's promotion to Group One in 1998.
The sport of tennis has given Rincon the opportunity to become a world traveler. "That's what college does," he acknowledges, beaming. "It makes the professional circuit a possibility for athletes who wouldn't be able to get there on their own dime."
Still, Rincon claims that his favorite memories from his professional career took place right at home. That's because his best performances on the ATP Tour came at his home event, the Bancolombia Open in Bogotá. During the 1997 Open, Rincon managed a milestone win over world No. 47 Marcelo Filippini with his friends and family watching in the stands. Rincon's first professional match in Colombia was a loss to Filippini in the Main Draw of the 1987 Davis Cup, so this victory allowed his playing career to come full circle.
With his ranking in decline and his mother enduring chemotherapy treatment, Rincon retired from professional tennis in 2000. The newly married Rincon decided to start a family with his wife Laura, a Bogotá native whom he met on a blind date.
One of the first things Rincon did after he settled down was pay a visit to the North Greenville College campus, where a tennis court had been built in his honor. "I wanted to see my former coach and I wanted to take my wife," says Rincon. "I learned so much there."
The next stop for Rincon was Kentucky, where he returned to school in a different sense. "My goal was to coach tennis so it was important for me to get my degree," he explains. Rincon graduated from Kentucky in 2001 with a Bachelor of Science in Agricultural Communications and he worked as an assistant tennis coach at the University of Alabama for three years before Miami hired him in October of 2004.
As the head coach of the Hurricanes, Rincon has done his best to provide his players with a warm and welcoming environment similar to those that he benefitted so greatly from during his college days. In many ways, he has succeeded.
"The coaches are really nice and I feel like they are my parents here," confesses senior Diego Soto of Madrid. When Soto first arrived in Miami in 2009, the Spaniard had never set foot in America, and he could hardly speak a lick of English. The Spanish-speaking Rincon embraces his role as translator, so he personally introduced Soto to each member of the tennis team, and gave the freshman a tour of campus. "Coach Rincon is the complete coach," insists Soto, now fluent in English, "and off the court, he is really a friend."
"When you have a have a person that speaks your home language, you feel more comfortable talking and expressing yourself," explains senior Gabriel Flores of Puerto Rico, Soto's doubles partner and best friend at UM.
The doubles pair of Flores and Soto is part of a 2010 recruiting class that was ranked eighth in the nation. On Monday afternoon, the pair secured the doubles point as the No. 65 Hurricanes swept the No. 58 University of Wisconsin tennis team 4-0 at the Neil Schiff Tennis Center for their fourth straight victory. Flores and Soto are both optimistic about the Hurricanes' chances of clinching an NCAA tournament berth this season after the team has failed to do so in the previous two years. "Our seniors are having a great season," says Rincon of his veterans, "they're driving this team and we need them to continue playing solid tennis for us."
Under the direction of Rincon, the Hurricanes men's tennis team was ranked among the top ten in the nation for the first time since 1994, and the team advanced to the NCAA tournament in four straight seasons from 2005 to 2009. Rincon was named ACC Coach of the Year in 2006 following a remarkable turnaround season in which the Hurricanes shared the ACC regular season title just one year after a ninth-place finish.
With such a diverse roster, Rincon expects his players to have learned the game of tennis differently. He believes that it is his responsibility to adapt to their different styles of learning, and he is known to take time after practice to give his players the one-on-one attention that they sometimes need. "I think a very important part of coaching is listening," says Rincon. "We get these guys at an age when they are still discovering their game, so we channel what we think is best for each player with respect to their personality, and little by little, each one develops their own game."
Miami assistant coach Mark Dickson, another former pro, praises Rincon's communication skills. "His coaching style is so passionate – he gets to know all of the players and finds out what makes them tick and what motivates them," explains Dickson. "He really understands each one of them."
Rincon now has three daughters of his own – Laura Sofia, Daniela Andrea and Gabriela. He is teaching his daughters how to play tennis, but he insists that they are free to play whichever sport should they decide tennis is not for them. "My girls have strong personalities," Rincon reveals with a laugh, pointing to a framed photo of his daughters on his desk. "When we play matches at home, they have fun cheering for the Miami players."
Rincon's coaching style combines the experience of a former pro tennis player with the patience of a father of three girls. He understands more than most that there is a fine line between being a parent and being a coach. However, for Rincon, tennis and family have always been inseparable. He cannot help that he is a father figure to the guys on the University of Miami tennis team, and in the same respect, he has no reservations about spending time with his daughters on the tennis court.
Rincon knows that as a college tennis coach, he is much more than simply an instructor to the young men on the Hurricanes team. "The relationship extends beyond tennis – you spend four years with these kids and watch them graduate," says Rincon. "To spend time with student-athletes at this time in their development is something I've always found to be very special," he says.
The UM tennis players also cherish their relationships with the Hurricanes coaching staff. "We really feel it in our hearts that we are a part of a family," admits Flores. "This feeling gets stronger as your years go by."
Perhaps it is junior Wilfredo Gonzalez of Guatemala who puts it best. "I don't see Coach Rincon and Coach Dickson as just tennis coaches, I see them as life coaches," he says. "They support us no matter what."
Rincon also supports his daughters no matter what – even if they decide to become cheerleaders. After a successful playing career that allowed Rincon to travel the world, he couldn't be happier to have a loving family and still be involved with the sport that he loves.
A legacy that started on the Rincon family farm in Colombia and made its way through the halls of North Greenville College and the University of Kentucky has made a lasting impact at the University of Miami, and it won't be long before Mario Rincon has a third tennis court built in his name.