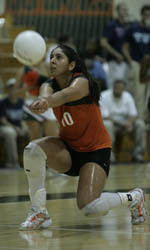 Aug. 22, 2005
2004 Season Recap
In their inaugural season in the league, head coach Nicole Lantagne Welch and her veteran Hurricane squad were primed to take the Atlantic Coast Conference by storm, despite being picked to finish seventh in the preseason poll. They did just that when they wrapped up ACC play with an 11-5 record and a second place finish in the final standings. The Hurricanes finished the season with a 17-9 record to post their fourth winning season in as many years.
"For it being our first season in the ACC, I thought that we handled our new challenges very well; traveling to new places, new gyms, and new environments," noted Lantagne Welch. "We were picked to finish seventh and we came out very strong through the last sprint to finish second, which was outstanding."
Miami was hampered by early setbacks that came in the form of Hurricanes Frances, Ivan and Jeanne who, not only reeked havoc over the greater portion of the southeastern United States, but forced the cancellation of two of Miami's non-conference tournaments and their late September match against Central Florida.
With the threat of Hurricane Frances, a massive category four storm, Miami was forced to cancel their first tournament of the season, the aptly named Hurricane Invitational. Two of the Hurricanes' scheduled opponents, Rice and Illinois, earned bids to the NCAA tournament.
After a trip to the Furma Hotel Invitational hosted by Loyola Marymount University, where UM defeated Cincinnati and saw senior rightside hitter Valeria Tipiana named to the All-Tournament team, the season was once again derailed when their trip to the NOKIA Sugar Bowl Volleyball Classic was cancelled due to a looming Hurricane Ivan. Miami instead played at the SMU tournament that same weekend where they defeated SMU and Wisconsin-Milwaukee.
Hurricanes Frances and Ivan, "took out four matches in our schedule," added Lantagne Welch. "We lost the opportunity to host two teams that went to the NCAA Tournament."
The Hurricanes then made history on September 24 when they returned to Coral Gables to face longtime instate rival Florida State in their first meeting as members of the same conference. Miami overpowered the Seminoles with a three game sweep that gave the Hurricanes a victory in their inaugural ACC match.
After picking up a win over Wake Forest and suffering two five-game heartbreaking losses at the hands of fellow ACC newcomer Virginia Tech and Duke, the Hurricanes claimed their first-ever ACC road win, downing Virginia, 3-1, in Charlottesville on October 8.
Not letting a tough five game loss to ACC rival Maryland hinder them, the Hurricanes pieced together a season-best five match winning streak that lasted from October 12-24. During that span, Miami swept Florida Atlantic, NC State and Virginia Tech–avenging an earlier season loss–and downed North Carolina, 3-1. The highlight of the streak, however, was Miami's edge-of-your-seat victory at Florida State.
"Defeating rival Florida State both at home and away and beating North Carolina home and away was a great feat. They both had good years yet we rose to the challenge of sweeping them.," said Lantagne Welch.
After suffering tough losses at Clemson and Georgia Tech, the Hurricanes once again bounced back to win four straight matches against Maryland, Virginia, North Carolina and NC State. The Hurricanes closed the regular season with an 11-5 record, clinching the No. 2 seed and earning a first-round bye into the quarterfinals of the ACC Tournament.
The Hurricanes could not, however, stop eventual ACC champion Maryland, who claimed a 3-1 upset victory, ending Miami's season prematurely. The loss denied the Hurricanes one of the 33 at-large bids in the 64-team field for the 2004 NCAA Division I Women's Volleyball Championship that went instead to ACC regular season champion Georgia Tech who was upset by Clemson in the quarterfinals.
"We were disappointed that we did not get an at-large berth to the NCAA Tournament," commented head coach Nicole Lantagne Welch. "We finished second in the regular season in the competitive Atlantic Coast Conference; you'd hope that would be enough to get into the tournament."
Not only was the Hurricanes' match against USF the final match of the season, it was also an emotional farewell to five seniors. Elizabeth Tyson, Valeria Tipiana, Mallorey James, Jamie Grass and Ashley Youngs, all original members of Lantagne Welch's first recruiting class, played their final home match of their careers. Together, the quintet made history for Miami volleyball posting an 82-31 overall record in four years. In 2002 they comprised the core of the team that reached the NCAA Sweet Sixteen and ended the season ranked 23rd in the country. The Hurricanes claimed a 3-0 victory over the Bulls, to wrap up the season with a 17-9 season record and their fourth winning season in as many years.
Individual Accomplishments
The 2004 season also saw the Hurricanes enjoy many individual accomplishments with many players permanently etching their names into UM's record books. All in all, 24 individual records were either matched or broken throughout the season.
In the first match of the season, against cross-town rival Florida International, senior rightside hitter Valeria Tipiana became the first player to surpass the 1,000 career kills mark, finishing the season with a record 1,411 career kills.
A Preseason All-ACC selection, Tipiana was honored as UM's first-ever American Volleyball Coaches Association (AVCA) Honorable Mention All-American and First Team All-ACC selection. This season, she led the Hurricanes with 422 total kills for a 4.44 kills per game average and a .318 attacking percentage. Tipiana also paced the Hurricanes with 48 service aces, a new season record, and earned All-Region honors for the second time in her career.
Fellow senior Elizabeth Tyson became the second player to surpass 1,000 career kills. She closed out her career with 1,002 career kills for second all-time.
Sophomore setter Jill Robinson also reached a career milestone when she surpassed the 2,000 career assists mark after only two seasons of play. She finished the season with 2,208 career assists, which set a new record. Robinson also set the record for assists in a season with 1,244 assists during the 2004 campaign.
Redshirt freshman Ciara Michel showcased her defensive abilities when she set the UM single match record with 11 block assists at Virginia Tech on September 26, which also matched UM's total blocks in a match record.