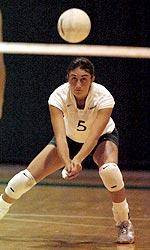 Dec. 12, 2002
LINCOLN, Neb. (www.hurricanesports.com) – – The no. 24 University of Miami volleyball team will face its sternest challenge in team history Friday when it takes to the court against no. 4 Nebraska in Lincoln.
The Hurricanes have so far gone farther than many may have thought possible, collecting a 25-5 record before defeating both Duke and Wisconsin in the NCAA Tournament.
Now they will face a 30-1 Nebraska team that, with the exception of a 3-0 loss to USC, has not given up more than two games in 30 match victories.
Nebraska's lineup features two two-time All-Americans in Greichaly Cepero and Amber Holmquist and other outstanding volleyball players.
The Hurricanes counter with BIG EAST Player of the Valeria Tipiana (Lima, Peru), who leads the team in hitting percentage (.314); BIG EAST Setter of the Year Mallorey James (Tucson, Ariz.), who averages 12.91 assists per game; and Marcela Gamarra (Medellin, Colombia), who leads the team in kills per game (4.00). Outside hitter Biz Tyson (Jacksonville, Fla.) has enjoyed a tremendous post-season with the Hurricanes. Against Wisconsin, Tyson turned in 19 kills along with a .514 hitting percentage and 11 digs.
The winner will play either North Carolina or Hawai'i Saturday.
Those wishing to follow the Hurricanes should go to huskers.com. Live stats will be available as well as audio.
For more information on University of Miami athletics log on to its website www.hurricanesports.com, the official site for all Hurricane news, tickets, and apparel. For Hurricane ticket information call 1-800-GO CANES.