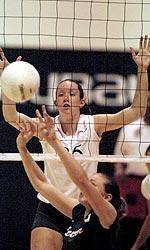 Dec. 7, 2002
MADISON, Wis. (www.hurricanesports.com) – – The Hurricanes did not need to see much of the Badgers volleyball team to know what they will be in for Saturday night in the Wisconsin Field House.
The Badgers, seeded 14th in the NCAA Tournament, are making their seventh consecutive postseason appearance and their 11th overall. Wisconsin finished the regular season ranked 14th in the nation. Wisconsin throttled Alabama A&M 30-17, 30-13, 30-15 in order to advance to the second round.
The Hurricanes (26-5) defeated Duke 30-25, 30-18, 30-20 and will meet with Wisconsin tonight at 7 p.m. in the Wisconsin Field House in Madison, Wis.
In just their second season and their first post-season campaign, the Hurricanes are in very new territory and will have to play as well as they've played all season if they're to sustain their extraordinary success. Miami finished second in the BIG EAST Conference, while Wisconsin tied for second in the Big 10.
"I think Wisconsin is an excellent opponent," Hurricane coach Nicole Lantagne Welch said. "They have a a lot of nice athletes and they do a lot of nice things. We're very excited about going up against a ranked opponent for the first time."
Although this is the first time that the Hurricanes have challenged a ranked opponent, it has collected wins over South Florida and Notre Dame during the regular season. Both of those teams flirted with the top 25 through much of the season, periodically receiving votes. Miami defeated South Florida 3-1 and Notre Dame 3-2 during the regular season. The Irish claimed revenge, however, in the BIG EAST Conference Championship, defeating UM 3-1.
While Wisconsin's roster bears a number of experienced players including four seniors and three juniors, while the Hurricanes have but one senior and no juniors. Nevertheless, Miami tricaptain Marcela Gamarra (Medellin, Colombia) is confident in her teammates. The squad's sole senior, Gamarra noted yesterday that her team is playing like veterans in familiar territory.
The team will hope to build on the momentum established by an excellent season in which it went 25-5 going into the NCAA Tournament as well as the victory over Duke. "The win can only give us some confidence and (these players) know that when we come out (we need to) play hard, play together as a team, and do all the things that we talked about doing, then we can be a great team."
The Badgers are led by senior outside hitter Erin Byrd, who is collecting kills at a clip of 4.38 per game, and middle blocker Amy Hultgren, who leads the team in hitting percentage with .319. On defense Byrd is among the team leaders with 2.99 digs per game, while Hultgren leads the team in blocks with .95 per game. The Badgers' team hitting percentage is .278.
The Hurricanes counter with a trio of outside hitters who are all playing well. Gamarra leads the team in kills per game with 4.11 and Valeria Tipiana (Lima, Peru) boasts one of the team's best hitting percentages with .309. Biz Tyson (Jacksonville, Fla.) has had arguably the best post-season of all of the Hurricanes. She enters the match against Wisconsin with 3.36 kills per game and a vastly improved hitting percentage (.210). Against Duke, the Florida native was Miami's best all-around player, with 13 digs, 14 kills, and a .265 hitting percentage.
Gamarra collected match high 15 kills and had a match high .268 hitting percentage.
Libero player Jamie Grass (Manhattan Beach, Calif.) recorded a match high 19 digs.
Live stats will be available through uwbadgers.com.
For more information on University of Miami athletics log on to its website www.hurricanesports.com, the official site for all Hurricane news, tickets, and apparel. For Hurricane ticket information call 1-800-GO CANES.