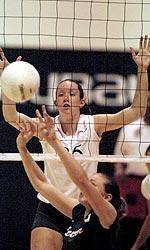 Nov. 15, 2002
Coral Gables, Fla. (www.hurricanesports.com) – – It had been 43 matches since the Notre Dame volleyball team lost to a BIG EAST Conference rival during the regular season.
That streak ended Friday night when the University of Miami Hurricanes (23-4, 9-3 BIG EAST) defeated the Irish (21-6, 11-1) in five games, shocking the perennial powerhouse and making a statement for the youngest program in the conference.
"This win is huge," coach Nicole Lantagne Welch said. "We came out here and we played the best team in the conference, a top team in the country and we played awesome and we won. We came out with a victory. This puts Miami on the map."
The Hurricanes stunned Notre Dame early, taking a two game lead with wins of 30-25 and 30-28. The defending conference champion Irish, however, settled down in the third and fourth games, winning 30-25 and 30-22.
In the final game, the Hurricanes got a cushion from an eight-point lead and then never relented, winning 15-7 and sealing the match.
The Hurricanes were led by sophomore outside hitter Valeria Tipiana (Lima, Peru), who had a match-high 28 kills and a team high .358 hitting percentage.
She was followed by senior outside hitter Marcela Gamarra (Medellin, Colombia), who generated 15 kills.
Gamarra, the team's only senior, said that she expected the Hurricanes to beat Notre Dame all along.
"I expected it because we wanted to win this game so bad," Gamarra said. "I expected to win this game. Obviously we had to win this game to make into the BIG EAST Tournament, so that motivated us more than anything else."
Biz Tyson (Jacksonville, Fla.) was third on the team with 11 kills and Jamie Grass (Manhattan Beach, Calif.) led the defense with 27 digs.
The BIG EAST Conference's leading setter, Mallorey James (Tucson, Ariz.), led the Hurricanes with a match high 58 assists.
Conference young bloods tackle bluebloods
When the Irish embarked on their 43-match win streak in the BIG EAST Conference, Hurricane volleyball didn't even exist. When Notre Dame entered the Knight Sports Complex Friday night, UM hadn't even played 12 conference games.
"(Challenging Notre Dame) isn't the first thing you're thinking about when you're putting together (a program)," second-year coach Nicole Lantagne Welch said. "You figure it's going to take several years to get to that level. So, it's been an amazing run and I've been fortunate to have an excellent staff, excellent support, and a group of great, great student athletes."
The Hurricanes final match of the season is Sunday when they face Syracuse at 2 p.m. in the Knight Sports Complex. The team will hold its Senior Day event before the match in honor of Marcela Gamarra, a cornerstone of the Hurricanes' success over the last two seasons.
For more information on University of Miami athletics log on to its newly designed website www.hurricanesports.com, the official site for all Hurricane news, tickets and apparel. For Hurricane ticket information call 1-800-GO CANES.