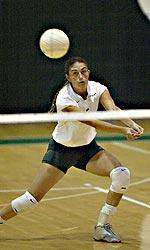 Nov. 12, 2002
CORAL GABLES, Fla. (www.hurricanesports.com) – – The University of Miami volleyball team has come a long way in a short period of time.
In just two years since its restoration, the program has become one of the most successful in the BIG EAST Conference this season, garnering wins over such established teams as UConn and Rutgers.
Friday night, the Hurricanes will face their stiffest test of the season when they host conference powerhouse Notre Dame (21-5 overall, 11-0 in the BIG EAST Conference) at the Knight Sports Complex.
The Hurricanes (22-4, 8-3) are tied for second in the conference with Virginia Tech.
The Irish have set the standard for BIG EAST volleyball for as long as they have been a part of it and own a 43-match win streak over conference opponents during the regular season.
This season is no different with the Irish arriving in Coral Gables the top team in the conference.
Notre Dame entered the BIG EAST in 1995 and has been the conference's tournament champion five of the last six years.
This season, the Irish hold the top spots in three key team statistical categories, while the Hurricanes claim two top categories.
Notre Dame boasts the highest hitting percentage in the BIG EAST at .293 and Miami is second with a .280. Defensively, the Irish are also at the top of the conference, holding opponents to a .119 hitting percentage. The Hurricanes are also second in that category with a .167 opponent hitting percentage.
Led by freshmen middle blockers Lauren Kelbley and Lauren Brewster, Notre Dame is the best blocking team in the conference. The Irish lead the BIG EAST with 4.24 blocks per game. The 6-foot-3 Brewster is the top blocker in conference play with 1.91 blocks per game, while Kelbley is third with 1.73.
Miami is second in blocks with 2.99 and is led by Robin Lewullis' 1.80 per game (second among conference players) at the net.
Led by the conference's top-rated setter, Mallorey James (Tucson, Ariz.), the Hurricanes also lead the league in assists with 15.18 per game (16th among NCAA Division 1 teams). James is currently chipping in with 13.55 assists per game.
Miami is also the conference's most deliberate scoring team. Led by its tandem of outside hitters, Valeria Tipiana (Lima, Peru) and Marcela Gamarra (Medellin, Colombia), the Hurricanes are the top team in the conference in kills with 16.74 per game (12th in the nation). Tipiana is second in the conference in kills per game with 4.71 and Gamarra is ninth with 4.05. Biz Tyson (Jacksonville, Fla.) is third on the team with 3.39.
For more information on University of Miami athletics log on to its website www.hurricanesports.com, the official site for all Hurricane news, tickets, and apparel. For Hurricane ticket information call 1-800-GO CANES.